The Kansas City Chiefs returned to the mountaintop this past season as they hoisted the Vince Lombardi Trophy for the first time in a half-century, marking a long-awaited celebration that united each and every member of Chiefs Kingdom through a singular feeling of pure joy.
Every fan owns a part of Kansas City's victory in Super Bowl LIV, from those who attended games at old Municipal Stadium to the Chiefs' youngest fans who only know a world where quarterback Patrick Mahomes is synonymous with legendary comebacks, and now - as of this spring - there's a new children's book designed specifically to let the Chiefs' youngest supporters re-live the unforgettable 2019-20 campaign again and again.
The book, titled "Go Chiefs Go!" chronicles the entire season, starting with training camp and culminating in the championship parade. Distributed by local publisher Ascend Books, it's simply a must-have for any family raising their kids as fans of the Super Bowl champions.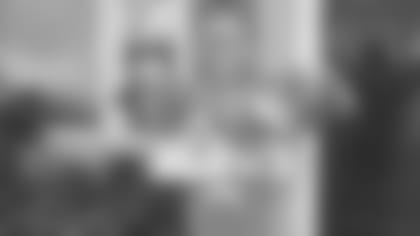 "Listen everyone and you will hear," the book begins. "About the Kansas City Chiefs and their Super Bowl year. In the Chiefs Kingdom, expectations were high, and the Patriots loss last season was still fresh in their minds."
"Go Chiefs Go!" continues over nearly 40 pages with engaging language, beautiful artwork and a brilliantly unique take on Kansas City's march to a world championship. It was an opportunity for illustrator Rob Peters and author Chris Meggs – a lifelong Chiefs' fan – to use their talents in a way that brought Kansas City's title run to life for kids.
"'Go Chiefs Go!' is a great way for families to remember the excitement of the Super Bowl season. Sharing this book together allows them to relive their favorite moments and the accomplishments of their favorite players," Meggs said. "It's something they will treasure the rest of their lives."
The Chiefs and Hunt Family have long worked to support children both inside and outside of the classroom through literacy outreach efforts such as celebrating "Read Across America" throughout local schools in the spring and supporting the MCPL Summer Learning Program. The publication of "Go Chiefs Go!" is just another way that the franchise is helping kids develop a love for reading.
That commitment has been in action over the last several weeks, too, as book deliveries were made to kids at both the Linwood YMCA and Big Brothers Big Sisters Kansas City. As expected, the excitement shared among children at both locations was palpable as they opened up their new books for the very first time.
The book is available for purchase at many area retailers, including local Hy-Vee locations, and online. Additional community organizations will receive copies of "Go Chiefs Go!" in the coming months as well. The Chiefs even provided a digital reading of the story on social media earlier this offseason as part of the "Huddle at Home" campaign.
It's all about bringing Chiefs Kingdom together through these challenging times and into the future. This past season was perhaps the greatest in franchise history, and through "Go Chiefs Go!," kids and adults alike can re-live the magic.
"It was a day that no one will ever forget, and to this day, it's talked about yet," the book concludes. "Everyone joined Andy Reid in what he had been saying for weeks, 'Come on now, let me hear you! How 'bout those Chiefs!'"
To purchase your very own copy of "Go Chiefs Go!," click here.