I remember when I was fighting in [Sadr City](https://www.google.com/maps/place/Sadr City/@33.3874622,44.4633544,14615m/data=!3m1!1e3!4m2!3m1!1s0x15579ca36a2d676f:0xba73467343160067), in Iraq's capital city of Baghdad. I had just nearly avoided a nice flaming tire ambush when my platoon came under fire – again. As I crouched behind my engine block (there was no armor on the vehicles at that time) I watched in what could be best described as amusement as a Rocket Propelled Grenade bounced off the curb 10 feet in front of me and flipped through the air just above my head. I was amused because as it flipped through the air in seemingly slow motion I saw that it was a dud and happily returned fire. That was a hot August day in Iraq, and I never thought for moment that just a few years later on another hot day in another part of the world, I would be directing professional football players in their locker room to a mini audio and visual recording studio in Arrowhead Stadium for the Kansas City Chiefs.
My name is Major Jake Atkins and I am a U.S. Army officer, former infantryman turned information operations officer, who is working with the Kansas City Chiefs. This amazing opportunity has come my way through a program the Army has in place called Training with Industry (TWI). This program allows officers to gain perspective from a top tier corporation on business practices outside of the service for one year. In turn the corporation gets a professional officer with significant organizational leadership experience in their office.
Since this is not exactly a normal job for anyone in the Army I am going to record my adventures this year from inside of the Chiefs Kingdom in a series of articles right here titled the Gridiron Chronicles. Welcome to Issue #1: A Drink from the Fire Hose.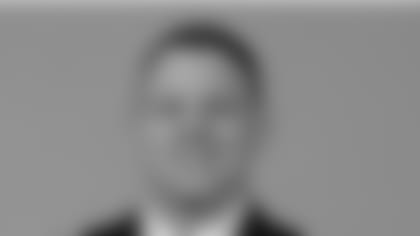 Who am I? First and foremost I'm a father and husband. My beautiful wife Melissa and I met in Dekalb, Illinois when I went to school at Northern Illinois University. I've been in the service for 14 years, and Melissa and I have been through a lot, four year-long deployments to Iraq, multiple smaller deployments and the strangest work hours you could imagine. We have three kids, Natalie (8), Aiden (6), and Kiera (3) and currently live in Fort Leavenworth, Kansas. They are a handful, but we love them to death. Second I am a Soldier and an Officer in the U.S. Army. I started off as a door-kicking infantryman and have switched over to Information Operations, which is a staff officer whose job is to align actions, words, and images to create an outcome for the commander. In a way this is similar to being a political campaign manager. Ultimately I bring my trade and experience to become an integral part of the Chiefs marketing, game day production, and analytics teams.
My first two weeks were an absolute whirlwind. It felt like I was starting over with all the new acronyms, language, men's fashion (which is easy in the Army by the way, we all wear the same thing every day). Now in the Army, we love acronyms, so I'm no stranger to them, but these new ones do take a little bit of time to get used to, such as GWR, STM, and even 65TPT. All of those have a different meaning in the Army – which makes communication a bit interesting at times.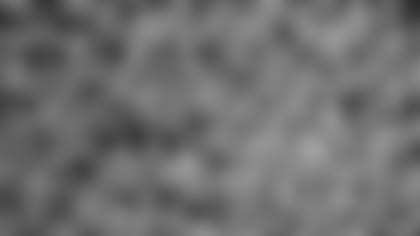 My first week with the Chiefs, I had the absolute honor to go to Los Angeles and attend the yearly Digital Media Summit hosted by the NFL. I got the opportunity to hear how the Chiefs stacked up against all the other teams in digital photo, video, and articles as well as hear about the new initiatives the NFL is emplacing for all the clubs websites. We were also provided the opportunity to go to a nightclub in downtown LA to network and attend a Dodgers game. Absolutely great experience and incredibly useful for what my job here will be about, and useful to see how the NFL aligns those actions, words, and images.
The Digital Media Summit was great, but the very next week I helped the talented people in the highly decorated 65 Toss Power Trap production team organize and run a first ever "Production Day" where they managed to capture almost all of the video, audio, and still footage of the football players they will use this year for game day and advertisements. I let them run the cameras – that is definitely not my wheelhouse – but with the assistance of a team of interns I ensured the event ran smooth for the players and the production team. On a side note, I understood conceptually that football players are big human beings before I got to the Chiefs, but now I understand from experience after having to reach up to shake these guys hands. Great people though and I was honored to have the experience.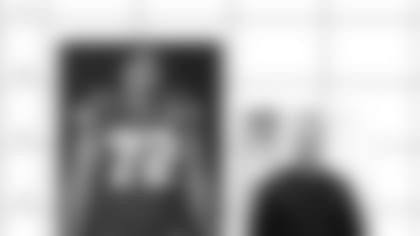 Eric Fisher to Jake Atkins size comparison
This is an amazing opportunity and I am absolutely pleased how quickly the KC Chiefs have integrated me into the fold. To be honest I was a bit terrified when I was selected for this position above my peers. But like the RPG back on that hot Iraq day I think I have nothing to fear.