In my 15-year career in the Army, I've had the wonderful opportunity to be a part of several great teams, and through these teams I have seen the best and worst in humanity through peace and war. I've been part of the teams that crushed empires and part of teams that have rebuilt nations.
It is always the great teams that you remember, the ones where it was a pleasure to come to work each day because you get to work with them. Not every staff is great, but I am happy to say this team at the Kansas City Chiefs is one of those few extraordinary teams where it was a pleasure to work with and for.
Sad but true, all teams eventually break up for better or worse, and the time has finally come for me to break up the team and move on. I have been assigned to U.S. Central Command (CENTCOM), which is based in Tampa, Florida.
My wife, Melissa, and I are very excited about the opportunity to go. In my 15 years, we were able to get to Hawaii once when my kids were small, which for those of you with small kids instantly know, it is not nearly as fun as it could be, but we never had the chance to go to one of the coasts, east or west.
This assignment lets us mark off another item on our bucket list. Melissa has a childhood friend in the area so she will instantly have a buddy with kids roughly the same age, and I am excited that I might get to surf again and catch some fresh seafood right out of the Gulf. Our kids are also excited as Tampa is roughly two hours from Disney World. It is a very good location and it will be a challenging job which will deal with some of the most troubled areas of the world.
Almost one year ago, I came to the Chiefs organization wide-eyed and honestly, a bit intimidated. It is not every day you get selected by the Army to be a part of a special program called Training with Industry (TWI) and to report to a NFL team!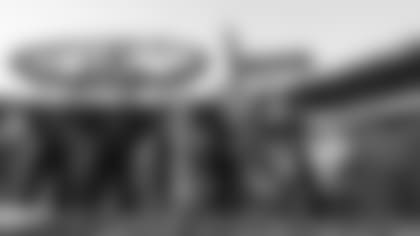 Luckily, everyone here welcomed me with open arms and really made this a great experience despite my worries. I really do feel like I'm part of the Kingdom now and I am proud and humbled by that. I got the chance to work with so many great people and organizations over this year, from the Kansas City police and fire department to the boy scouts and recruiting stations around the city to the Golden Knights and the USMC band.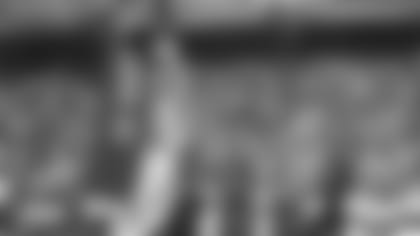 There were several great moments throughout the 2014 season. Two moments really stood out to me though. The first is the Golden Knight game ball delivery on Monday Night Football. It was above all my favorite moment this whole year. Seeing the look on our Dream Factory recipient's face when he was delivered that ball was something else.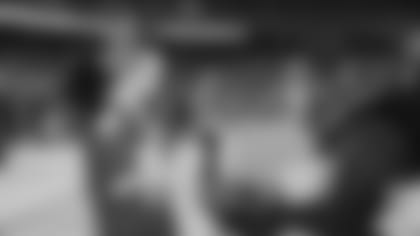 Another moment that really made me happy was during the Fan Appreciation game against the Chargers when we managed to get five Apache helicopters to do a flyover with the number 29 for Eric Berry painted on the bottom of one.
The timing for that flyover was much different due to the speed of the helicopters. If you were in the area the day before the game, you would have seen several rehearsal flyovers as we tried to figure out the right place and speed for the helicopters. I thought it was a nice touch and a fitting end to the season.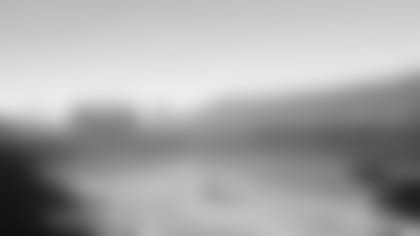 Melissa and I are sad to leave. Since we have been here, we have been treated just like part of the family. I have truly learned a great deal by working with the Chiefs this past year. I gained considerable perspective on marketing techniques, digital and social media analysis and live show production.
The biggest gain is being able to practice my interpersonal skill set and business etiquette in an environment outside a hard rank structure, which isn't that big of a deal to most, but in the service, it becomes rare.
I needed to truly understand my audience to gain consensus and establish relationships in order to enlist their aid when I needed it. Being able to practice these things in the fast paced environment of an NFL team is worth every second I spent here. The ability to traverse the human terrain in this organization is a skill set that is invaluable as I progress in the Army, especially in my next position where I will be working with multiple branches of the service who will all understand problems differently.
I am personally sad to leave. The level of trust the Chiefs afforded me is unparalleled and I strove daily to live up to it, but luckily, if I had to give this position up to anyone, it would definitely be the gentleman that is going to replace me, Major Jon Rittenberg.
Jon has 13 years of active service and has deployed twice to Iraq and once to Afghanistan. He has also supported several exercises in Southeast Asia and the Pacific. He has served at every echelon of the service that our rank allows and makes a mean tetrazzini from what I hear. Jon is happily married to Maria Rittenberg and they have one child, Lukas, who likes Ninja Turtles and hates naps.
Jon is originally from Chicago, Illinois and is a fan of the White Sox, the Iowa Hawkeyes, and the Kansas City Chiefs.
From seeing my first professional football game, organizing over a hundred service members to hold a field sized American flag, helping negotiate business contracts and analyzing social media data, it has truly been a great year of unique and eye-opening work. I have fallen for the people and places around Kansas City, and I will miss the uniqueness of this place as I continue my adventure through the military.
It is a tribute to character of the people of this organization and city that even though I was only here for a year, I feel I will always be a part of the Chiefs Kingdom.
But just like all good things, this too has to pass. Thank you all for an outstanding experience and good luck in 2015!