Pro Football Hall of Famers and Chiefs legends Bobby Bell and Len Dawson stood on stage with Lee A. Derrough, the chairman of Hunt Midwest Enterprises, the vice chair of Union Station and still a current member of the Chiefs' Board of Directors.
Three very different men with one commonality—critical involvement in the Kansas City Chiefs organization since the 1960s.
Georgia Buchanan, the wife of another Chiefs legend, the late Buck Buchanan, watched from an audience of more than 300 guests.
Bell, Dawson and Derrough surrounded a large object blanketed by a cover.
It was Chiefs founder Lamar Hunt's Pro Football Hall of Fame bust, which hadn't left Canton since his enshrinement in 1972 and was about to be revealed to the crowd.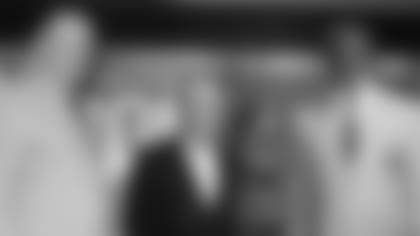 Union Station president and CEO George Guastello described the scene as his favorite part of the three-hour reception to open Gridiron Glory.
"The best part of the evening was to be on that stage with Bobby and Len on one side and Lee Derrough on the other and all of them looking out at Georgia Buchanan," he said. "That was the memory. There was a spirit there. Buck was there, Mr. Hunt was there and these living legends.
"It was pretty special and we'll never see it again. That was what was really special about it."
Things you haven't seen or may never see again quickly became a theme at the opening reception for Gridiron Glory. By description and definition, that's what the exhibit that opens to the public Friday morning at 10 a.m. is all about.
"When you go in there, you will see memorabilia that you have never seen before, and it's because of great people such as the historian Bob Moore," Guastello added. "Historians are to keep history, but what Bob has done has kept the heart and life of the Hunt family and the Chiefs alive."
The exhibit has two sections—one with items directly plucked from the Pro Football Hall of Fame in Canton, Ohio, such as the birth certificate of professional football and the very first Lombardi Trophy.
The second section, put together by Moore, contains rare artifacts specific to the Chiefs.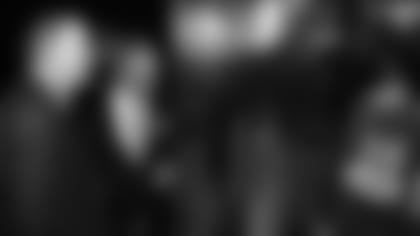 "Most people will never get to the Pro Football Hall of Fame," Moore explained. "The best thing is [that Gridiron Glory] allows them to see the history … I think to see where the game began and all the signature moments in history probably is a great thing because it helps spread the game and the fact that it has a past."
For some, like Bell, the exhibit offered some hard, sought after answers.
 "I've been looking for my high-tops," he jokingly said as he walked, fascinated, through the Chiefs exhibit. "I just found out Bob Moore had them here. He locked them up.
"And my jersey? I knew I was missing some stuff."
Dawson was astonished by the extent of the relics he found.
"The amazement that I have is the fact that they are able to do this," he said, "take all that stuff out of Canton, Ohio, and transport it down here. In fact, I have never been to this part of Union Station. I didn't know it existed. They have all kinds of things here. It's unbelievable."
The reception began with a cocktail hour followed by several speakers, including Chiefs president Mark Donovan, who expressed gratitude to all those involved in what was a two-year process to get Gridiron Glory to Kansas City.
Many had a hand in getting it done, and Donovan made sure to acknowledge them.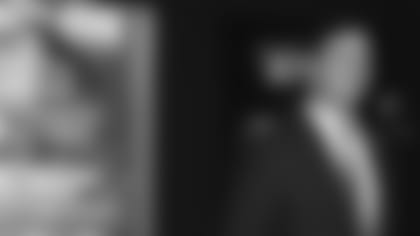 "To Bob and to the entire board, everybody here— thanks for your support, not only for this, but also for what you all did to return this venue to its proper place," he told the audience. "It's so inspiring to come into this building now and see it thriving.
"I know it took a lot of work and a lot of commitment and we appreciate everyone involved into turning this into where it belongs in Kansas City."
Saleem Choudhry, the Pro Football Hall of Fame's exhibit and museum service manager, described four objectives as to what the Hall tries to accomplish in all its endeavors: honor the heroes of the game, preserve the game's history, promote the game's values and celebrate excellence.
By his own standards and words, Gridiron Glorydeserves much celebration.
"Without a doubt, we have made the best version of this traveling exhibit since we launched it two and a half years ago," he said.
---
Gridiron Glory, which opens to the public Friday at 10 a.m., is the largest and most comprehensive traveling exhibition ever created on America's favorite sport and will includes more than 10,000 square feet of the most iconic pro football artifacts of all time. In total, more than 200 football artifacts, photos and rare documents from the Pro Football Hall of Fame collection are on display.
The Superbowl IV trophy was unveiled at the Gridiron Glory Exhibit at the Kansas City Union Station.