Chiefs fans are attempting to break the Guinness World Record for Loudest Crowd Roar at a Sports Stadium (Outdoors) on Sunday, when the Chiefs take on the Raiders.
"We appreciate the support, number one," head coach Andy Reid commented. "I don't know how much louder it can get, than what it's been. It's incredible. Great atmosphere for football."
To help with the record attempt, the Chiefs have brought in an adjudicator from Guinness World Records (GWR), Philip Robertson.
"As an adjudicator, my role is to ensure that Guinness World Records guidelines are followed in making the attempt and ultimately make a determination on whether a record has been achieved," Robertson explained. "If it has, I will be able to make a record declaration and present a Guinness World Records certificate on Sunday."
A group of Chiefs fans leading the charge is hoping to break, not only the 116-decibels that has been Arrowhead's long-standing record, but also the most-recent world record, which reached 136.6 decibels.
"We want our loud and proud stadium back," Tim VanderPol, a member of the group explained. "We want teams to fear playing here and we want to once again be the loudest stadium in the NFL."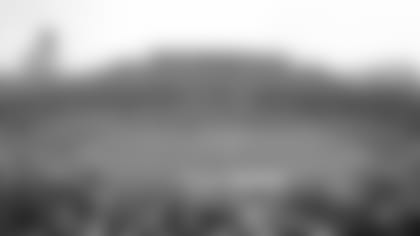 Philip Robertson, the same adjudicator used in Seattle, will be experiencing Arrowhead Stadium for the first time and what a welcome he will receive.
"Having experienced the crowd excitement and noise inside CenturyLink Field in Seattle, ahead of their potentially Northeast title deciding game against the 49ers, I expect an equally, if not even more, vociferous atmosphere, when the Chiefs archrivals visit Arrowhead," Robertson noted. "This will be my first visit to Arrowhead and what an introduction it's likely to be - very exciting."
In preparation for Sunday's game and record attempts, Robertson will meet with a few of the Chiefs executives to review acoustic equipment calibrations and the positions from where the measurements will likely be taken. On Sunday, he will be on the field, measuring the crowd noise throughout the game and recording three official attempts.
"I will witness three attempts at measuring a peak crowd noise," Robertson said. "The current record for the loudest crowd roar is 136.6 decibels."
Sound engineer, Zach Aaron with Reliant Media, will join Robertson on the field, during the game. Aaron will help technically facilitate the sound measurement process in accordance with the specifications set forth by Guinness World Records. He offered his advice on how fans can be their loudest in order to set a new record.
"It is very simple; make sure that you and your vocal apparatus are well-exercised in preparation and well-rested for the day of the game," Aaron noted. "When it is time to make noise, point your mouth towards the field and get louder than the person next to you and repeat, until the end of game."
One of the group members advocating for the new record suggested fans take it easy while tailgating on Sunday.
"Try to avoid drinking too much pregame, because it can inflame the larynx and you can become prematurely horse," Connie Jo Gillespie explained. "Before, and during the game, prepare and condition your voice, as well as rest up, so you'll be loud throughout the game."
Another good thing to note, higher-pitch sounds create higher decibels.In addition, yelling into a rolled-up roster amplifies your voice and Comedian Rob Riggle suggests, "Cup your hands over your mouth and get loud and proud, Chiefs fans!"
When the defense is on the field, Chiefs fans need to be loud. 3M is providing earplugs and representatives will be handing them out, if needed. Chiefs fans not only need to be loud, they need to fill Arrowhead Stadium.
"If you asked me for the most important tip for fans, here it is - we will break this record if you are there," Aarons said. "Attendance is critical; we need every fan to be at Arrowhead on Sunday and be loud and proud."
There are just a few tickets left. If you still need a seat call 888-99-CHIEFS (24433) or click here.
Get ready to be loud and proud on Sunday, Chiefs fans!