Two generations of Kansas City Chiefs' football collided at the Don Bosco Senior Center on Monday morning as kicker Harrison Butker and Hall of Fame kicker Jan Stenerud helped more than 180 local seniors ring in the new year.
It marked the sixth-consecutive year that the Chiefs visited the center during the holidays and the 18th consecutive year overall.
The visit came on the heels of Kansas City's division-clinching victory over the Oakland Raiders a day prior, but the excitement from the night before didn't hinder Butker's desire to show up for those in his community.
"It's important to give back. We're given a great platform by playing in the NFL, and I love meeting people here in Kansas City," Butker said. "[The senior center] is a special place to come hang out and meet some people that probably don't get the attention that they deserve. It's fun to get to know them and celebrate the new year."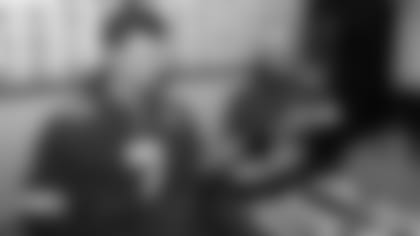 Butker shook hands, signed autographs and took pictures with the seniors before going on stage to read Bingo numbers, but the second-year kicker wasn't the only one garnering a palpable level of fanfare at the center.
Stenerud, who played for the Chiefs from 1967-79 and was the first pure placekicker to be inducted into the Pro Football Hall of Fame in 1991, was just as popular.
"As somebody who grew up in Kansas City as part of this generation and who has supported the Chiefs for a long time, it's amazing to see a familiar face like Jan Stenerud," said Anne Miller, the Senior Center Director. "Somebody even knew the answer when Jan asked what Lenny Dawson's number was. They're true supporters and they're so excited for this young new group."
Stenerud's presence was also a welcome sight for the 23-year-old Butker, who connected on 24 of his 27 field goal attempts this season.
"I've met Jan a couple times. He's obviously a Hall of Fame placekicker and just an amazing guy, both on and off the field," Butker said. "I'm always glad to spend some time with him and to try and learn some things about kicking. The fact that he's here made me want to be here even more."
Stenerud, meanwhile, mentioned that Butker doesn't need any advice.
"I'm really impressed by him. I met him last year and we had a chance to talk a little bit," Stenerud said. "He's an outstanding young man and as good a kicker as there is."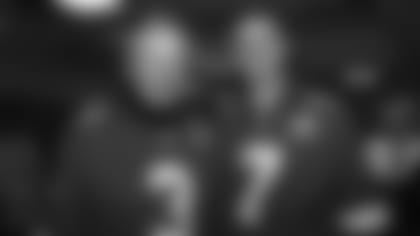 And, despite the decades in between their playing careers, both individuals came together to renew the Chiefs' commitment to serving those that cheer them on.
"The Chiefs have a huge impact on the people in this town," Stenerud said. "If you can make somebody's day a little bit better, then that's something that you should do."
Kansas City Chiefs kicker Harrison Butker and Pro Football Hall of Fame kicker Jan Stenerud joined the Chiefs Community Caring Team at the Don Bosco Senior Center to help ring in the new year with a special edition of Bingo with gridiron-themed prizes.