Players from seemingly every chapter of Kansas City Chiefs' lore came together on Saturday morning out of a common interest in the team they still call their own.
It was Alumni Day at Training Camp – an annual tradition every summer – and it welcomed nearly two dozen former players back to experience the sights and sounds of a football practice.
"It's almost as if time has stood still," said Dave Lindstrom, who spent his entire career in Kansas City from 1978-85. "We all have our lives and our families, but when we get together, it's like we're all kids again."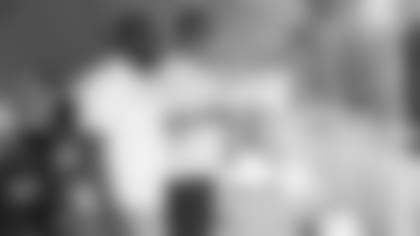 That feeling of camaraderie seemed to echo throughout the morning, as the former players had an opportunity to reflect on their playing days while watching the latest incarnation of Chiefs football.
"This is like family to me," said legendary return man Dante Hall. "The Chiefs do a wonderful job of taking care of their former players. They keep us informed and part of the team, so anytime that I'm invited and I can make it, I want to come back and support the team."
After all, the grind of Training Camp is something with which each of the alumni in attendance are plenty familiar.
"I think we all appreciate what the guys go through. It's hot and you're not always feeling good, but at the same time, you're trying to do your very best as a professional," said Ken Kremer, who played in Kansas City from 1979-84. "It's just fun to be out here with my old teammates and friends while watching what the young guys are doing."
The alumni had an opportunity to do just that throughout practice, joining the coaches on the sideline during the morning's final drills.
"When you're there sitting on the sideline looking at it, it's just a whole different perspective," said three-time All-Pro defensive back Deron Cherry. "The game has changed a lot. You have to get a lot of stuff done in a short period of time, so these guys are working hard. It's just fun to come up here and to see the size of these kids and the speed that they have."
Those roles flipped following practice, as the current players had a chance to hear from each of the alumni before breaking the huddle as one group.
"That's what it's all about – the history of the game," said Head Coach Andy Reid. "These guys are the ones that have built [the game] up so that [our players] can have what they have now…they set the foundation. They're a big part of what we have here in the National Football League, and we appreciate all of it."
"Andy gets it," Cherry added. "We come up here to support him and to support these players. We want to let them know that there's a legacy and a history here. There's guys here in town that pull for them and any way that we can support them, we're here."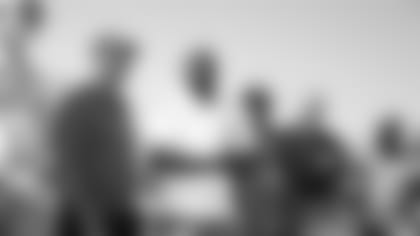 That support extends beyond just the players, as a handful of the alumni made their way to the nearby Mosaic Life Care Medical Center in St. Joseph to meet with patients following practice.
"We all are going to have days when we're down, and you never know who or what is going to lift somebody up," Hall said. "I've had people lift me up, and if I can brighten someone's day in any way, I think that's what humanity is all about."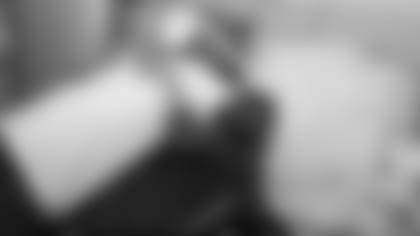 It was a gesture that went a long way with the individuals at Mosaic, as the former players went room-to-room meeting with patients and their families.
"It's a huge boost for our patients," said Joey Austin, Coordinator of Media and Community Relations at Mosaic Life Care. "We love having the Chiefs on our property and we love sponsoring Training Camp, so any time that they can have their presence here is just great for everyone."
Hall even went as far as to take off his jersey and give it to a patient battling cancer, and as the visit went on, the former All-Pro kick returner made a point of returning to the man's room simply to keep the conversation going.
"When you see a guy that's going through that but still finds a way to smile, laugh and be excited about life, how can you complain about anything?" Hall said. "It's inspiring."
It served as a fitting exclamation point on a special morning for the group of former players, whose playing days may be over, but whose ability to positively impact others – from the Chiefs' current players to fans in the hospital – is ever-growing.
"To those who much is given, much is expected," Lindstrom said. "We were fortunate enough to play on the field, and now we want to give something back."
Kansas City Chiefs alumni visited with fans and watched practice at Training Camp before visiting with patients at Mosaic Life Care on Saturday, August 11, 2018.