I sat down with P Dustin Colquitt and K Ryan Succop to find out a few facts that most people don't know about them. I have to say, some of these may sound a little far-fetched but believe me, they are true (well…I think).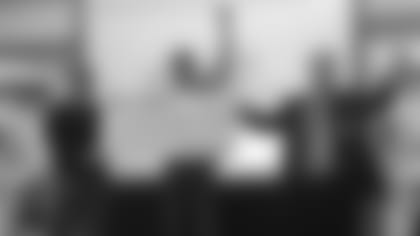 When he was 7 years old, he had a pet bobcat named Wylie. "I thought it would be funny to name it Wylie like Wile E. Coyote, but it's a bobcat." Dustin also had a pet coyote named Joe, probably since Wylie was already taken.
He has a green thumb. He loves landscaping and working in his garden. "I plant banana peppers; tomatoes; yellow, green and red peppers and I always do one or two corn stalks for my kids. I also like planting trees and shrubs, I'm a landscaper."
He always wanted a dog named Otis. It didn't matter what kind of dog, it just needed to be named Otis.
In seventh grade, he played basketball. He recalled a time when his team was down by three points with four seconds left on the clock. "I got the ball and made a fast break. I ran down, went for the layup, hit the backboard and made it as time expired and…we lost by one point."
In kindergarten, he made a small profit from selling rocks door-to-door in the neighborhood.
He found out his autograph is worth $100. "I signed a $100 bill today. My autograph is getting pricey."
He is an avid golfer. "I've been golfing since I was 8 years old with my dad, cousins and friends."
Ryan is the middle child between two sisters. His younger sister is a senior at South Carolina and his older sister recently got married and works in North Carolina.
As a freshman in high school, Ryan's parents didn't want him to play defense because he had braces at the time and would likely injure his mouth and lips. "I wanted to play football, so I took a screwdriver and popped my braces off in order to be on the field. It was terrible, but I wanted to play."
He admits to being a great dancer and his dance of choice – The Dougie. "I'm a horrible singer, but a phenomenal dancer."
He wishes he could play guitar, but said he has no musical ability at all.
Dustin said, "Ryan has eyelashes any girl would die for." Ryan, of course, begs to differ.
Number one thing they like to do at training camp in their off time is pull pranks on long snapper Thomas Gafford. I'm not sure Thomas is such a big fan of this one.
At one time, they had convinced the team that there was a mountain lion outside the practice facilities. The Missouri Department of Wildlife ended up coming out to the University of Kansas Hospital Training Complex to make sure there was no threat of a possible mountain lion attack. This ended up making national news.
Hunting. Ryan likes hunting deer. Dustin prefers turkey hunting.
Both are huge Sporting KC and Royals fans. "Always rooting for the hometown team," Ryan noted.
They are both pranksters and both agree that, "No one wants to mess with the specialists because we have way too much time on our hands."