In military traditions the salute is an expression of respect and trust. Even though the salute is initiated by those of junior rake, the senior is obligated to return the gesture of respect. This week I had the pleasure of visiting Whiteman Air force Base near Warrensburg, MO with the Chiefs Community Caring Team. Members of the ream included defensive line members, such as Allen Bailey, Mike DeVito, Jaye Howard, Dontari Poe and Anthony Toribio, along with Chiefs Cheerleaders Jillian and Megan, Chiefs President Mark Donovan, along with KC Wolf.
The expressed purpose of the trip was to show appreciation to Airmen at the base and conduct a Play60 event at the base's elementary school. As a military member, I found different meaning in this visit than what may appear on the surface.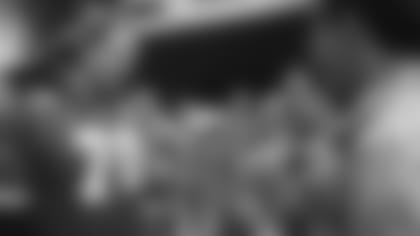 First, it is significant that the NFL chooses November as Salute to Service month.  During this month the league and teams allow variations to player uniforms such as, camouflage towels and military helmet stickers.  This is received by many military members as more than a surface gesture. While we are away from the places we call home, it is common for Soldiers, Marines, Sailors or Airmen to proudly display their favorite team colors in their sleeping areas and places of work. Whether this is at a stateside base or an overseas post, our teams bring us closer to home. Men and women stationed on the other side of the world will watch game broadcasts in the middle of the night just to feel that connection to our team and to home.
The ability to make that connection in person is an even greater event. When the players and cheerleaders visit the surrounding bases or participate in USO tours, they bring service members a glimpse of home. This is what I saw on this trip.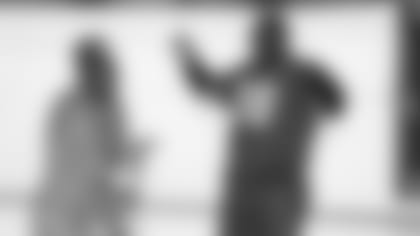 On this trip to Whiteman Air Force Base, we were granted the great privilege of getting up close and personal with a B2 Bomber. This aircraft which is celebrating 20 years in service this year is still an impressive sight to behold up close. The pride the Airmen showed giving the players and cheerleaders tours was match by the players' enthusiasm in meeting those responsible for defending the Nation. Beyond the posing for photos and signing of autographs, the Chiefs Community Caring team looked excited to see the airplane and talk to the Airmen.
This enthusiasm was carried over to the Play60 event at the base's elementary school. As you may know, Play60 is the NFL's initiative to increase the fitness of young  children by reinforcing the need to get 60 minutes of exercise each day. Being a father of two girls, who have for all but this year attended military base schools, this portion of the trip held a special place in my heart. Of the two hundred kids participating, a good number have one or both parents deployed in support of current operations. An even larger portion of these kids will likely move to some other base in the next year. They will all, even those who chose to wear rival shirts, will remember the day they got to spend an hour working out with Chiefs players. My girls still talk about similar experiences that happened years ago.
In this month of Salute to Service, and especially during the week of Veterans Day, I want to personally thank all the veterans who have gone before me, those I have served with and those to come. Even more, I want to return the salute to those who support us in big and small ways. Thank you for your unwavering efforts to sustain those in the armed forces. Your efforts do not go unnoticed and it enables us to do what we do. Thank you.