Mark your calendars for an action-packed weekend of football, September 14-15, at Arrowhead Stadium.
The Kansas City Chiefs open their 2013 home schedule on September 15, when the Dallas Cowboys come to play. One day prior, Arrowhead Stadium will host the 2013 Missouri Classic football game, a historic matchup between the Grambling State University Tigers and the Lincoln University Blue Tigers.
Grambling State University, the game's visiting team, is one of the most successful historically-black universities in NCAA Division I, a member of the NCAA Division I Football Championship Subdivision (FCS). They're coached by former Grambling State QB and Super Bowl XXII MVP Doug Williams.
"I think it is good for both schools," Doug Williams said. "It is very exciting for us from Grambling because the Kansas City Chiefs have meant a lot to us… we are always grateful that the Chiefs reached back in the 60's and picked one of our players. So we feel like we are kind of part of the family."
The decision to choose future Hall of Famer Buck Buchanan from Grambling State was a bold leap in a time when equality was not prevalent. However, that defined Chiefs founder Lamar Hunt, who marched to the beat of his own drum, as did those who stood by his side. One such person happened to be one of the most forward-thinking coaches in pro football history, Hank Stram.
"Hank Stram was the coach here," coach Williams said. "He used to have a guy by the name of Lloyd Wells, who was fairly close with Hank Stram and he went to all the historical black colleges, you know, the Emmitt Thomas' of the world, the Buck Buchannans' of the world, the Otis Taylors' of the world, guys like that; guys that had the opportunity to come here and I think that because of the Hunts giving his coaches that freedom to go out and get the best football players that he possibly can, opening the doors for us at Grambling and a lot of other historical black colleges to come in here and Hank Stram had no problem with playing who he thought were the best players."
The current Grambling State players, traveling from Grambling, Louisiana, will be facing a Lincoln University team that is a member of the NCAA's Division II Mid-America Intercollegiate Athletics Association (MIAA) and also coached by a Super Bowl (XXXIV) winner, Mike Jones.
"It's going to be awesome," Jones said.
"We've tried to turn over our roster, we have more kids from the state of Missouri playing, so, they'll actually be able to play in a stadium that they saw the Kansas City Chiefs playing in. We have a lot of kids from Kansas City, a lot of kids from St. Louis and Missouri as a whole, they've seen the Chiefs and they've seen the stadium but a lot of the times, they haven't had a chance to go to the games or to the stadium; now they have an opportunity to play in the stadium, so it's going to be awesome."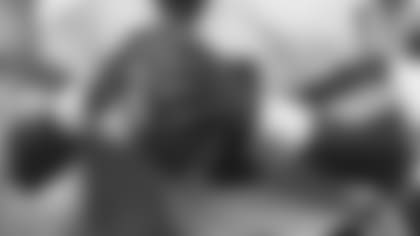 The historic matchup between the two schools is also a competition between its coaches, who are known for epic Super Bowl performances.
"I say this about Coach Jones, he is known as the guy that made "The Tackle" (against Kevin Dyson, preserving a Rams victory as time expired in Super Bowl XXXIV). A lot of people look at me and say (you're) "The Second Quarter" (when Williams helped the Washington Redskins score five TDs during the second quarter of their 42-10 win during Super Bowl XXII). So, I think what you have is "The Tackle" and "The Second Quarter". All I'm hoping is (that) our second quarter (will) be better than his tackling," Grambling State head coach Doug Williams said.
Regardless of who wins, the plans have already been made by coach Jones to make the most of the weekend.
"You're going to have a lot of excitement," coach Jones said. "The excitement of our bands, the excitement of two historical black colleges playing in a game; they haven't played against each other in many, many years, it's been almost fifty years since Grambling and Lincoln have played. Teams coming from Louisiana and Jefferson City, Missouri coming to Kansas City on a great weekend, when nothing is going on but this game and the Chiefs, so, hopefully everyone will come up on Friday night and spend the weekend, see us play and then go see the Chiefs beat the Cowboys."
Coach Williams agreed that the 2013 Missouri Classic will be a fun venue for everybody.
"I think this is a great opportunity, to me, it is more of a family event," Williams said. "It is something that you can bring the whole family to and enjoy something that doesn't come to the Kansas City area that often, that is two historical black colleges playing football."