Assessing all the evidence, rookie wide receiver Chris Conley has shown a great deal of potential heading into his first season in a Kansas City Chiefs uniform.
For one, he's skillful and has the college stats to prove it. He led (rush-heavy) Georgia in yards receiving in 2014 (657), in addition to touchdowns (8).
He's brilliant. Not only is he a semi-famed internet filmmaker, he's also a member of the NFF Hampshire Honor Society and was named the 2014 SEC Scholar-Athlete of the Year.
He's ridiculously athletic. NFL Network analyst Mike Mayock wants you to know, in his own words, "he can flat out fly." This past Tuesday morning? He scaled five tires.
To top it all off, he's a leader, a two-time captain at Georgia.
But even with all that success and despite all that potential, by all indications, Conley took the right attitude this offseason.
"You're going from being the big man on campus, the guy who knew everything, who was doing everything right to being the person that nobody knows," he explained during OTAs on the Chiefs Download Podcast. "It's a big transition for you and you have to learn to adjust."
Having been through a similar process before as a freshman receiver in the SEC, arguably the most talented conference in college football, Conley said he's ahead of the game in knowing how to adjust.
"I had people who were ahead of me who I could listen to and I could watch and I could learn the ropes from, much like I do here in Kansas City," he said.
For him, those are his positional group leaders—Jeremy Maclin, a six year veteran, and Jason Avant, who has nine years to his name.
"Jason put it this way," Conley explained. "He said 'Hey, be able to make mistakes and be able to forgive yourself.'"
Along with beginning to master Andy Reid's complex playbook, a task that he said included flash cards and hotel-room route running, Conley had the opportunity to represent the Chiefs at the NFLPA's Rookie Premiere in May.
As described by the NFLPA, more than 40 rookies of the 2015 draft class gather together at the Rookie Premiere to learn the "business of football."
"I don't know everything, but I have gleaned from watching older guys, from listening to coach Reid about how Chiefs players carry themselves, so I wanted to make sure that translated while we were out there in LA," he said.
The event offered Conley his very first chance to don the Chiefs red and gold.
"It was a great experience and being able to wear that red for the first time was exhilarating," he said. "Hopefully, I wore it the right way and wore it with pride."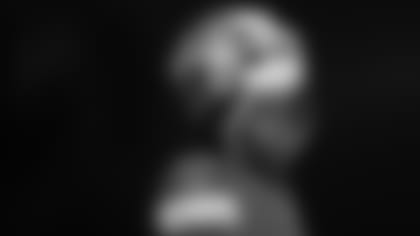 On the field, Conley has shown that he will be someone to watch from training camp moving forward to Week 1 of the regular season.
Through his college performances, the offseason program and the Rookie Premiere, he has certainly done and said all the right things.
That included a moment when, though it was early, he was asked about 2015 team expectations.
Interestingly enough, he said he didn't have anything to share. His season goals solely lie within himself.
"The expectations of myself are to continue to get better every day and do everything that's possible to help the Kansas City Chiefs win," he explained, "whether that's on offense, whether that's on special teams, or whether that's being a good teammate to other people who are playing."
The evidence shows that general manager John Dorsey made the right move when he traded up in round three of the 2015 NFL Draft to get Conley.
This whole offseason, he has sounded like a player who's ready to provide more.
With the 76th overall pick in the third round of the 2015 NFL Draft the Chiefs select WR Chris Conley.