Eric Fisher received a call of a lifetime on Thursday night, when the Kansas City Chiefs made him the #1 overall pick of the 2013 NFL Draft.
"What a phone call (that) I'll never forget," Fisher said. "I talked to all the coaches. I talked to coach (Andy) Reid and John Dorsey, (Chiefs offensive line) coach (Andy) Heck; it was almost surreal that the phone call was happening, that I was the number-one pick."
We knew going into Thursday night that Chiefs general manager John Dorsey and head coach Andy Reid were considering four players, any one of whom could later be identified as the "best player available". But what about Fisher himself, did he have any clue that he was about to become the MAC's highest-selected player ever in the NFL Draft?
"It was my goal all along but it didn't hit me until my phone rang," Fisher said.
The dynamic duo of Dorsey and coach Reid and the entire Chiefs staff kept very tight-lipped about any future plans with the top pick and I later found out why, when Dorsey told me, it's all about the "process."
"What we did is, we went along and we did this process and very early on we said it was going to be a process and we allowed everyone to have their say in this process and everyone to a man in this organization was on board with this one," Dorsey said of the decision on Fisher.
And the process included several tests, which Fisher passed with flying colors.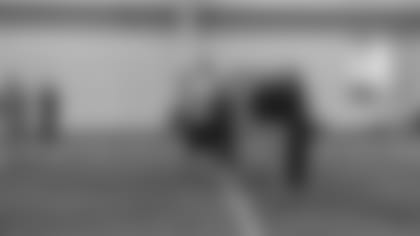 "As he went through the process(es), he began to show and separate himself and sure enough, he slowly separated himself at each one of the stops in the processes. The (regular) season, his stock rose up. He goes to the All-Star Game (Senior Bowl), it goes way up. He goes to the Combine, he tests out incredible; it continues to go up and then at the spring workouts, it continues to go up. That's what you're supposed to do and he's done it the right way."
During the process, the Chiefs paid a visit to Central Michigan University and put Fisher through a workout, which had Dorsey walking away speechless.
"It's interesting because what I did in his workout, I just stood back from the whole group and I just watched and during that thing, I watched the kid's eyes; you know they've always taught you (that) if you want to see a man's soul, look in his eyes, you could see what was inside of him," Dorsey said. "When you physically saw him almost break (Chiefs assistant offensive line) coach Eugene Chung's chest on one of those punches, I'm just going, 'I haven't seen a punch like that in years'. I walked away very impressed. I didn't say a word to the group and to a man, Andy (Reid), Eugene and Andy (Heck), they all were like, 'this guy's pretty good'.
As far as the interviewee of the process, he was prepared for anything and everything thrown his way.
"It's been a big job interview," Fisher said. "There are so many questions that you need to answer. All these teams want to know every detail about your life, who you are, what kind of player you are, what kind of person you are."
The Chiefs know exactly who Eric Fisher is.
"We got the best available player," Dorsey said of Fisher. "We got a guy that has the same values and structure that we're committed to here. On top of that, we got a good football player, who wants to be good and will get better, that's all you can ask for."
Fisher successfully passed the "interview process" and afterward, he made a promise.
"My life is about to change but the person I am, I'm not changing for anything," Fisher said. "I am who I am for a reason and I take pride in being the person I am. I'm a Kansas City Chief."
And we couldn't be happier.