Oakland Raiders quarterback Derek Carr is in the MVP conversation. Fans of the Kansas City Chiefs probably don't want to hear it, but it's the truth.
Yes, that one, the leader of the silver and black, with four weeks to go in the NFL season, is officially being mentioned in the same breadth as the Matt Ryans, the Tom Bradys and the Ezekiel Elliots of the world.
"I think he's real," Chiefs head coach Andy Reid said Tuesday. "He's putting years together here now. So, that's important—in particular at that position."
In 12 games this season, Carr has compiled 24 touchdowns and just five interceptions and has led the Raiders to a 10-2 record.
"He's very safe with the ball, he's very aggressive and he makes good decisions," linebacker Derrick Johnson said.
Look no further than the pass rush.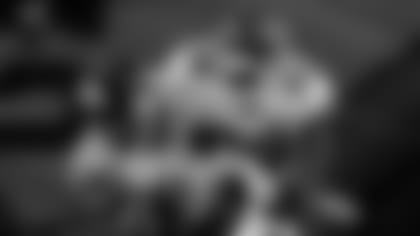 "It's up to us as a defensive line to get to him and throw him off," second-year defensive lineman Rakeem-Nunez Roches, who has seen more playing time this season with Allen Bailey and Jaye Howard on injured reserve, explained. "Once you hit him, he's a whole different dude. He's a whole different guy once you rattle him. But he has a quick release—a lot of his routes and concepts are meant for him to get it out fast."
"You have to pressure the quarterback," Jones said. "He's one of the least-pressured quarterbacks in the NFL right now. He has the lowest sacks and the lowest number of hits. So we have to affect the quarterback, get in his face and the game will open up for us."
Jones knows his statistics.
Carr has taken a league-low 12 sacks (not counting Brady, who missed the year's first four games), and the lack of pressures he faces results from one of the best offensive lines in the league.
The Chiefs want to change that trend Thursday night, as they saw firsthand what pressure can do to Carr in the right situation during their first game with Oakland back in Week 6.
Linebacker Dee Ford broke through and got in Carr's face, and what resulted was a significant underthrow that cornerback Marcus Peters turned around and intercepted. That means the Chiefs' line doesn't need to sack Carr to change his game—they just need him to feel the heat.
"There's something about a defensive line, we all work together," Jones said. "It's like a chain link. If I take a double team, [Dontari] Poe will get the quarterback – I feel like I've affected the quarterback and my mission is complete. It's not about how many sacks you get in a game, it's about how you affect the players around you, making them better and putting them in a better situation to make plays."
Still, saying it and doing it are two different things, and the Chiefs defensive line knows it's up for a battle.
"Their offensive line is a very physical group of guys," Jones said. "Those are some big, dirty guys. They're hefty and like to drive you into the ground, so you have to be very physical with those guys."
Another element that could play a role in this game that didn't in the first is the crowd noise, which obviously wasn't in the Chiefs' favor in Oakland, but will certainly be Thursday night.
"We had success against [Carr] there in Oakland, and hopefully, we can have the same success here with the crowd that we have here," Johnson said. "It's going to be a challenge for him. It's already a challenge to stop him, but hopefully, it will be on our side."
Regardless of any MVP rumblings, the Chiefs seem poised for the Thursday night challenge ahead.
And that's a good thing, as the division race may depend on it.