Charles signed a two-year extension on Wednesday, which will keep him under contract with the Chiefs through the 2017 season.
It'd be easy to point at the fact that he's 248 yards away from being the Chiefs all-time leading rusher, which would have him passing former Chiefs great and fellow Texas Longhorns alum, Priest Holmes.
Or the fact that he led the Chiefs in both rushing yards (1,287), and receiving yards (693) last season.
But failing to mention his ability in pass protection, or how he simply can stay on the field as an every-down back, would be selling him short.
Mitch Holthus, the Voice of the Chiefs, also recently discussed how Charles played special teams early in his career. He did whatever his team needed and asked of him. Holthus even brought up the fact that Charles was used on the kickoff coverage team back in 2009.
When asked about his star running back, Chiefs coach Andy Reid gave him the ultimate compliment.
"He's an all-around player," Reid said. "That's probably the best thing I can say about him. He does it all. Block, catch, run—all of it."
One player who has a great view of what Charles can do is quarterback Alex Smith, who echoes Reid's sentiment about Charles' ability to stay on the field.
"The guy doesn't come off the field because there's nothing he can't do," Smith said. "He's so versatile on first and second down. [On] third down he can step in, he can pass protect, which is as much about physicality as it is mental."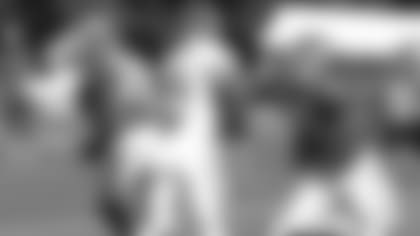 Smith goes on to say that it's not simply about a player's willingness to stick his nose in there on a blitzing linebacker or safety—they have to know their assignments as well.
"As a running back on third down, it's tough," Smith said. "Defenses are throwing everything they got and we put a lot on the running back in those situations. And he (Charles) handles it. And then he's a weapon catching the football on third down as well."
Being able to protect the quarterback in passing situations is something Charles has taken pride in since he was in college at the University of Texas.
"That was the philosophy of my coach in college (Ken Rucker)," Charles said. "He told me 'You won't play in the NFL unless you can block.' So I took that with me. That's always been the dream."
Rucker, the running back's coach during Charles time at Texas, praised his ability and willingness to learn the skill even back in college.
"The blocking skills are usually the last of the fundamentals a tailback has," Rucker said. "But he had a great attitude about it. He loved to block."
Rucker is proud to see how far Charles has come in his career, and the success that he's had to this point.
"It just makes me feel really proud of him to see him excel at the highest level, it just makes me feel really good," Rucker said. "I'm so proud of seeing him do his thing and I know that he takes a lot of pride in what he does and to see him do it at the level makes me feel good.
"He's come a long way since I sat in his living room when he was a senior in high school at Port Arthur (TX), and I'd just like to wish him well."
Hard work and a willingness to embrace the selfless aspects of the position from an early age, Charles will do whatever he needs to do to help the team, and will do it to the best of his ability.
Luckily for Chiefs fans, he's pretty good at all of it. "I just need to give the quarterback three or four seconds to throw the ball," Charles said. "That's something I take pride in."