The showdown between the Kansas City Chiefs and Tennessee Titans, at high noon tomorrow, will also be a showcase of two of the league's premiere, lightning-fast running backs, Chiefs RB Jamaal Charles and Titans RB Chris Johnson.
Earlier in the week, Chiefs head coach Andy Reid described both running backs.
"Both of them are real fast and I mean, really fast," coach Reid said. "Our defense won't prepare against Jamaal, though they did at camp. (Chris) Johnson is a good back. He's been doing it a long time and has been very consistent with it. You just have to keep those holes real small; if he hits one of those babies, he can go and he can go fast."
Entering Week 5, Jamaal has 70 carries for 289 yards and two scores, to go along with 23 receptions for 213 yards and two more TDs. The versatility of Charles is just another bonus for coach Reid and the Chiefs.
"I mean it's great," Reid said. "I know Romeo (Crennel) probably would have told you the same thing; this guy is a great player, and (Todd) Haley, before that. He's a heck of a football player. He wants the ball, which you appreciate. The kid is a tough kid. He likes to play and you appreciate that."
Chiefs offensive coordinator Doug Pederson spoke more about the benefits of the former Texas Longhorns RB.
"He's a special guy," Pederson said. "He's a weapon for us, obviously. We can line him up in space; we can keep him in the backfield and do a lot of things with him and to his credit, he's done a nice job of picking that stuff up. We're asking a lot of him and on top of that, being able to protect and to be in that position is a credit to him and the guys around him, allowing him to be as explosive as he is, in space."
Sure, it's a blast for Jamaal to break one for 80 or 90 yards for the score, like he's known for, but Charles is quick to admit that he cares more about winning and being a complete player, such as catching passes from Chiefs QB Alex Smith and helping protect him with blocks, as well.
"That's my job," Charles said. "I have to be in the groove at all times, because my team counts on me a lot; so, I know when I'm in the game, I know I can make things happen. It doesn't matter if it's pass protection, catching the ball out of the backfield or running the ball, we have to find a way to move the chains. I take pride in trying to be the best running back."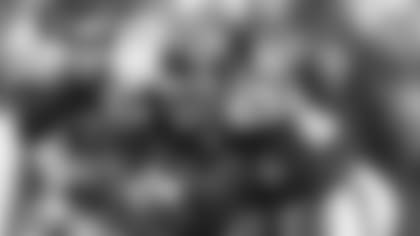 Charles was asked by the "Voice of Chiefs" Mitch Holthus, what he thinks about being compared to Chris Johnson.
"We're fast guys," Charles said. "I like Chris Johnson's game. I know he has rushed for 2,000 yards in one season and I want to do that; that's a goal I have for my career."
Chiefs defensive coordinator Bob Sutton described the impact both running backs have on the game.
"These guys are dangerous guys," Sutton said. "They can just go along and go along and one lightning bolt and it's over; you can't ever relax. I know from my own experience, last year, we had a deep-middle safety and he (Johnson) just came out and got in the crack between everybody and as soon as he was there, it was over. That's the part where speed really makes a huge difference. You're not going to be able to track these guys down, so the best way is to bottle him up and don't let him get out of there and push him sideways a little bit and just not let him hit those downhill cracks; that's what they do best."
During the many battles in training camp, Charles gave the Chiefs defense a good look at what running backs with his speed-of-light quickness can do.
Chiefs two-time Pro Bowl LB Derrick Johnson, who has teamed with Jamaal since 2008, knows how fast and valuable he is and is using that familiarity to hopefully help stop Chris Johnson on Sunday.
"He's super-fast," DJ said of Chris Johnson. "You have to play team defense against him. If one person misses a gap or gets out of your gap, even a little bit, he can skinny through there. He's a smaller guy, but he still has the speed of Jamaal and he can take it for 80 yards, at any time, so we have to be on top of our game, all game."
While Sunday's game is not an individual competition, I do know the Chiefs are thankful for their Pro Bowl RB, who not only has benefitted the team on offense, but also helped his defensive teammates prepare for playmakers like himself, including the guy the Chiefs face tomorrow, Chris Johnson.
To hear Mitch's complete interview with Jamaal Charles, listen to 101 The Fox on Sunday.