When you walk into The Children's Place in Kansas City, one of the first things you see is the vision of the organization imprinted on the wall.
"Enabling the very youngest survivors of child abuse, neglect and trauma to function and thrive in their communities."
It's actually a perfect placement because in one simple description, it tells the story of whom you're about to see, what they've gone through and where they are going.
No child is older than six, but each of them has experienced hardship in his or her life at way too young of an age and is in the process of getting better.
"What we try to do here is keep teaching them is the way they lived—being abused or being neglected—isn't normal," Roxane Hill, The Children's Place vice president of development and communications, explained. "There are a lot of grownups in their world that can keep them safe, so by continuing to expose them to different adults and different situations coming from different walks of life, it's just adding to that."
On Thursday, the Chiefs, specifically Jason Avant, Jeremy Maclin and five other members of the wide receiver unit, in a small way, were able to help that process along.
First, upon arrival, the Chiefs in attendance were split into four separate groups so that they could read to the children.
Almost immediately, the kids found comfort with the players, who were welcoming to those that wanted to sit on their laps or embrace them.
One child in particular especially took to Albert Wilson, who immediately received a hug as he walked in the room.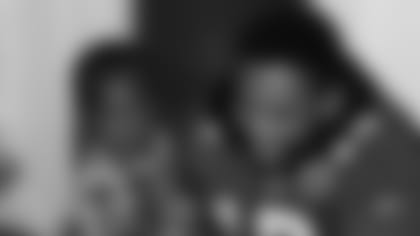 "It's just the connection," Wilson said. "It really means a lot to me, being in a similar situation as these kids as I grew up in a foster home. Just seeing somebody to come back to bring a positive light into a kid's future and being around to interact with them. It brings a good feeling to me."
Rudy Liggins, a teacher at The Children's Place who is known to the kids only as "Mr. Rudy," was amazed at the reaction. Some of his warier students opened up when they saw the Chiefs.
"In our circle time with the Chiefs, we had a couple of kids who are really shy," Liggins said. "But I thought the Chiefs did a real good job of being engaging … Once they saw those guys laughing and smiling, it made everybody kind of be at ease and some kids who usually don't talk, they were talking."
Maclin, one of the day's readers, recognized what a visit like this can do in a child's life.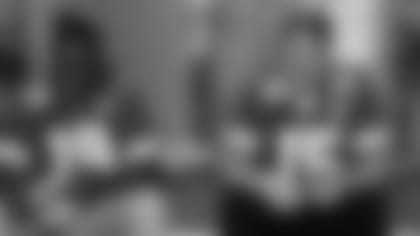 "I've always said once you start doing this type of stuff—touching kids, reaching out, providing them with opportunities that they normally don't get—I think you're fulfilling your maximum potential as a person," he said. "I think that's a lost art in what we do."
"You see guys on TV, but I think we have so much influence and so much power that we can change somebody's life, so any time you get an opportunity to do that, you should jump on it."
---
The Kansas City Chiefs Wide Receivers visited with students at the Children's Place on Thursday afternoon.