The veteran leadership Jeremy Maclin provided in his first season with the Kansas City Chiefs isn't something that's easily quantifiable, but it's palpable when watching how he carries himself and how the younger players on the roster look to him for guidance.
It's also easy to see why these guys would look up to him.
He finished his first season in Kansas City with 87 receptions, which is now the franchise record for receptions by a receiver in a single season.
Add that achievement to his 1,088 yards receiving and 8 touchdowns and it was a great statistical year, although stats are about the last thing Maclin will ever talk about.
The guys look up to him because of his actions the other 99.9 percent of the time they're around him. The plays he makes on the field are simply a reflection of the work they've seen him put in every day.
This past offseason, when many of his teammates retreated to their offseason homes to do training on their own or with those they've trained with before, Maclin decided it was best for him to stay in Kansas City.
"These are the guys I spend most of my time with—the training and strength staffs that know me best," Maclin explained. "Why would I walk away from that? In a crucial time like this when you need to get your body right, you've got to make sure everything else is coming together.
"I think one reason why guys do it is for the weather. You understand that, but I can take trips to the hot places while I'm working. I'm going to work with guys I'm familiar with."
Maclin knew that soon-to-be third-year player Albert Wilson had planned on being in Kansas City as well, so they'd be working out together, but he made sure that another one of the promising young receivers on the roster also had this opportunity.
"I had gone back to Atlanta, Georgia and got an apartment there," Chris Conley, last year's third-round pick out of the University of Georgia, said. " I'd been working out with the people that I train with in Georgia, then I got a phone call from [Maclin] one day, and he said, 'Hey, what are you doing?' I said, 'Nothing man, just on the grind.'
"Then he gave me a flight number and a time and told me to get on this flight. 'You're coming back to KC.'
"I booked the flight and I came back," Conley said. "I began working out with Jeremy at the beginning of March and stayed at his house."
Conley finished his rookie season with 17 receptions for 199 yards and a touchdown, which isn't necessarily something to write home about, but when called upon in the biggest of situations, Conley delivered.
In Week 7 against the Pittsburgh Steelers, Maclin was ruled out with a concussion just two hours before kickoff.
With the Chiefs having lost five straight and in a must-win situation, Conley stepped up and delivered a 6-catch, 63-yard performance that included a fourth-quarter touchdown that sealed the victory.
It was the beginning of the 11-game winning streak for the Chiefs.
Later, in the AFC Wild Card game against the Houston Texans and what ultimately became the biggest win in the past 22 years for the Chiefs, Maclin went down with a high-ankle sprain early in the second half.
Once again, Conley was asked to step up.
Literally, just minutes after Maclin went down and on a play he had never practiced, Conley caught a 9-yard touchdown from Alex Smith to give the Chiefs a 20-0 lead over the Texans.
Now, months later, Conley is living with Maclin and learning from one of the best in the game on how to prepare for an upcoming season as a professional.
"It was a really unique time for me to be able to be around somebody to get to know him better—to see how he works and the way that he trains and lives and emulate that," Conley said. "He has really taken the time to work with me on the deficiencies in my game and the strong points in my game because he wants me to take things to the next level."
"He was all for it," Maclin said of Conley coming back to join him in Kansas City. "I just wanted him to be around a vet and see what I did in the offseason. Clearly he's still young and so you want him to experience certain things, so he went home on the weekends and did what he had to do.
"But when it was time to work, it was time to work. So I just wanted him to understand my process and what I did."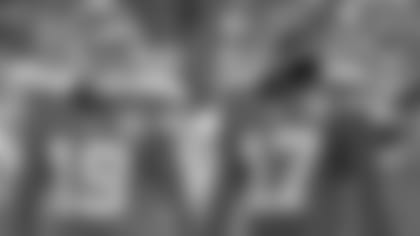 The opportunity meant something to Conley.
"It just speaks volumes to the kind of guy he is, but also says that he believes in what I can do as a player," Conley added. "So I had to take that at heart, but it challenges me every day that I come in to the building to live up to the standards that he's shown me and to be the type of player that he says that I can be.
"We have a long way to go, but there's been a lot of progress that's been made this offseason."
Wilson said it was important for him and Conley to see how a guy like Maclin prepares during the offseason.
"Just knowing the work he puts in," Wilson said. "It gives us an eye-opener to how much you have to put into this game."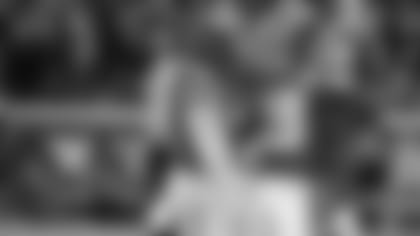 Maclin likes what he saw from Conley and Wilson over the past few weeks.
"I think those guys are coming all the way around," he said. "One thing I try to tell them—the great ones get better each and every day, and that's from [Jerry] Rice, to T.O. (Terrell Owens), to [Isaac] Bruce, [Torry] Holt, Cris Carter, those type of guys, those guys got better every day.
"Whether that's watching film, doing stuff for their bodies—your body's your temple—you've got to understand that. If you're not healthy, you can't play and you can't produce at a high level."
Maclin's leadership was something coach Andy Reid and wide receivers coach David Culley were aware of when they signed him as a free agent last offseason. They knew what he was going to bring to the table because of their time together with the Philadelphia Eagles.
Now with fellow veteran Jason Avant remaining unsigned and without knowing if he'll be back with the Chiefs next season, Maclin is taking even more responsibility in the development of the younger players in their group.
"I'm the oldest guy in that room right now," Maclin said. "It's my job to kind of lead by example and show the other guys, 'Hey, this is how you do it, this is how you're a true professional,' and that's the one thing that Avant did.
"I think if I can do that, I'm doing my job."
After winning their first playoff game in 22 years and putting together an 11-game winning streak, which is one of the best marks in NFL history for a team that began the season at 1-5, things are pointed up moving forward for this offense and its receivers.
They get the franchise's all-time leading rusher, Jamaal Charles, back after losing him to a torn ACL last season, and they even went out and signed one of the best right tackles in all of football in Mitch Schwartz this offseason as well.
"We want to get there," Maclin explained. "We want to win it all and I think we have the talent to do so. I think we have the type of guys in this building, the type of coaches in this building and the type of organization in general to get that done, so it's our job to go out there and do it."
Maclin made it his job this offseason to make sure at least a few of them were doing it together, which is a perfect start to the preparations of the 2016 season.