The Kansas City Chiefs added talent and depth to its LB corps, signing Joe Mays on Wednesday. This year will be Mays' seventh NFL season and his third campaign with Chiefs head coach Andy Reid, who drafted him in 2008. Six seasons later, Mays has recorded 35 starts in 61-career games, as well as 141 tackles, 53 assists, 1.5 sacks, six PBUs, nine QB hurries, 18 TFLs and one forced fumble.
On Thursday, Mays addressed the media, via conference call, speaking further to his relationship with coach Reid and the biggest factors that led him to KC.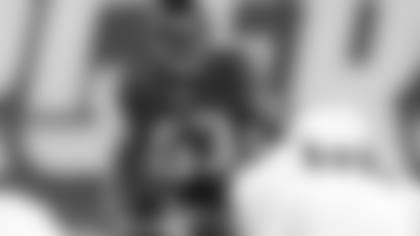 Q: What have the Chiefs told you about your role in Kansas City?
MAYS: "They haven't really said much; the only thing they've told me is they're going to bring me in to compete. So, I'll let everything else play out and just come in there and do what I need to do and hopefully, I'll carve out a role for myself."
Q: What's your relationship with Andy Reid?
MAYS: "We have a pretty good relationship. It was just like I hadn't left, when I had a chance to see him, when I came out there. He was smiling and I was smiling; it was just good to see him. He seemed like he was in good spirits. Everything is going well, and it's just exciting to get back with him, because I know the type of person that he is."
Q: Have you and Andy Reid stayed in touch, since you left Philly?
MAYS: "Yeah, just a couple things, here and there. A 'How you doing?' and stuff like that. I texted him, during the tragic time with his family; so, I just wanted him to know that I was always thinking about him. He stayed on my mind, because you know, he's a great guy and he gave me my first opportunity, so I could never ever just forget about him, like that. He's just such a great guy."
Q: Was there interest from other teams or just the Chiefs?
MAYS: "There was interest from a couple of teams, including Houston; they wanted to bring me back in, but I felt like it was a good situation in Kansas City. I know about the fan base, from playing against these guys, twice a year, with me being in Denver, so, it's just a good place to play ball and just knowing the coaches and getting a chance to meet them and talk to them, they're serious about ball; they love ball, but it's also a family atmosphere. That was something that I wanted to be a part of and I know my family will love it out there too, so it was just an easy decision for me."
Q: Do you know any of the other guys on the Chiefs?
MAYS: "I know (Chiefs WR) Weston Dressler, because he went to UND and I went to North Dakota State and we are rivals. You just can't help hearing about the good players that come out of North Dakota, because they're undefeated all the time and I know about him. Just showing that we signed him and I'm coming here as well, it'll be good to catch up with him and see how everything has been going and stuff like that. As far as players, I don't think there is anyone on the team that I've played with, but I know a lot of the coaches and a lot of the staff that came with Andy (Reid)."
Q: How do you feel about coming to a defense with Pro Bowlers like Eric Berry and Derrick Johnson?
MAYS: "I was super excited, just seeing what they had in place already. I think (there are) five Pro Bowlers on their defense, if I'm not mistaken, four or five or something like that. But, just to see how these guys play week-in and week-out and see what they brought to the table, that's something you want to be a part of. That's special, there. I just want to come in and bring whatever I can to the team and try to learn from the best. These guys are some of the best players in the NFL and make up a great defense. Whenever you can be a part of something that special, you go in not trying to do too much, but you try and go in and learn from each and every last one of them."
Q: Have you stayed in touch with former Eagles LB Akeem Jordan and S Quintin Demps? Did they tell you anything about Kansas City?
MAYS: "I stayed in touch with Quintin Demps, and he told me that it's a great place. He said that I would love it here. The fans here are great; it's just a great place to be, a great organization, a great team and a great family-type atmosphere. He told me about that and I knew I was going to love it from the moment I stepped foot in Kansas City. They definitely laid out the lay of the land, before I got there."
Q: What was the biggest factor in getting you to Kansas City?
MAYS: "That's a tough one. There are so many different factors, like having a great place for my family, you know, family comes first for me. I want to go to a place where my family would love it, and I've heard nothing but great things about it. That was important to me. Getting the chance to link up with Andy Reid, that was important to me too, because he's such a great person and a great coach. Why wouldn't you want to be around someone like that? Just what I've been hearing about the team, I mean, the team, the family atmosphere, that's important to me too, because I kind of go back to college ball and how we all used to play for each other and you were all family and there was nothing else involved with it, and I heard that's the type of locker room that these guys have, here. Right now, I want to be a part of that and do something special and go out there and compete each and every day for each other and try and win. There were a lot of different reasons why I chose it; it's kind of hard just to pick one."
Q: How much work did you get at nickel and dime packages with the Texans?
MAYS: "I didn't get any work with the dime packages, because they really didn't want to focus a dime package on me. They already had their guys that they wanted to work in there, but later, towards the end of the season, they wanted to keep two linebackers out there, and I was one of them. I think maybe the last four or five games, we started going to a nickel package and it worked for us. That was something that was great, because they were already a two-package team for the most part, but I felt like I could go in there and play some third down. Hey, if they put me in a nickel package, I can pick it up and do fairly well with it."
Q: How comfortable are you covering tight ends in pressure situations?
MAYS: "I'm comfortable. I'm getting better and better, each and every year. That's something that I try to work on. I pride myself in trying to be the best football player that I can be. I'm always working, always trying to get better and I've gotten better and better, over the years, when it comes to being out there in passing situations and covering backs and stuff like that. I'm comfortable and I'm ready to roll, if that's something the Chiefs want to do, but right now, I think the focus for me is to come in and learn the system and do whatever I can to help the team."