Kansas City Chiefs general manager John Dorsey joined NFL Network's "Good Morning Football" Monday morning, and as expected, the panel first asked about the team's 2017 first-round draft pick, quarterback Patrick Mahomes .
"It's not only his ability to play the game of football but it's also his person," Dorsey said. "He loves the game of football."
Dorsey, who has worked in football operations in some capacity since 1991, explained that it's very rare for a scouting department to be in complete agreement on selecting a player, but that's exactly what happened in the case of Mahomes.
"Everybody was at ease, and we made the pick and we're very excited to have him," he added. "He's in a perfect situation where he can sit and learn from Alex Smith and fine tune those mechanics and those skills of playing this game of football."
The current plan is for Mahomes to sit behind Smith for the 2017 season, and the Chiefs actually were sure to call Smith during the first round to keep him on the loop on the selection.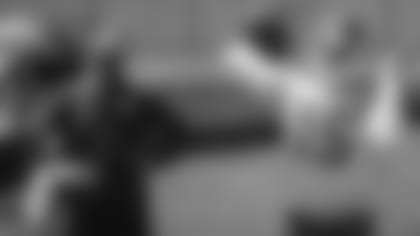 "When we were on the clock, when we had traded up with Buffalo, we made sure we had again gotten in touch with Alex, and he was all on board for this," Dorsey said. "Alex Smith, in his fourth year here, has the fourth winningest record in the National Football League since he's been here. That guy understands this is his team and the young guy understands that he is going to learn and develop these certain traits that it takes to be a quarterback in this league."
After addressing Mahomes and Smith, Dorsey spoke to what he particularly liked about his draft class beyond round one.
"I like our number two pick from Villanova (Tanoh Kpassagnon)," he said. "We like to call him TK. I really love our third-round pick, the running back (Kareem Hunt). As this draft began to unfold, you could see certain trends beginning to develop. Where we were in the third and fourth round, so I thought it was best for us because we had extra picks to move up and acquire these players that we liked, and so we went for the running back from Toledo and we went for the receiver at Michigan (Jehu Chesson). Another one who I like is Ukeme Eligwe, the linebacker from Georgia Southern. What he has is that perfect blend of size and speed and his passion for the game, I can't wait for him to get in the preseason and see how things unfold."
Now that the draft is over, the draftees are in the hands of coach Andy Reid, a process that started this past Saturday, Sunday and Monday with rookie minicamp. Dorsey has shared a relationship with for quite some time.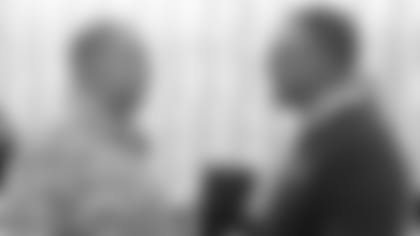 "Andy and I have probably known each other now for probably 25 or 26 years, and we've always been very close, and whenever we had a chance to get together like this back in 2013, to me it was the perfect blend because we both understand each other," he said. "We both have no egos. We're going to check our egos in at the door. We're going to roll our sleeves up. We're going to work because we're all fighting for the ultimate goal. Andy and I are very close and we'll continue to be close for years to come."
Both Reid and Dorsey got their starts in coaching and scouting respectively with the Green Bay Packers dating back to the early '90s. Dorsey, Reggie McKenzie (Raiders) and John Schneider (Seahawks) all learned under the same Green Bay general manager.
"We all should be very thankful for a man named Ron Wolf," he said. "I personally have great admiration for Ron. I consider him one of my mentors. He was willing to teach all of us young guys what it took to achieve championship status. He was willing to teach all of us young guys what it would take from analyzing a roster to building a roster from putting a draft board together to making hard decisions, being able to make contractual decisions."
Dorsey told a story from his days learning under Wolf.
"When John (Schneider) and I were young scouts, Mr. Wolf came to us about 7 a.m. two nights before the draft," he said. "Back then, they had VHS tapes. He goes, 'You guys need to empty this box out. These VHS tapes.' There was about 500 out of them, so John and I stayed up until about 3 o' clock in the morning doing this, so we made sure we had an answer for Mr. Wolf 7 a.m. that next morning. Sure enough we found Travis Jervey in that box, and we drafted the young man."
Jervey played for nine years in the National Football League.
To close his segment on the show, Dorsey had one final message for Chiefs fans.
"We're going to do things for the long-term interest of this organization," he said. "I feel really good going into training camp with out current roster, and I look forward to these young guys competing because we have competitive depth all across this team, and that's all we strive for year in and year out. Like we've always said, we're going to be competitive year in and year out in the AFC West. Things look good here in Kansas City right now as we speak."