For Kansas City Chiefs general manager John Dorsey, the NFL Scouting Combine provides an opportunity for him and his staff to meet and interact with all of the draft prospects they have been evaluating over the past few weeks.
Heading into the Combine, Dorsey said there are currently between 150 to 175 players on their draft board, but also mentioned it's a very fluid thing.
One of the reasons players may fall off of that draft board is by not passing their medical checks, which every player must do when they first arrive in Indianapolis.
"I think that's one of the true values of the Combine," Dorsey noted. "The medical results that you get from them."
For the Chiefs, head athletic trainer Rick Burkholder and his staff personally evaluate all 332 prospects in attendance this week.
The Combine also provides each NFL team the opportunity to meet with 60 select prospects for formal interviews, and for Dorsey, who prides himself on building a team with high-character players, this is important time to get to know the makeup of these players.
"I think it's a chance to really meet the kid the first time," he said. "I just want to see what kind of person he is. I can tell within about 15 minutes if he's a good guy or a bad guy. I can work through that, but then if I have certain questions, I may go and do my due diligence and go visit him or I may go to his campus.
"It's not final in the 15-minute interview."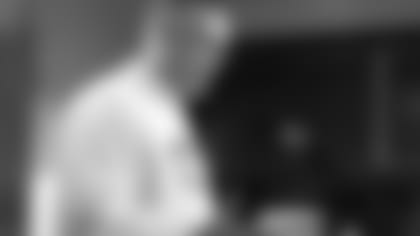 The ability to put together a roster of players who can come back from a 1-5 start to win 11 straight isn't by happenstance. It's an art, and so is Dorsey's ability to figure out a player's character within the first few minutes of meeting him, particularly when each player is trying to show his best self to these teams.
"The art is they all know it's staged and canned," he said. "So, you have to fight through all of that. Once you peel those layers back, I think you can kind of get a feel and understanding of the person and the makeup of the person."
While coach Andy Reid isn't able to be in Indianapolis this week because of knee replacement surgery, Dorsey said they have been around each other long enough now to understand what each of the two sides of football—the personnel side and the coaching side—are looking for in players to fit their schemes.
"We've meshed together and we understand each other and trust each other," he said. "I don't think the process has changed one bit, but I do miss having Andy here, and here's why.
"When we sit down in the 60-player interview room, it's always nice to have him there because he does a nice job of just understanding players and their worth."
According to Dorsey, there's a lot of worth in this draft class along the offensive and defensive line, but there's still a long way to go before that final board is set. "We're 50-something days away from the Draft, so it will continually change and evolve as we watch guys compete here at the Combine," he noted. "We'll go to the school visits and watch them compete and then we'll begin to formulate that final piece of the puzzle."