It has been 234 days since the Kansas City Chiefs introduced John Dorsey as their sixth general manager in club history. Just days removed from speaking at the team's annual kickoff luncheon, Dorsey's final message to the capacity crowd foreshadowed another opportunity he would soon seize to improve the team.
"I will learn from the past, I live in the present and I'm truly going to build for the future," Dorsey said last week, before spearheading efforts on Sunday, when the Chiefs claimed seven players off waivers.
"In January, we said that we would turn over every stone possible," Dorsey said Monday. "And the positive, we said, by being the first pick in the draft is, you have the first pick in the waiver claims. It's a very unique situation; hopefully, it will never happen again and then you go to try to build your roster."
The moves announced by the Chiefs on Sunday stem from Dorsey's personal goal in life, 'getting better every day,' but they came at the expense of other players.
"It was incredibly hard to do," Dorsey said. "Because of all the time and effort, as I like to say "sweat equity", that the young men put in, who you had to release; that's the emotional part of it, but I think we're better off today than we were yesterday or a couple days ago."
Signing all seven players, CBs Marcus Cooper and Ron Parker, WR Chad Hall, TE Sean McGrath, DT Jaye Howard and LBs James-Michael Johnson and Dezman Moses, provided Dorsey and his team satisfaction, heading into Week 1.
"Right now, I'm very satisfied," Dorsey said. "We've done the best possible job that we could do to advance us forward, to get ready to play Jacksonville."
Although a very important face of the franchise, Dorsey was quick to give praise to his staff, which helped acquire the next 'best fits' for the Kansas City Chiefs.
"A lot of the credit, in terms of the moves, goes to the personnel department," Dorsey said. "Let's don't lose sight of that. These guys have diligently been going at this, the entire preseason; my hat goes off to them. We were organized and we had a plan. We had all the positions ranked out, so we were ready; then we had a group evaluation by positions, in terms of, 'Can they or can they not help us?' and then we evaluated. We narrowed it down and then we told the coaches, 'Ok, look at some of these guys as well and tell me what you think' and then we factored in everybody's opinion and made the best decision for the Chiefs."
Dorsey later spoke to the position the Chiefs had when claiming players off waivers.
"That's the uniqueness of this," Dorsey said. "When you're sitting at the first pick, it's a rare opportunity you get to do this; so take full advantage of it, knowing that you'll never be there again."
The waiver claim additions also stem from the collective goal by Dorsey and Chiefs head coach Andy Reid to develop a deep and competitive roster.
"We've always said we're going to try to make that back end as competitive as possible," Dorsey said. "It creates the next-man-up mentality and that creates competition, which creates a stronger roster."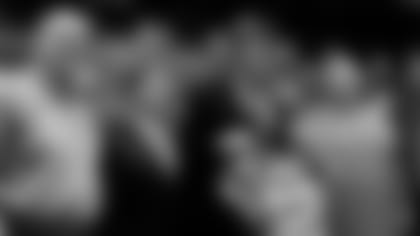 With arms locked, both Dorsey and Andy Reid continue to lead the 2013 Chiefs, including the veteran players, free agent and waiver-claim additions, as well as this year's draft class and the eight players signed to the team's practice squad, but they're not doing it alone.
"It's not just a relationship with the coach," Dorsey said. "It's a relationship of everybody within this building. It's a relationship with those players; we're all in this thing together and that's how were going to go forward. Andy and I have very good communication lines. I have very good communication lines with those players and rightfully so; what those guys do is hard, really hard."
And it's those hard-working players who have Chiefs fans excited for the 2013 voyage, which begins on Sunday, facing the Jaguars.