The general manager, the head coach and probably even the defensive coordinator, his without-a-doubt biggest advocate, were all in agreement.
Linebacker Josh Mauga was signed by the Kansas City Chiefs last July to be a role player, not a starter.
At that time, that was the need.
Joining outside linebackers Tamba Hali and Justin Houston on the inside of the linebacker corps were Derrick Johnson and Joe Mays, two players coming off healthy 2013 campaigns.
The Chiefs had no reason to think 2014 would be any different.
So, with that said, the job offer was backup and Mauga was called for an interview. He would later say that out of the 32 NFL teams, only three reached out.
Remember, this was mid-July of 2014, and the last time he had played in an NFL regular season game was with the New York Jets on October 8, 2012, a Monday night contest against the Houston Texans.
That night, he tore his pectoral muscle and missed the rest of the season.
The following year, in 2013, when he tried to make a comeback, he hurt his back in training camp and was placed on injured reserve in early September.
"Any time you have injuries, it is frustrating," Mauga would later say. "Having one back-to-back like I did, I wasn't sure if I was going to get a chance to play again."
Add it all up—that string of bad luck that sometimes goes along with the human body—and it was more than one year and nine months between his last game and when the Chiefs called.  
The risk was no doubt there, but to cite a fitting cliché, sometimes the best opportunities come about because of who you know, or in Mauga's case, who knew him.
In that last game he played in for the New York Jets, now-Chiefs defensive coordinator Bob Sutton was coaching the linebackers. Mark DeLeone, now an assistant linebackers coach with the Chiefs, was also on staff.
"He has knowledge of the system," Sutton, who runs a similar scheme now as he did with the Jets, insisted upon the Chiefs bringing Mauga in. "He has played both inside positions. He has played both sub positions. At New York, he actually played games as an outside linebacker."
Ault, the inventor of the "pistol" offense, had coached at Nevada for 36 years, including 2005 to 2008 when Mauga was a member of the team.
Three familiar faces meant the perfect opportunity for Mauga along with a feeling of comfort to go with it.
Now all he had to do was prove his worth to the boss.
 "What he has to do if he's going to be a role player is distinguish himself on special teams," John Dorsey said of Mauga early on at training camp. "Your core set of special teamers are going to be linebackers and so that will be something you watch for."
It's amazing to look back now and recall that whether or not the Chiefs eventual tackle leader would stay with the team initially depended on if he could play a secondary role on special teams.
That thought process of course would change with the loss of Joe Mays in mid-August, when it was announced that he needed wrist surgery that required six to eight weeks of recovery.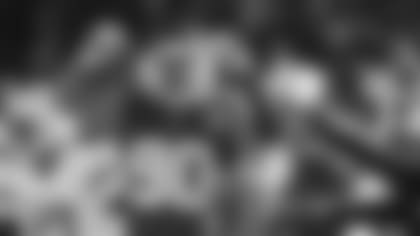 The Chiefs necessity for Mauga grew. He would have to be a starter.
As a plus, the Chiefs already knew he could be a backup. The history with Sutton meant that Mauga already had the Chiefs defensive scheme, the only professional scheme he had ever known, mastered.
Minimal teaching time meant an optimal choice for Sutton, and Mauga joined Derrick Johnson in the middle for the Chiefs Week 1 matchup against the Tennessee Titans.
But then Johnson went down, and Mauga, the veteran, was called upon to be the team's defensive play caller from that point forward.
Though very unfortunate for the Chiefs, the injuries to Johnson and Mays opened up a golden door for Mauga. He was in the right place at the right time, his career had new life and he had full support of one of the game's most respected head coaches.
"Mauga, he knows the system," Chiefs head coach Andy Reid, realizing he'd be without Johnson the rest of the year after Week 1, told the media. "He was a starter in the nickel package for the Jets, and he's a good football player. That's why we brought him in, to give him that opportunity to play, at that time backup, and now he's asked to start."
In 29 games spanning over three seasons entering the year, Mauga had registered 44 combined tackles. In 2014, he reached that mark by Week 7.
As the season went on, Mauga became a critical part of a Chiefs defense that was remarkable against the pass and tremendous in the red zone.
Entering Week 8 against his former team, the New York Jets, the Chiefs were 4-3 and very much in the postseason hunt. Asked about what it would mean to play the team that cut him, Mauga was modest.
"It will be great to see all the guys out there," he said, "mostly the guys I played with in the linebacker room. It will be cool to see them again and no hard feelings.
"I guess they just figured I was done and it will be great to get back on the field and show them I can still play."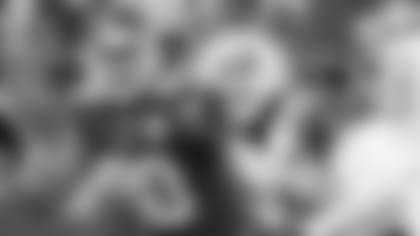 Mauga finished with a team-high 10 tackles on the day in the Chiefs 24-10 victory, and though he wouldn't talk about how well he was performing, Reid didn't shy away the following week.
"I mean, he's leading the team in tackles and he led the team in tackles yesterday with 10," Reid proudly told the media.
Mauga continued that pace as the season went on and his role, once thought to be secondary, adapted to that of a team leader.
At the end of it all, his team lead in tackles stayed true.
There were 39 players in the NFL to eclipse more than 100 tackles in the 2014 regular season, and Mauga was the only Chief on the list with 103.
The week before facing the Jets, he stood at his locker and welcomed questions at a time when he may have rather made himself unavailable.
Mauga, who was usually quiet but always answered questions with confidence, maintained that manner. But when he was asked if things had turned out the way he had hoped, though he kept the same way about him, there was something special about the question.
"Better," he said with wide eyes. "Things have worked out even better than what I expected and I'm very grateful for that."
Last season, Mauga created a reel of visual proof, 16 games of it, that he deserved a job in the National Football League, and moving forward into 2015 with the Chiefs, he lives as an example of someone who rose to the occasion when he was given a golden chance.
Replacing Derrick Johnson, even for just one season, must have felt like an overwhelming challenge.
But Mauga never flinched.
Enjoy photos of the Chiefs linebacker group.