The Kansas City Chiefs' coaching and personnel staffs get together every night at training camp for about 45 minutes to go over what they saw at practice that day.
It's part of the open communication between the two departments, who are all working towards the same goal—to put together a championship football team.
During these meetings, each of the position coaches shares the grades they've given their players for that day, and then they discuss how their guys are taking in the coaching they're giving—from the techniques they're being taught to their overall attitude and effort.
It gives the scouts an idea of how the player is handling what's being thrown at them every day by those who are always around them—something the scouts might not see from standing on the sideline during practice.
It's all part of the ever-evolving roster-building process that general manager Brett Veach and his staff will use to try and prepare to whittle this roster down to just 53 players by Saturday, September 1 at 3:00 p.m. CT. That's the day and time when more than 1,100 players from all over the league will all be released at the same time.
Right now, the league only has one cut-down day, which takes place after the fourth and final preseason game, which gives an opportunity for more guys to play in that final preseason game but it also means personnel staffs will have a mountain of information to sort through in a short time when all those players become available.
So, the journey to the final 53-man roster is a group effort and one that takes a certain level of organization and communication to be successful and efficient, and the process the Chiefs have in place is one that Veach appreciates because of the open communication between everyone involved.
"We just listen," Veach explained of those nightly meetings. "We operate in that fashion. Right now, the coaches have them every day. We only see so much and we only see what's at practice. You might go out there and see a guy who you thought had a really good practice, but you might find out that half the time he was doing the wrong thing. Sometimes guys do a lot of good things but they aren't doing it in the framework of what we deem will be successful on Sundays.
"That's something we really value the coach's feedback on."
Whether it's in these meetings at night, the sidelines at practice, or even just in passing between coaches and scouts in the cafeteria, there are hundreds of behind-the-scenes conversations that take place which all go into the process of figuring out the composition of this year's roster.
"They're building their resume right now," Veach explained of the players. "It's been a fun process for these guys—to see where they were when they first got here and to see them grow and develop. It's a tribute to them for the work they did in the offseason, and it's a tribute to the coaches for bringing them along."
After practice each morning, the personnel staff will get together and watch the practice tape that day. They will then make their own notes before they get together with the coaches that night.
And during those nightly meetings, they only stick to the work done that day. They don't get deep into what that player may have been doing months ago. It's more general to the specific day they're meeting and it's to "build a database and look at trends."
"We're not debating everything," Veach added of those meetings. "We're looking for consistency over time. This guy is getting better; this guy is getting worse. Those things plant in your mind on where you might want to go."
Once the preseason games begin, Veach will assign each of his scouts to a specific division around the league, and that scout will be responsible for placing grades from the preseason games on the players on the four teams within that division.
"They'll start with the end zone views to watch the offensive lineman, and then they'll watch all of the skill guys," Veach explained. "Then they'll tag guys. We have a number of levels on how we grade the players—from high and low-impact roster guys to high and low-impact practice squad players."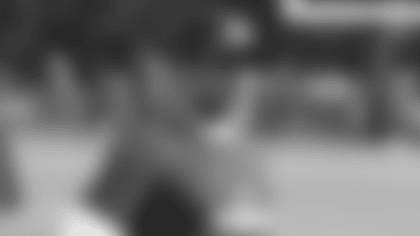 Veach said that the first and last preseason games are the ones in which most of the work will be done because that's when the majority of the younger and non-regular season starters will be playing. He also said that there's obviously a lot of attention paid to the special teams' units for each of these teams during the preseason. That's where a lot of guys fighting for roster spots can show their value.
Once all the grades for the players are in, the database will then be able to quickly spit out reports when players from around the league start getting released on September 1.
"There may be a position we're looking at and the report may say there are 20 guys who become available," Veach explained. "But eight of those guys might not have a rosterable grade from us, and so you start at the top and then just move down the list."
"This is where that 17-day process also comes into play," Veach explained of the process they go through leading up to the NFL Scouting Combine (and draft) each year. "It just doesn't end with the draft because a lot of the guys who show up on these lists each year, I remember doing these guys back then during those meetings. I can pull my reports and some of those guys you didn't like the first time and see why they're available, but some guys, I wonder they're available.
"It can lead to finding guys sooner."
The process of these scouts watching the tape of all the preseason games is a lot of work done by guys who might spend hours and hours watching tape and tagging and grading players who may never become Chiefs, but it's these scouts who may end up finding the player who makes a big play for the Chiefs in Week 16 on special teams to help win a game.
It's not a stretch that something like that could happen, but for all the work that takes place by evaluating players on other teams around the league, the truth is the Chiefs find themselves in a good position with all of the talent and depth they currently possess on their own roster.
Barring injuries, Veach said there aren't a lot of spots the Chiefs are looking to make upgrades right now. He likes this roster as it stands now.
If anything, there are guys at camp right now who won't make the Chiefs' 53-man roster but will be playing in the NFL somewhere this season. It's a good problem for a general manager to have—too much talent to be able to hang on to everyone.
But for right now, Veach and his staff are just listening to the coaches each night and taking in all of the information that's out there for them to soak in every day. From what's being said in the meeting rooms to what's happening on the field, where he and his staff are simply looking for those tough, smart, athletic guys who love the game of football.
"The one thing you can't evaluate on tape is the energy and competitiveness you see first-hand when you're out at practice," Veach noted. "You can see if they're coming in with the mindset of getting better every day and trying to bring their teammates along with them, or if there's a pattern of simply trying to get through practice."