Two individuals walked through the double doors of a brick building earlier this month, passing by the world-famous Blue Room and the historic Gem Theatre before entering a space less than 100 feet from the intersection of 18th and Vine.
Neither man – not Kansas City Chiefs' safety Justin Reid nor cornerback Trent McDuffie – had ever ventured to this hallowed ground before, but they would soon learn that this humble building contained the story of how sports – and the brave athletes at its forefront – helped bring about positive change to society as a whole. It's a story that's far too often overlooked and forgotten, but one that deserves to be told.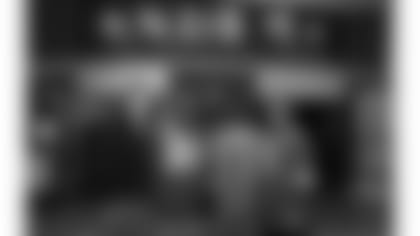 "We always celebrate those who cross the bridge, but we rarely celebrate the people who built the bridge," said the man who greeted the two players inside. "The Negro Leagues built that bridge."
The man speaking was Bob Kendrick, the President of the Negro Leagues Baseball Museum in the heart of Kansas City's historic jazz district. His mandate on this warm summer afternoon was to provide Reid, McDuffie and more than a dozen high school football players from nearby Lincoln College Preparatory Academy with a museum tour, transporting this contingent of athletes to a time of defiant resiliency in the face of segregation and bigotry.
We always celebrate those who cross the bridge, but we rarely celebrate the people who built the bridge. The Negro Leagues built that bridge." Bob Kendrick, President of the Negro Leagues Baseball Museum
"Today gives us an opportunity to talk about the importance of what the Negro Leagues meant to virtually every athletic endeavor," Kendrick explained. "I don't care what you play. If you play it professionally in this country, and if you're black or brown, all roads lead back to the Negro Leagues Baseball Museum."
This visit – which spanned several hours under Kendrick's thorough guidance – was in honor of Juneteenth, a federal holiday that commemorates the end of slavery in the United States and celebrates African American culture. On this particular outing, it was an opportunity to reflect on the revolutionary actions of individuals such as Moses Fleetwood Walker (considered the first black player in MLB history), Rube Foster (called the "Father of Black Baseball") and Cool Papa Bell (perhaps the fastest player of all time) – names that have largely and wrongly been omitted from the history books.
Kendrick explained that the individuals behind the Negro Leagues pioneered numerous innovations that are now commonplace in American sports, from night games to batting helmets. The Kansas City Monarchs, who were described as the Negro Leagues' equivalent of the New York Yankees at the time, were also Kansas City's first professional champion in 1924.
Much of that knowledge is lost, however, due to the blatant racism that influenced the way that history was recorded. It's a reality that the Negro Leagues Baseball Museum is determined to combat, providing a fitting celebration of Juneteenth – and all it represents – for McDuffie, Reid and the Blue Tigers of Lincoln College Prep.
"If you don't control the pen, you can't tell the story," Kendrick told the athletes. "Our museum is about telling the story the way it should be told."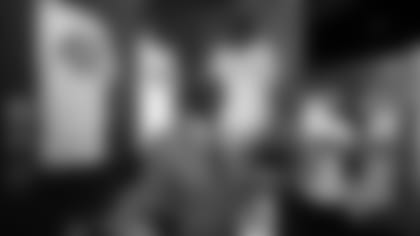 The tour began as it always does, with a view of the iconic baseball diamond at the museum's center from behind chicken wire. Much of the museum is intentionally designed this way, transporting visitors to a time when young athletes were so close to their dreams, yet prevented from ultimately reaching them. That stark truth would lead most individuals to give up, but the determined athletes of the Negro Leagues were not most people. It's why the museum only allows those who fully tour its exhibits to "earn" their place on the field at the end of each visit, just like legends such as Jackie Robinson did.
"It's amazing how they stood up for themselves, and it was about more than just their sport," Reid said. "They may not have even realized that they were doing it, but their love and passion for their sport bled into culture and ended up contributing to revolutionary changes in society. It's a spirit of love that made a difference and changed everything moving forward."
Indeed, as Kendrick pointed out during the tour, professional sports helped lead the way for integration in America. Jackie Robinson suited up for the Brooklyn Dodgers in 1947, breaking the color barrier that had prevented Black athletes from competing in Major League Baseball for six decades. A year earlier, in 1946, four Black football players re-integrated the NFL.
It wasn't until 1948, a year after Robinson's debut with the Dodgers, that the military integrated. Public schools then did so six years later in 1954, followed by the Civil Rights Act in 1964 that legally prohibited segregation in public places. According to Kendrick, each of those occurrences – which all marked a step toward positive societal change – had its roots in sports, and before any of those historical events took place, integration was commonplace in the Negro Leagues.
"One thing that I really found interesting was that at the Negro League games, the crowd wasn't segregated. Everybody sat together," McDuffie said. "That wasn't the case at Major League Baseball games, so I thought that was really cool. You never really hear about that, and I think it's cool because it helped transform society into what it is today. What this league did for us is amazing."
It's why Kendrick, who describes the museum as "home" for minority athletes of any background, has dedicated his life to preserving the Negro Leagues' legacy. It's also why Reid, a self-described "lifetime learner," was so excited to share it with the high schoolers in attendance.
"It's all about talking to them and spreading a message," Reid explained. "I understand that I didn't get to where I am now by myself. I learned a lot from the people who came before me just because I paid attention and listened to them. If these kids are willing to do the same thing, I'm always trying to pay it forward by being a voice for them."
That message is particularly impactful when paired with the meaning behind Juneteenth and the metaphorical bridge that Kendrick discussed at the beginning of the tour.
"Growing up, I didn't really know a lot about it. I understood that Juneteenth was a celebration of Black culture, but it was never really defined for me. I never truly understood it, but as I've grown up, I've realized that it's about being part of something bigger than myself," McDuffie said. "It's a way to look back at the history of everyone who came before me and to appreciate them. It's because of them that I can sit here today and live my life."
And while society has made strides since the days of when Satchel Paige and Josh Gibson – two Negro Leagues' superstars – were prohibited from playing alongside their white counterparts, the visit provided a reminder that we still have a long way to go.
"When I was younger, I used to think that 1946 was such a long time ago. As I've gotten older, I've realized that it really wasn't," Reid said. "Learning these lessons is so important, because history will repeat itself. If you don't know your history, you're doomed to repeat its mistakes."
To learn more about the Negro Leagues Baseball Museum or to plan your visit, check out their website by clicking here.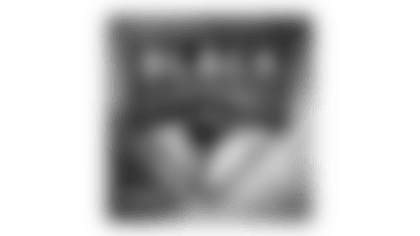 "Barrier Breakers": with Chiefs QB Patrick Mahomes
Kansas City Chiefs QB Patrick Mahomes joins Bob Kendrick (41:32) to talk about what he owes to the pioneers of the Negro Leagues, the challenges he's faced as a Black quarterback, his advocacy for social justice, and how he can keep the legacy of football's first Black stars alive.