The Kansas City Chiefs return to the practice field in a matter of minutes, beginning the first of four OTA sessions this week. Following today's practice, the team's defensive assistants and special teams coaches, including Chiefs defensive coordinator Bob Sutton, will speak to the media; before we hear from coach Sutton and others, the Chiefs defensive players have already stated their case about this year's new scheme.
"The offenses are very good now and they can put a little bait in front of you to get what they want," Chiefs LB Derrick Johnson said. "You have to play within the scheme; but at the same time, coach Sutton has a great system that is very attack style."
The attack mentality is even more fun to watch because coach Sutton's players are always on the go.
"It's a lot of moving around," Chiefs DE Tyson Jackson said. "It's a lot of moving parts at all times; pretty much the offensive linemen are on their heels, not knowing where we're going to be each down, so, as a defensive lineman, you have to take advantage of that, move around as quick as possible and try to create some pressure in the backfield."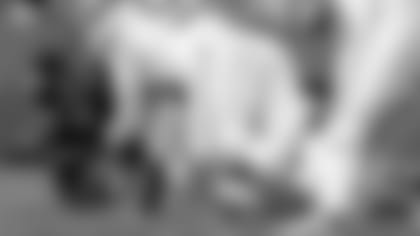 Chiefs LB Tamba Hali described coach Sutton's defense as a whole.
"The type of thing that coach Sutton is doing with the entire defense, from cornerbacks to safeties, to linebackers, we're coming; so, we can get a lot of sacks," Hali said.
"They're actually looking forward to this defense, to attack gaps, push guys back and make plays."
According to Chiefs DT Daniel Muir, that's exactly what he and his teammates have been doing, making plays.
"We've just been flying around," Muir said. "Guys have been having fun and making plays. The thing about our defense is, even if you make a mistake, if you're just running and flying around, coming off the football, you'll make plays and that's exactly what's been happening. It's awesome, because as a defensive lineman, you want to come off the football and dominate; you want to get upfield and make a play, that's exactly what he calls our defensive line to do."
The Chiefs recorded 27 sacks in 2012; a number Muir says is going to change this season.
"Absolutely," Muir said. "It's definitely going to change. Anybody who has watched our OTA practices, at any given time, anybody on the defensive line can either be let free, can make a big play, can come off the football and make a play, that was different from the scheme that they had to play last year, where it was more of a traditional two-gap scheme. This scheme here, allows us to fly off the football and guys have talent, that's why they're here; we'll be able to make plays."
The team's defensive line has some new faces, including DL Marcus Dixon, DE Mike DeVito and others, who look to make this Chiefs defense among the best in the league.
"Collectively, we're an emerging star on this team," Muir said. "We're young. I'm seven years in and I'm the oldest guy in the room, me and (Mike) DeVito and that says a lot. Usually you have a guy over 12 years, over 10 years, but they're so young and they're so talented, not only our group, the whole team; that's why we're going to make a big splash this year."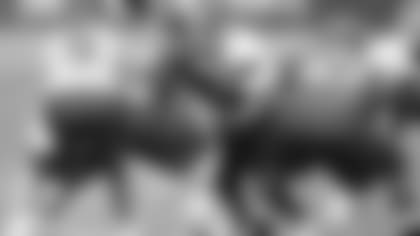 Tyson Jackson spoke to the leadership that the "old guy" Muir and DeVito bring to the team.
"You can tell those guys are veterans," Jackson said.
"They've been around the game a long time. Those guys are true professional football players, just the way they handle themselves. They take care of business and they come to work each day, preparing to get better."
A better defense, matched with improved offensive and special teams play, is exactly what Chiefs fans have been waiting for.