Sports have a way of bringing a certain joy to a person's life, no matter their circumstances.
A handful of Kansas City Chiefs' players and ambassadors, including running back Kareem Hunt and center Mitch Morse, delivered that sentiment to nearly 80 special needs youth on Monday as part of a Play 60 clinic at Van Brunt Athletic Fields Park.
The event, which emphasized the importance of living a healthy and active lifestyle, featured a variety of football-related drills that got the kids up and moving.
"Play 60 is really a special deal," Morse said. "You always want to get kids up and active, especially in the age of technology, and (to do so) with the special needs community is something that's truthfully meaningful to me. Every chance I get to do that, I'll take it."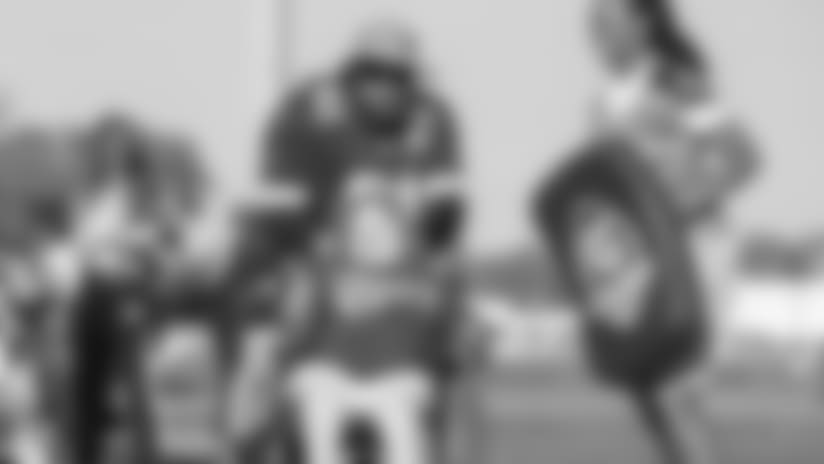 The players' presence led to plenty of excitement throughout the afternoon.
"There's a lot of energy out here," Hunt said. "It's been fun spending the afternoon with them. They can't control (that they have special needs), and they don't always get the same opportunities as everybody else, so we just wanted to come out here and put smiles on their faces to the best of our ability."
Joining Hunt and Morse at the clinic were running back Spencer Ware, wide receiver Nelson Spruce, offensive lineman Kaleb Johnson and Chiefs Ambassadors Shawn Barber and Dave Lindstrom.
The event was held in partnership with the Recreation Council of Greater Kansas City (RCGKC), which strives to enhance the quality of life for those dealing with physical or intellectual disabilities through increased participation in recreation and leisure opportunities.  
"We want to make sure that there's inclusive events for people from all walks of life," said Alicia Smith, President of the RCGKC. "Having the players here brings an opportunity right to the kids' backyard. They can realize that reaching their goals is attainable."
That desire to break through societal barriers was evident on Monday.  
"A lot of people have probably told them that they can't do certain things, but they're out here and doing everything that everyone else is doing," Hunt said. "They fit right in."
To learn more about the Recreation Council of Greater Kansas City, visit its website.