This is the fourth installment in a continuing series of columns tracing Lamar Hunt's role in marketing the Kansas City Chiefs and the situations and circumstances he faced in doing so.* *
What happened to change a disappointing situation in Kansas City -- and there is no hard evidence in the Hunt files that he entertained any formal offers from other cities to pack up and move -- was what always does:  winning. The former AFL champs from 1962 found their way back to a championship after a successful 1966 season with one added advantage: a chance to play in the first Super Bowl.
As much as anything the franchise had done for Kansas City, and really has done since, the honor of representing a city which had enjoyed little in the way of professional sports success, a trip to the first World Championship of Professional Football, as it was known then, put to rest any thought of moving out of Kansas City. The public's new love for the game of football and its local team was set in place for the foreseeable future.
It is hardly breaking news to believe that winning cures all, but where Hunt was different than most owners, and certainly the city's only experience at that time was with A's owner Charley Finley who publicly bashed Kansas City's lack of support for his team, was that he was willing to sit tight and accept poor attendance as his team caught on. In his mind, he was only a few years from winning a championship, albeit in Dallas.
In his usual fashion, Hunt had thrown himself into the effort to make Kansas City work where Dallas did not. He evaluated weather patterns for the city and lobbied AFL schedulers for better dates. He continued his practice of speaking at as many public gatherings as possible, and adopted the role of MC for the team's annual home opening fan luncheon, where he offered his usual set of remarks highlighted by obscure facts such as, "the Chiefs have collected talent from colleges in 23 states." Years later, he still found delight in divulging the number of states his players – as well as his fans – called home.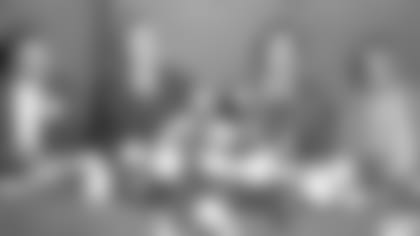 For his many efforts, he was named "Salesman of the Year" by Kansas City's Advertising and Sales Executive Club. By May of 1966, the team had exceeded its goal of 20,000 season tickets.
With a second AFL championship under their collective belts, the Chiefs realized continued success at the gate. Even on the rainiest of afternoons, the Wolfpack was always filled, its ticket holders usually dressed in red Chiefs ponchos and sporting a full array of umbrellas.  
Municipal's odd configuration for football helped to create another popular area, this one located below the east end zone bleachers which in time came to be known as, "Stenerud's Roost." 
Hunt loved these creations, particularly when they were fan-based. A forerunner to Oakland's Black Hole, the "Roost" provided fans standing there a chance to upset the opposing team's quarterback when his team was close to the goal line. Little more than a wide corridor running parallel to the Brooklyn Avenue concession stands and the endzone, ticket holders gathered behind mesh chicken wire intended to keep the football inside the field and people off it.  
But as much as he loved the intimacy of old Municipal, he understood the need for more modern stadiums to showcase professional football.
"Within two to three years," he predicted, as early as the mid-1960s, "the completion and expansion of league stadiums will place the AFL in a position never employed by any league in professional sports history." Soon he and the city fathers began plans for a new stadium, especially since season ticket sales had continued to climb to 42,040, up from 36,616 in 1968.  Just four years earlier sales had been a dismal 9,559.
Overall sales filled up 85% of old Municipal's seats, according to team records, and set a record for the AFL's five-team Western Division.