Kelly Kennedy – a lifelong fan of the Kansas City Chiefs – was having a truly memorable day when he and his family arrived at GEHA Field at Arrowhead Stadium back in early September.
Not only did Kennedy have tickets to the Chiefs' season-opener against the Detroit Lions, but he was also set to be recognized as the Lamar Hunt Legacy Seat honoree during the game. This was more than enough for Kennedy, an elementary school teacher from suburban Wichita who has been a Season Ticket Member for 30 years, but despite his contentment, this particular day was about to get even better.
In fact, as NFL Commissioner Roger Goodell took the stage at the "World's Largest Tailgate" outside of the stadium, Kennedy's excitement quickly turned to disbelief.
"It was kind of funny, because Goodell was up there and he announced that I was the Legacy Seat nominee, which I already knew, but then he said that I had also been selected as the Chiefs' Fan of the Year," Kennedy said. "I was like, 'Wait, what?' My wife, who was in the audience, apparently looked at my nephew and said, 'No, he's confused.'"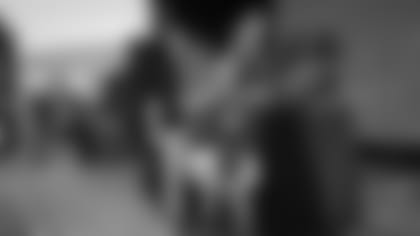 Quite to the contrary, Goodell was not at all confused. Kennedy was the Chiefs' nominee for the NFL's "Fan of the Year" contest, and in addition to some serious bragging rights, Goodell added that the honor also included tickets to Super Bowl LVIII in Las Vegas. 
"When he gave me a hug, I asked him, 'You're not messing with me, are you?' It was just surreal," Kennedy recalled. "I was just happy to be there and enjoying the experience, but that turned my whole world upside down in a good way."
It was an honor and an opportunity that wasn't lost on Kennedy, who began rooting for the Chiefs as a kid because of his dad.
"My dad always told me that you cheer for your hometown team, and the Chiefs were the closest to us," Kennedy said. "I've always considered them my hometown team, and watching the games became something that my dad and I shared. It was our thing."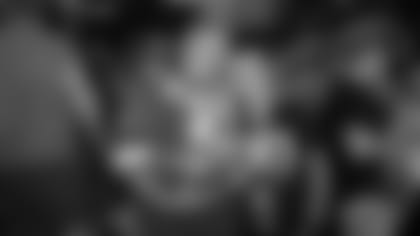 That mentality only intensified as Kennedy grew older, and in 1995, he became a Season Ticket Member for the very first time. It was a commitment that meant driving back-and-forth by himself between Wichita and Kansas City for every game day.
"I would leave at about five in the morning, drive up there for the game, and then drive back home that night," Kennedy said.
Fortunately, in the years that followed, Kennedy's dad also secured tickets and began making the weekly trek with his son, creating a bond that Kennedy later went on to share with his own wife and kids.
"If something else is bothering me, it kind of disappears when I get to GEHA Field at Arrowhead," Kennedy said. "I don't worry about anything for a few hours while I'm there. It's my stress release."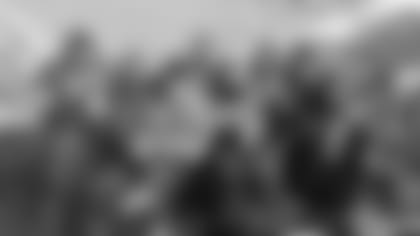 That love for his favorite football team is only part of what makes Kennedy the ideal representative for the best fanbase in the NFL, however, as he is also an active and influential figure in his community.
Kennedy – a high school swimming coach for 38 years – is the co-founder of "Swim to a Wish," which raises funds for the "Make-A-Wish" program in his native Wichita. The fundraiser began as a passion project for Kennedy, whose family experienced the transformational power of the "Make-A-Wish" initiative firsthand.
"When my daughter was four years old, she had a tumor that turned into cancer," Kennedy said. "She had to go through chemo, and it was her oncologist who turned us in to Make-A-Wish. They sent us to Disney World for her, and that really turned a dark spot in our life into the beginning of her recovery. It helped us get through that time, and it helped her begin to be herself again."
Kennedy credited the experience as a turning point for his daughter, who is set to celebrate her 24th birthday this month, and he was eager to give back in any way that he could.
"My assistant swim coach and I came up with 'Swim to a Wish.' Our idea was that it would take place over a weekend, and our team would swim a relay around the clock," Kennedy explained. "Each of them would swim 20 miles, and between them, we would swim 100 miles over the course of a few days."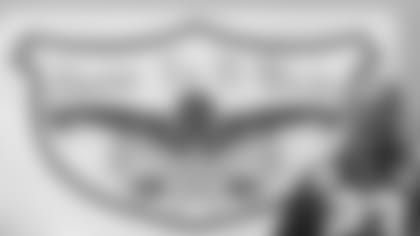 Kennedy figured the event would only last for a year or two before his initial participants graduated, but over a decade later, "Swim to a Wish" remains an annual tradition for Kennedy's community. Remarkably, the event has raised more than $250,000 for the folks at "Make-A-Wish."
"It has turned into something bigger than I ever could have imagined," Kennedy said. "The people from Make-A-Wish have told me that we've paid them back, but I don't see it that way. I could never pay them back for what they did for our family."
The success of the program is a testament to the character of Kennedy, his family and those around him. The "Make-A-Wish" initiative is designed to provide families with memorable experiences as a gift, but for Kennedy, the darkest times in his life served as an opportunity to help others going through similar circumstances.
The lifelong Chiefs fan is approaching his nomination as the organization's "Fan of the Year" with the same excitement, and as Kennedy embraces his role in the coming months, there's no doubt that he will make the Kingdom proud.
"I'm bound and determined to represent the Chiefs in the best way that I possibly can," Kennedy said. "I'm so thankful that they chose me for this, and I'm going to make the absolute most of it. The least that I can do is the best that I possibly can."