Art students from Kansas City Academy visited Arrowhead Stadium Tuesday for a tour of the Arrowhead Art Collection as part of a "Portfolio Prep" class.
The students, all interested in careers in art, walked along the Scout Investments Club Level viewing local drawings, paintings and sculptures hand-picked by the Hunt family, themselves, during stadium renovations.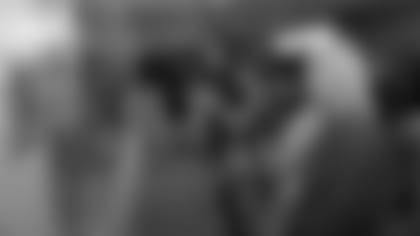 Much like the rich community tradition of the city in which it resides, Arrowhead is committed to the promotion of all things local, including its art and artists.
"Honestly, I didn't expect this inside a football stadium," said Elly Martinez, a sophomore at Kansas City Academy. "It was fun. I liked seeing all of the different types of art and seeing all the diversity in artists being displayed here, the different mediums."
In 1972, Arrowhead Stadium was built, shifting the architectural paradigm and transitioning the home of the Chiefs into a cultural icon of the region. Then in 2010, when most of its stadium counterparts were now regarded as antiques, Arrowhead underwent massive renovations in an effort to not only maintain its architectural prowess and original design, but also to introduce new opportunities for the organization to offer year-round community programs.
Out of those efforts stemmed the Arrowhead Art Collection, a program that celebrates regional art while providing educational opportunities and engaging the community in a way that touches individuals of all ages and walks of life.
"What I appreciate the most about [Arrowhead Art] is that they focused on local and regional artists the most," said Kendall Kerr, art teacher at Kansas City Academy. "I know some of the people that have art in here. That, to me, is what is so cool."
After the tour's end, featured artist Charlie Podrebarac met with the students and led a discussion on young artists. He shared some of his successes and also led a 30-minute cartoon workshop to share his style and technique with them and two of the Chiefs Cheerleaders.
Podrebarac is the artist behind "Panorama of the Plains," a 2013 acrylic painting celebrating and saluting Midwest Regionalism near Club IV.
"It's awesome [having my art inside Arrowhead] because it reaches an entire group I may not reach normally, like fans," Podrebarac said. "Every week it's different. It's accessible and it's eye-level, and now that you have the tours, it's reaching every generation."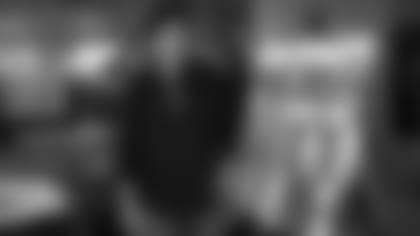 After the renovations in 2010, the Hunt family issued a call to local artists inviting them to submit examples of their work to be considered for inclusion. The family accepted Podrebarac's piece and it now belongs to a collection of over 30 pieces of art with new additions on their way.
"I've always been a Chiefs fan, too," Podrebarac said. "I was a member of the Huddle Club at the old Municipal Stadium when I was a kid. To be chosen and get to meet the Hunt family was quite an honor."
Tours of the Arrowhead Art Collection are available by reservation only. If you are interested, contact ArrowheadArt@chiefs.nfl.com for additional information.