James McGinnis, 19, had waited a very long time to be an honored guest of the Kansas City Chiefs. A year, to be exact.
So on Sunday, when he and his family traveled to Arrowhead Stadium, not even a "little" rain was going to slow him down.
"It was a perfect visit," said Pat McGinnis, James' father. "It seemed like as the game went on, he got more and more active and energized."
Sunday's game against the Chargers symbolized how far the Chiefs have come in 2015. But for James, it also symbolized how far the football player had come since 2014.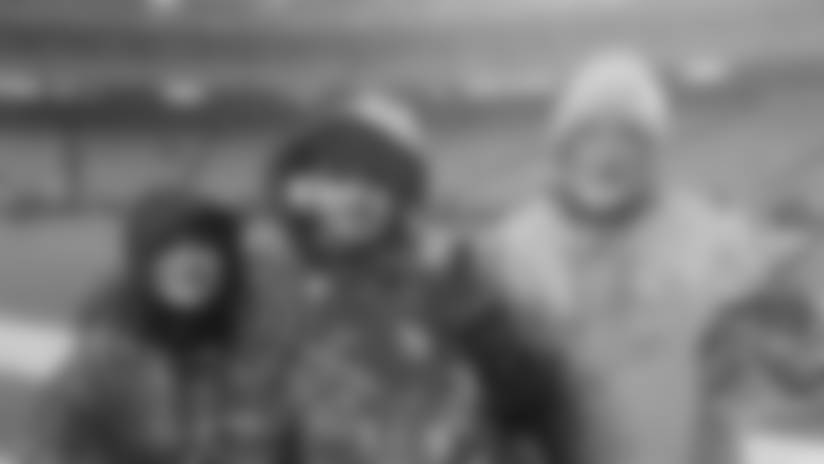 Most of Kansas City knows James' story. He was a senior slotback and outside linebacker for Olathe East, set to play in one of the city's best Friday night rivalries against Olathe South. James was playing linebacker when he tackled a Falcons ball carrier.
The next play, James seemed fine and began walking back to his position. Then suddenly, he collapsed.
"It happened between the whistle so the play was over," Pat said. "When I looked up, I saw a player on the ground. Then I heard one of the boys say, 'That's James.'"
Paramedics rushed to James' side and began the treatment they would eventually learn saved his life.
"The way we've always looked at things as a family, no matter the case, is that you can't change history—you can only look forward and focus on what's ahead of you. That's how we've been ever since."
After his injury in 2014, James won the Nathan Stiles Inspiration Award at the Simone Awards, but was unable to speak due to his condition.
James was transported to Madonna Rehabilitation Hospital in Lincoln, Neb., 18 days after his September injury. His release was originally set for early December and the Chiefs made arrangements for he and his family to attend the Dec. 14 game against the Raiders.
But James' stay in Lincoln turned into seven and a half months, as December turned into April and 2014 turned into 2015.
"We had told him that he'd been invited, so he's been looking forward to this game for almost a year and it was just perfect," Pat said. "He loves football. A lot of the characteristics that he has are things that he's learned from football: teamwork, dedication, perseverance, the ability to overcome obstacles. All of those things are things he's learned in team sports over the years, football especially."
Through that teamwork, dedication and perseverance, James progressed enough that he was able to speak at this year's Simone Awards, which were last week. And following the promise made by the Chiefs, James finally got to see his hometown team play.
On Sunday, James and his family watched pregame warm-ups from the sidelines. As a University of Arkansas Razorbacks fan, James took to watching Chiefs running back and former Razorback Knile Davis practicing kickoff returns.
"James was real excited about that," Pat said. "You would have thought with the rain, he wouldn't be too excited about going but he wasn't fazed by it. He wasn't in any hurry to get off the sidelines, so we sat down there probably about 15 minutes in the pouring rain. But he took it all in."
Once the game started, the McGinnis family took James up to their field box seats set up under a heat lamp. In the first quarter, Chiefs Ambassador Bobby Bell, who was dressed as Santa, and Chiefs Ambassador Chris Penn visited James at his seats. Then in the third quarter, K.C. Wolf surprised James and Pat in their field box.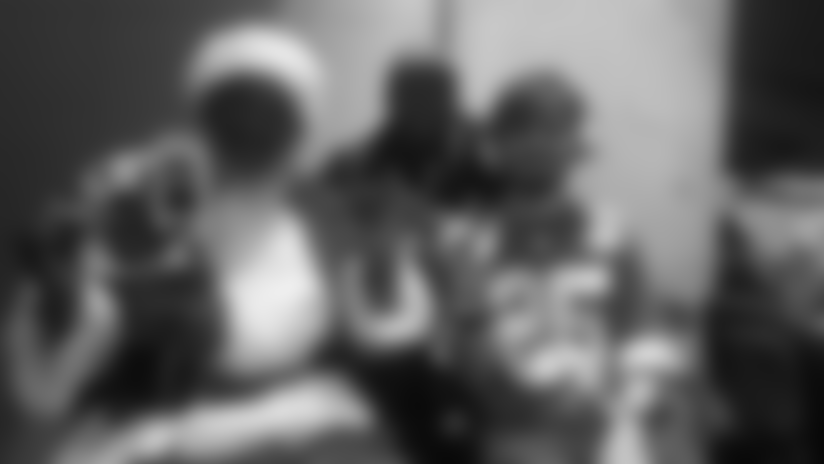 But perhaps James' favorite part of the day was watching the game-winning play unfold before his eyes thanks in part to Dee Ford, whose linebacker position James played only 15 months ago.
"I couldn't think of a better ending for that game and for the defense to win it," Pat said. "James was just in heaven watching these guys. He stood up pretty much the last two minutes of the game—he was that into the game. He was doing the cheers and hollering when the defense stopped them. And when the game was finally over, he was thrilled."
In the year that James waited to see the Chiefs, he had to relearn many things. But one thing he could never quite forget was how it felt to win a hard-fought victory, on and off the gridiron.
"There's opportunities to learn from James' accident for others, but we don't regret anything that happened," Pat said. "James is that way, too. Any time spent looking back, wishing things hadn't happened the way they did is a waste of time. That energy needs to be spent on what's ahead of us."
---
For more information on James' journey, follow his Facebook group here.