It was a special afternoon at GEHA Field at Arrowhead Stadium on Sunday as the Kansas City Chiefs once again celebrated American Indian Heritage Month by honoring the numerous tribes located throughout the region.
This marked the eighth year that the Chiefs have dedicated an entire game toward the American Indian community, seizing an opportunity to provide local tribes with a platform to share their culture.
"Every time that we're able to host an American Indian Heritage Month game at the stadium, we feel like we're reaching more and more people who may not otherwise understand – or be exposed to – the culture and traditions of tribes with a historic connection to our region," said Chiefs Chairman & CEO Clark Hunt. "This requires listening, active discussion and participation. We feel like we have a very strong foundation that's been built over the past nine years, and we're committed to this effort for the long-term."
That commitment was on display in a number of ways on Sunday with the intent of honoring and celebrating the rich history and tradition of American Indians throughout the area in their own words.
"Our mission is to create awareness and educate Chiefs Kingdom – and the broader nation – about American Indian culture," said Gary Johnson, a member of Choctaw Nation and a founding member of the American Indian Community Working Group. "As a tribal entity, we want to make sure that our tradition, culture and faith is upheld for all of our people."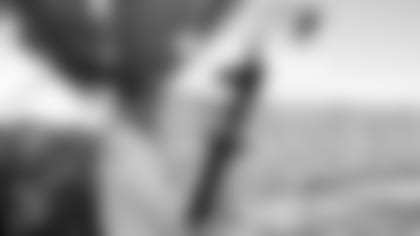 The American Indian Community Working Group – a collection of leaders from a diverse group of American Indian communities – partnered with the Chiefs in 2014 in an effort to educate the organization on the key issues facing Indian Country and to offer guidance on how the team can better honor American Indian culture.
"Until you work with somebody toward a common goal, nothing will ever happen. Well, it's happened," said Johnny Learned, a member of the Cheyenne-Arapaho Nations and a founding member of the Working Group. "They've banned headdresses – that's something we mentioned – and we were able to educate people about why that was important. This is a continuing process with a great organization and we're going to keep working hard at it."
That overall direction was behind many of the game-day elements that took place throughout the Chiefs' matchup with the Green Bay Packers on Sunday, as American Indian culture was front and center in a variety of ways.
To kick things off, representatives from the Kickapoo Tribe of Kansas – Vice Chairman Fred Thomas and Treasurer Russell Bradley – led the traditional "Blessing of the Four Directions" prior to the game, which is meant to bring a sense of preparation and good spirit for all mankind. In fact, Thomas and Bradley – who each served in the U.S. Army – were also recognized as the Chiefs' "Tribute to the Troops" honorees during the game.
Following the Blessing of the Four Directions, the "Young Bucks" of the Omaha Nation prepared the Chiefs' drum for Sunday's game by performing a special "Honor Song" so that the drum could be sounded in the Chiefs' tradition. The drum is significant in American Indian culture and holds great symbolic power, taking on a life of its own while also possessing a powerful spirit.
Next, the Iowa Tribe of Kansas and Nebraska presented the colors for Sunday's game while Erica Bread – a member of the Kiowa Tribe and Cherokee Nation of Oklahoma – sang the National Anthem.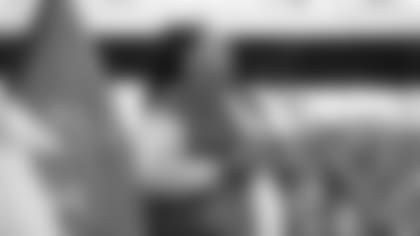 Additionally, Sunday's "Lamar Hunt Legacy Seat" honoree was Jerry Elliott, who was awarded the Presidential Medal of Freedom for calculating Apollo 13's proper return trajectory in 1970. Elliott, who worked at NASA for four decades, is also a proud member of the American Indian community.
It was a powerful series of events that sought to bring American Indian culture to life at GEHA Field at Arrowhead Stadium.
"I think they did a great job on Sunday of not only going through the ceremony, but also of explaining what was happening," said Chiefs President Mark Donovan. "The reaction of the crowd following the blessing of the drum was respectful excitement, and that gets back to our mission of using our platform to educate our fans in a positive way. Other people have different opinions, and we respect those, but we think that this is a great way to educate people about why these things are important."
In fact, the reception from the crowd throughout the afternoon was of note for the various representatives in attendance.
"I had a wonderful time, and the presentation at every level was really nice," said Camilla Chouteau, Secretary for the Prairie Band Potawatomi Nation and a member of the Working Group. "After Fred Thomas provided the Blessing of the Four Directions, everybody cheered and clapped. I've never heard anybody clap after a prayer before, so that was pretty cool."
The festivities also illustrated the diverse and significant impact that American Indians continue to have on wider society as a whole, further exemplifying the importance of honoring their rich history.
"The image of an American Indian nowadays isn't one of headdresses and warpaint. We're businesspeople, entrepreneurs, doctors and educators, but we still maintain our culture and our resiliency," Johnson said. "We want to make sure that we're educating and bringing about that awareness here in Chiefs Kingdom."
That's a continuing process, and the Chiefs have made working alongside the numerous local tribes in our area a priority in the hope of inspiring that awareness amongst younger fans.
"The goal here is particularly about reaching the younger generation," Learned said. "They're going to grow up respecting Indians and seeing what's important to us. That helps us achieve a better future, and we have a seat at the table with the Kansas City Chiefs [to do that]."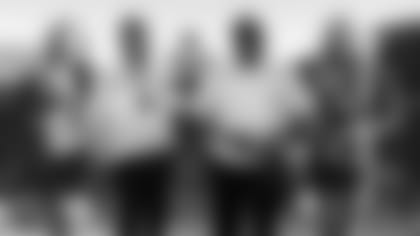 It's an opportunity that the Chiefs recognize and fully embrace for the immediate future and in the years ahead.
"We want to continue to learn and to educate," Donovan said. "We want to do even more in the American Indian community, such as things at schools, but there also has to be a continued focus on what we're already doing. It's powerful, and we need to continue to look for opportunities like that."
That continued focus once again materialized in an impactful way on Sunday, and while there's always work to be done, it signified another act of partnership between one of the great cultures of our country and an organization committed to providing that culture with a platform to make its voice heard.
"This is like a million dollars for me to see this awareness and education brought about for all of Chiefs Kingdom to see," Johnson said. "It's a great day in Indian Country, and we're appreciative of the Kansas City Chiefs for partnering with us."