One of the most well-respected and storied players in Kansas City Chiefs franchise history and the team's first-round pick (No. 20 overall) back in 2006 out of Penn State, Tamba Hali, will be back with the Chiefs next season, his 10th in Kansas City.
"In today's football, it's very rare to have a player of Tamba's pedigree stay at one organization," Chiefs general manager John Dorsey said. "All along, I have said that I love Tamba. I love what he represents, what he stands for. He's good for the game. He's good for the community."
There aren't many people as down to earth as Hali. He's unquestionably respectful, soft-spoken and genuine; that's what people who have spent any time around him have come to know.
So when he speaks of something, there's no doubt it's coming from the heart. When asked about the love he has for the Chiefs organization and why working it out to stay here was so important, Hali didn't have to think about it.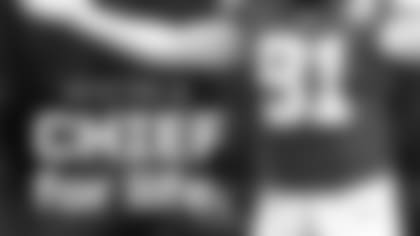 "I've made this my home," he said. "I've been here through all of the tough times, different head coaches. For me personally, being here and playing for this organization in front of these fans, that was huge to me. I couldn't find myself playing for anyone else."
"For me, it only makes sense. I mean, I'd probably be doing what [Patrick Willis] is doing with the 49ers. Going somewhere else doesn't make sense.
"Stay here, create your legacy and be a Chief for life."
When asked, Chiefs coach Andy Reid couldn't praise Hali enough.
"Tamba's an unbelievable person," Reid said. "He's a great football player; I think we know that. He's relentless; he's tough, but there's another whole side to him-- the loyalty.
"I love everything about him."
Reid also acknowledged Hali's relationship with Chiefs Kingdom.
"People here love him. He's smart and he'll work himself right into the community when he's done, whenever that time is. When he's done playing, he'll work into one of these businesses here and be a complete success with that."
After a stellar collegiate career at Penn State, Hali came to the Chiefs in 2006 as a 4-3 defensive end before making the switch to a 3-4 outside linebacker in 2009.
After six years, it's safe to say that switch has benefitted them both as Hali sits as one of the best defensive players in franchise history, ranking third in career sacks with 79.5 (Derrick Thomas - 126.5, Neil Smith - 86.5).
But it was beyond the field that Hali and the Chiefs made an undeniable connection, the kind of connection that truly matters.
"When I got drafted there was a civil war in Liberia," he explained. "I was here and I wanted to bring my mom over (to the United States)."
He explained what happened after that.
"The Chiefs, Scott Paterno (lawyer) and Jack Kemp (former professional football player-turned New York politician), wrote a letter, and usually when (someone like Kemp) writes a letter, the immigration (department) looks at it and says 'That's a go.'
"They were all involved in helping bring my mom here," Hali said.
For Hali, that was one of the moments when the Chiefs organization became more than just an employer, and it formed the beginning of a relationship that would eventually become nothing short of a family to him.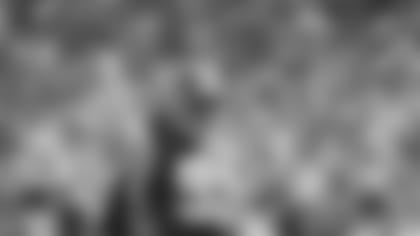 "There's so much more than football in how the Chiefs organization has taken care of me," he said.
In an article for NBC Sports back on November 15, 2013, former Kansas City Star columnist Joe Posnanski told the story of Hali's first football game with his mom in attendance.
"She watched a San Francisco quarterback named Alex Smith drop back to throw. And then she watched as a young man bashed into San Francisco's 310-pound offensive lineman Kwame Harris, knocked him off balance, ran around him and crunched Alex Smith just as he was trying to throw. The ball popped free. Arrowhead Stadium broke out into a wall of sound.
"That was Tamba Hali's first sack as a professional football player. Rachel Keita watched her son, and there were tears in her eyes. She had not seen Tamba in 12 years.
"He's so good," she shouted after he made that play. "I never could have known he was so good."
It was a moment that might have come in the realm of football, but was so much more than that.
"Hali has flickering memories of early childhood before the war, when he lived in a village home without water and with electricity for just part of the day-- he and his family bathed in the river," the article states.
"When he was six, civil war broke out (in Liberia). Gunfire was ever present. Danger was constant."
Hali ended up fleeing with his three brothers and sisters to reunite with his father, who had already escaped to the United States a few years prior.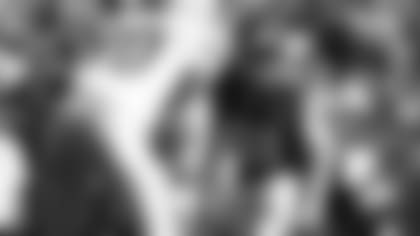 It's those experiences that stayed with Hali, who found his way to Chiefs Kingdom.
After making the investment in Hali as a first-round pick back in 2006, the Chiefs backed that up in 2011 when they signed him to a long-term contract extension.
"When I spoke with (Chiefs CEO and Chairman Clark Hunt) after I signed the contract four years ago, he said 'We want you to be here for the long run,'" Hali recalled.
That's exactly what has happened, but for Hali, even with the financial security of a long-term deal, it's not about the money and never has been.
"Money comes and goes and I wasn't raised in money," Hali said. "Whatever comes to me is a blessing, so however we can work it out, it's plenty. I have enough.
"It's beyond money. It's the relationship you have and the impact you're able to have on people. When your time comes and goes, they'll remember you for something other than money."
That's not something you often hear today, especially from professional athletes.
For Hali, the business side of football only gave him another opportunity recently to show people what he's about, and that it's not lip service, but a genuine display of love and loyalty for an organization that he's undoubtedly left a legacy with for future generations to admire.
"It's just another example of his selfless act," Dorsey said. "It goes to show you how much the game and the team means to him to be a Kansas City Chief. Those are guys that you know what? You can go play Sundays with guys like that and to me, that's very meaningful."
It's not just the organization that Hali is connected with; it's the passion of Chiefs Kingdom and the fans that have followed him from the beginning that give him a certain amount of pride that can't be quantified.
"When I came, they weren't satisfied with the (draft) pick," Hali recalled of the process of fans warming up to him. "I had to prove myself. At the time, Jared Allen was here. He was a more dominant player; he still is. I had to prove myself over time that I could play this game, that I'm committed to this game and it's been nothing but love since.
"They pay for me to be able to be in this position, so anything I can give back, any time I can stay after practice and sign forever, it's worth it to me because those people are diehards. Going into my 10th season, they have nothing but good things to say about me and that's gratifying."
As he looks toward 2015, Hali feels good about where the team is headed.
"Very, very optimistic," he noted. "We'll get back to the dance and that's always the goal. Coach (Reid's) speech is to get the ring and I believe in everything he is doing.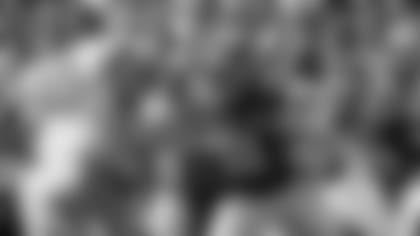 "We're coming in with a lot of confidence. We've had two winning seasons and if you look at the games last year, we could have been in the dance, but that's last year. We have to take that with us this year and it's only going to get better."
As one of the veterans on a young team, Hali knows he'll continue to be counted on as the leader he's shown to be throughout his career.
"The game is a young man's game and these young guys coming in, they want to solidify themselves as great players in this league and being part of it, it's only a positive for me," he said.
Despite playing just two of his nine NFL seasons with Dorsey and Reid leading the Chiefs, Hali is confident in the direction of the organization.
"I believe in Andy Reid, John Dorsey and what they want to get accomplished here," Hali said. "Just seeing what we were able to do with the pieces we had last year and knowing what we have, I know what can be done here. It's a no-brainer.
"With coach (Reid), you have to love football and you have to be willing to work. That's always been my mentality and I'm glad to be part of it."
Loyalty, love and legacy—that's what has come to define Hali, one of the best to ever put on a Chiefs uniform.