Craig from Calgary asks: Can you suggest to Travis Kelce a Johnnie Morton shout-out with a worm celebration?
Travis is confident in his ability to get into the end zone and he has said before that he has several performances ready to go. As seen in last week's "Ric Flair" tribute, there's no shortage of creativity in his celebrations.
His teammates love his fire and there may be a mention to him of a throwback celebration for one Johnnie Morton.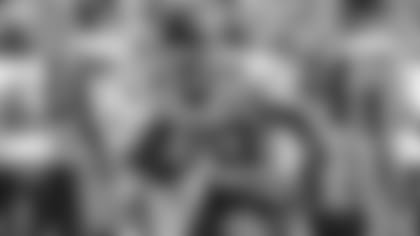 Travis from Kansas City asks: When does it look like Eric Berry or Joe Mays will get back on the field?
We'll know about Berry by next week when the team returns to practice. Coach Reid addresses injuries after practice each day.
Mays won't be able to return until at least Week 8 with his IR designation.
Sarah from Olathe asks: What was the mood of the team on the trip back from San Francisco?
It sounds like a cliché, but I can honestly tell you that these guys treat every game like it's just one of 16. They're never too high or too low after a win or loss. Obviously, just like the game in Denver, they felt like they had an opportunity to beat a very good team on the road in San Francisco and came up short.
They didn't feel like the New England win on Monday night signified anything more than a good performance in just one of the 16 games, and so the same goes for losses.
Jen from Merriam asks: BJ, What's the best experience you've had while traveling with the team so far?
Tamba Hali delivering cookies to everyone during the flight back from Miami.
Mark from Clinton asks: Which Chiefs players are rooting for the Royals in the ALCS?
I'd like to think all of them are rooting for the Royals. Kansas City is a great sports town and it doesn't get much better for baseball fans than right now.
I can say that Thomas Gafford, Chase Daniel and Anthony Sherman have answered questions about the Royals the most often, but I know plenty more support the team.
Also, Sherman was seen wearing a Royals hoodie leaving the facility last week and I know that he and Billy Butler are close.
Photos form the Chiefs week five match up against the 49ers.