As March Madness continues, halfway through its opening weekend, upsets have already taken place and more are likely to come. Every tournament season, there are a 'lesser-known' players and schools who captivate the nation with stellar performances against their powerhouse opponents, defying the odds in 'David-versus-Goliath'-like fashion.
Much like the underdogs in the NCAA tourney, Kansas City Chiefs CB Marcus Cooper came from under the radar to play a more-than-significant role in 2013, both on-and-off the field. During the recently-held 101 Awards, Cooper was named the Mack Lee Hill Award winner, given to the top rookie or first-year player on the Chiefs roster who best exemplifies the spirit of the late Mack Lee Hill, who passed away during his second season with the Chiefs in 1965.
However, Cooper's preseason didn't start favorably; he was cut by the San Francisco 49ers, causing an emotion that continues to fuel him on a daily basis.
"It was definitely a hard thing to hear that I didn't make it out for the 53 (man roster)," Cooper said. "Anybody is going to take that hard. I definitely felt a little upset about that, a little bit down on myself, but then I got the call that said I was going to be a Chief and that just snapped me right out of it. I was happy; I was ecstatic, because it was a blessing to me."
Cooper recovered a punt that had been touched by a Tennessee player in the end zone, giving Kansas City two special teams scores in its first five games. Cooper's TD marked the first time the Chiefs had multiple special teams touchdowns in one season, since the team recorded three special teams TDs in 2009.
Coop's efforts didn't stop with the fumble recovery as he later intercepted a pass by Titans QB Ryan Fitzpatrick in the fourth quarter, good for his first-career NFL pick, helping seal the team's 26-17 win. What a start for the guy who wasn't recruited as a DB, but instead to play wide receiver for his college team, the Rutgers Scarlet Knights.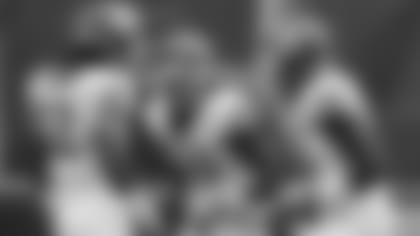 "I started out as a receiver, who got the opportunity to play with guys like Kenny Britt and Tiquan Underwood," Cooper said. "As a freshman, I got a little bit of playing time and I got redshirted my sophomore year, got to play a little bit, but I guess things didn't work out on the receiver end. I got a call from head coach Greg Schiano and he said he wanted to move me to the defensive side of the ball to see how I liked it there; that's something that I played for 16 years of my life as a receiver and then just in a week, you have to switch over to defense; it's a big adjustment. I'm still working on it. I'm just trying to get better at it every day and I'm going to continue to take that approach."
The rookie's performance on the field was equally matched by his efforts outside the white lines, including time spent promoting a healthy and active lifestyle, as well as the importance of reading, supporting the Read Across America campaign.
"It was a great experience for me," Cooper said. "We did the Play 60 with some kids in North KC and just to see the smiles we helped put on their faces and to go through and exercise with them, just to give them an opportunity to be around us, it was a great thing; I can't speak enough about it."
The experiences with the Chiefs and in the community continue to inspire Cooper, who's hard at work in the offseason to make an even greater impact this year.
"It's a blessing and I'm happy to be here," Cooper shared. "I'm going to continue to express my gratitude by the way I play. There's so much growth for me to do personally and it's just invaluable experience, each time I step on the field and playing with my teammates, like Chiefs Pro Bowlers Eric Berry and Brandon Flowers, that's just going to continue to help me out in the long run."
That long run continues in 2014, beginning with OTAs and minicamp, before training camp starts in July.