The pandemic hindered any sense of normalcy throughout the football season last year, from the protocols on the field to outreach events in our community, but as we saw time and time again, those hurdles – while often difficult to navigate – couldn't stop those in a position to help from making our town a better place to live.
That was certainly the case for the folks at Midwest Dairy, who chose to repurpose their partnership activation funds with the Chiefs this past year – which were originally intended to hold school assemblies and other various events – to instead purchase refrigeration units for 10 local food pantries in the Kansas City metro.
They could have rolled the funds over into the 2021 season or simply allocated them somewhere else, but without any fanfare or celebration, they chose to simply help those in need by combining their activation budget with a Hometown Grant through GENYOUth.
"Dairy is one of the most requested items at food banks, and often times, they don't have the storage space to keep it. They're limited on space, and on top of that, refrigeration units are expensive," said Robyn Stuewe, RD, LD, Manager of Wellness at Midwest Dairy. "We've worked in the food insecurity space for a while now, and it felt like a great opportunity to do something that would really have a lasting effect."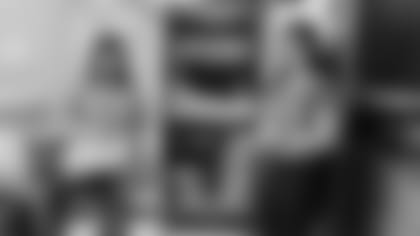 The Chiefs teamed up with Harvesters to identify the recipients of the refrigeration units, which will provide the selected pantries with the ability to store and distribute more perishable products to their network of food insecure families.
"This was a very important opportunity for us, because for several years now, we've really been trying to put a focus on distributing more and more fresh produce, and in order to do that safely, we need to have refrigeration units throughout our agency network," said Sarah Biles, Director of Communications for Harvesters. "Milk is also a very important and in-demand item, particularly for children, and these units will house those products, too."
That enhanced ability is already serving families in Jackson (MO), Wyandotte (KS) and Johnson (KS) counties, including the folks at the Don Bosco Center in downtown Kansas City.
"It was quite a surprise. We were in desperate need for an additional refrigerator – we do a lot of cheese and milk – so it's been quite a blessing," said Anne Miller, Senior Center Director at the Don Bosco Center. "We were having to juggle using a refrigerator down the street in another building, so it's helped in our efficiency in serving our seniors and disabled adults. It's much more convenient."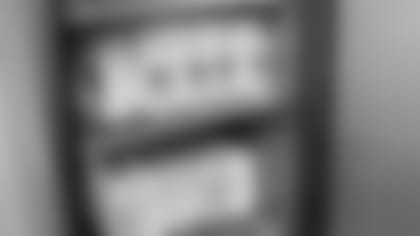 The 10 selected pantries serve 2,000 households every month on average, and with their new refrigeration units now up and running, that assistance just received some serious reinforcements as facilities like the Don Bosco Center help those facing the most difficult of circumstances.
It's tangible relief that was born out of our collective, pandemic-induced departure from normal life, but as we've seen throughout our nation over the past year, those who want to make a difference will find a way.
"It brings me joy to work for an organization that looks out for others and wants to help people in our community," Stuewe said. "Our great partnership with the Chiefs allows us to do some really fun things, like bringing excitement into schools, but to be able to partner in this way and do something that will benefit many families across the metro is so special."