More than 1,500 superheroes, monsters and ghouls filled Arrowhead Stadium on Tuesday night as the Kansas City Chiefs hosted the fourth-annual Chiefs Kids Club Trick-or-Treat Bash.
The event, which existed as a benefit for members of the Kids Club in addition to children involved with the Juvenile Diabetes Research Foundation, provided hundreds of families with trick-or-treating, pumpkin decorating, face-painting and other fun activities throughout the night.
"I'm kind of a kid at heart – I love Halloween," said defensive tackle Derrick Nnadi, who signed autographs at the event. "I wanted to come out here in a costume - I didn't have a chance to go to the store, so I'm just a football player here today – but I'm glad to be out here showing the kids a good time."
And while Nnadi wasn't in costume himself – aside from his No. 91 jersey, of course – the more than 1,500 kids in attendance came prepared with just about every costume imaginable.
One look, in particular, was all too familiar.
"There was a Patrick Mahomes costume that was spot on," Nnadi said. "He had the hair, the jersey and the gloves – just everything."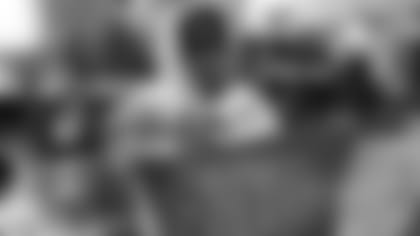 Nnadi had an opportunity to meet that kid and a slew of others while signing autographs on Tuesday, allotting the rookie defensive tackle with a chance to meet some of his youngest fans.
"It's fun to have them meet the actual person instead of just the number [on the field]," Nnadi said. "You can see a player on TV, but you don't really know the person. With things like this, you can get to know us as people."
Also volunteering their time at the event were Kansas City-area police officers, several members of the Kansas City Fire Department, the Chiefs Ambassadors and a handful of Chiefs Cheerleaders.
It all wrapped up into a fun night for members of the Chiefs Kids Club, which invites children and their families to interact with their favorite football team in a variety of unique ways all-year long.
The Trick-or-Treat Bash on Tuesday was just another example of that.
"I just told them to enjoy themselves as a kid," Nnadi explained. "Enjoy the moment, have fun this Halloween and make sure you're rooting for the Chiefs on Sunday."
The fourth annual Chiefs Kids Club Halloween Bash was held at Arrowhead Stadium on October 16, 2018.