The Kansas City Chiefs were hard at work on Friday morning preparing for the 2019 campaign, but while the professionals trotted onto the practice fields for another day of training camp, the next generation of football players was getting some work in of their own.
It was another edition of Gatorade Junior Training Camp up at Chiefs' practice, where more than 150 kids had the opportunity to learn the fundamentals of the game from coaches and players at Missouri Western State University, which serves as the site for Chiefs' training camp.
"It's great just to be up here at camp and being around the Chiefs is pretty cool on its own, but for them to put on this camp for the kids and to bring the Missouri Western guys out is a pretty awesome experience," said Chad Beashore, whose son participated in the camp. "This is where it all starts."
The camp began with a series of warm-up activities before each of the kids had the opportunity to participate in skill stations catered specifically to their interests - such as a passing activities for quarterbacks and blocking drills for offensive linemen – all of which took place under the direction of Missouri Western's players.
It was all simply an incredible opportunity, enticing young athletes from all over to make the trip to St. Joseph for not only Chiefs' camp, but for a training camp experience of their own.
"We have kids from Missouri, Iowa, Nebraska and Kansas out here today," said Gary Spani, the Chiefs' Director of Community Engagement. "They've come in for training camp with their families, but this also gives the kids a chance to do their own training and drills before they go watch the Chiefs do it."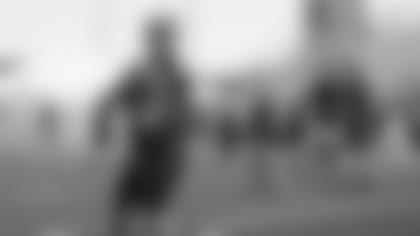 And that's exactly what they did, as the camp wrapped up with plenty of time left to make the short walk over to Chiefs' practice and see the professionals apply the same basics the kids just learned themselves.
It made for a full-circle experience, to say the least, and one each of the kids won't soon forget.
"They can look at the guys over there on the Chiefs' sideline and see that they all got started by doing stuff like this. You don't get to where they are without the fundamentals," Beashore said. "To learn this stuff from community members, our local schools and the Chiefs…there's just no better place to do it."
To learn more about other youth activities in Chiefs Kingdom, visit Chiefs.com/kids.
The Gatorade Junior Training Camp was held at the Spratt Memorial Complex Field on Friday morning. Missouri Western athletes and Chiefs Ambassadors assisted more than 150 athletes in the 12-14 age range in football fundamentals and skill development.