"I get a chance to come back home."
When the Kansas City Chiefs signed defensive lineman Xavier Williams, who had spent the past three years with the Arizona Cardinals after signing there as an undrafted free agent out of Northern Iowa in 2015, they were fulfilling the dream of a kid who grew up less than 20 minutes from Arrowhead Stadium.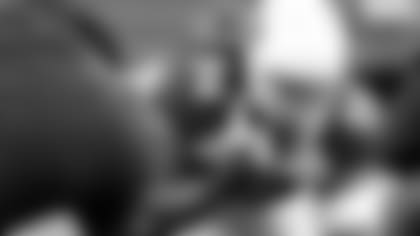 "I was a huge Chiefs fan," Williams, who is from Kansas City and spoke of meeting guys like Derrick Thomas and Tony Gonzalez as a kid, explained. "I mean my mom and everybody still have all the gear from way back in the day, so yeah, the whole family is going crazy right now. They're really excited about it."
They have every reason to be excited. It's not that often that a player gets the opportunity to play for his hometown team, and as the process was coming together for him to join the Chiefs, Williams said he couldn't tell his family until he knew it was a done deal.
"I'm a very superstitious guy," Williams laughed. "I didn't want to jinx anything, you what I mean? I even talked to my agent about it and I was like, 'You know the last thing I want to do is get my mom's hopes up that I'd be coming home, and then something crazy happens and I end up in New York or something.'"
But when she did find out?
"She freaked out," he laughed again. "I mean everybody was freaking out. My phone has been blowing up since like yesterday. Everybody saying congratulations, old schoolmates, all my family members, just everyone."
Williams played in 23 games over the past three years with the Cardinals, and he's noted for his ability to stop the run—ranking No. 20 in the NFL last year in that department among all interior defensive linemen, according to Pro Football Focus.
"If you're a nose guard, that's your main job—to stop the run," Williams explained. "I take pride in that making sure nobody can run on me and you know trying to dominate centers, guards, whoever—try to help out the linebackers."
Williams, who describes himself as a "penetrating" defensive lineman, has played as heavy as 325 pounds, and as light at 295, which is where he was last year. He said it's up to his coaches on where they want him to be as far as playing weight.
"It's a young team, bright future—man, definitely a selling point," Williams added. "I'm excited about it, hope I can see it for years to come, young quarterback, young receivers, everybody."
One thing Williams won't have to worry about anymore is following the Chiefs—his team—from afar, and he shouldn't expect to catch any grief from wearing his gear of choice around his work anymore either. 
"My teammates (in Arizona) would really make fun of me about it," Williams laughed. "They always had a lot of jokes because I take a lot of pride in being from Kansas City and would wear a lot of Chiefs and Royals gear. They'd always make fun of me like, 'You're a real Chiefs fan, aren't you?'
"It's hard not to keep up with them. I get on Twitter or Instagram, and all my friends are Chiefs fans so they're always constantly retweeting stuff, so I can see it, too."
His friends can now retweet stuff about him—their friend, and a lifelong member of Chiefs Kingdom who can't yet fathom what it'll mean running out of that tunnel at Arrowhead for the first time as a player of the team he grew up watching.
"I'm still getting used to the idea," he said. "But I think when it finally happens and the jet flies over the stadium before the game and all that, I think it's really going to come to me like, man, you are a Chief now."