The Kansas City Chiefs' newest defensive lineman and the franchise's all-time leading tackler have plenty in common, and not just in their ability to stop the run.
Roy Miller, the eight-year NFL veteran who signed with the Chiefs earlier this week, grew up in Central Texas, as did Derrick Johnson.
They also both attended the University of Texas, although Johnson was gone prior to Miller's arrival in 2005—when he was a part of the BCS National Championship team as a Freshman.
Johnson's last year at Texas was 2004.
But it goes further than that—much further.
They both tore their Achilles tendons last year, and they also share the same physical therapist, who put them in contact with one another as Miller was going through a rehab Johnson was already familiar with—having gone through the same thing in 2014.
"I was helping him out with his recovery," Johnson explained Thursday after practice. "I was Facetiming with him (during rehab), so it's kind of ironic he's on the team now. He's a nose (tackle) sort of guy, but a strong guy who can help us.
"We will try to get him acclimated to the defense, and hopefully it will be a good addition to the team."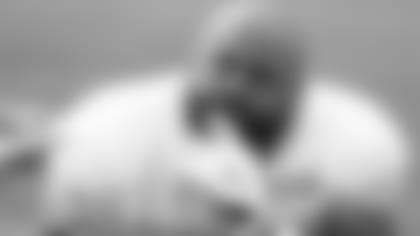 Miller, who said he had multiple options when he signed with the Chiefs, has played in 112 games with 83 starts in his career. He spent four years with the Tampa Bay Buccaneers (2009-12) before moving on to the Jacksonville Jaguars, where he spent the past four years (2013-16). He was originally a third-round pick by the Buccaneers in 2009.
After his first practice as a member of the Chiefs, which included a post-practice conditioning session with Chiefs' head strength and conditioning coach Barry Rubin, Miller spoke with the media about his decision to join the Chiefs.
"There are a lot of things players achieve in their careers," Miller explained. "I think that at the end of all of it, you just want to win—to be a part of something that has a high chance to win it all. It definitely was a priority of mine, and I had to reconsider a lot of teams that I visited. I am excited again.
"Watching this team the last couple of years, it has been a highly competitive team," Miller added. "When you watch on film, they have a lot of confidence. I'm excited to be here. I'm excited to be a part of that."
When asked how he'd describe his game for someone who had never seen him play, Miller said he's played on the interior of both 4-3, and 3-4, defenses. Adding he's played in multiple schemes as well, sometimes as a penetrating one-gap player, but also eating double-teams as a two-gapper and letting his linebackers roam free.
"I've been one of the best run-stoppers in the league—whether we know it or not—one of the most underrated players," Miller confidently told the media. "Ask these offensive linemen around the league, they know. That's all I bring to the table. I'm going to give it all I got, and I'm going to be a leader and try to push guys.
"I'm going to do everything I can to make this team better."
In 2015—his last healthy season, Miller ranked in the Top 25 against the run among all interior defensive linemen in the NFL, according to Pro Football Focus. One of the guys who ranked ahead of Miller that year—veteran Bennie Logan, who also joined the Chiefs this offseason.
There were no Chiefs' defensive lineman ranked higher than either of them that year, and that's a big reason to feel optimistic about the Chiefs improving their run defense in 2017.
A healthy-Derrick Johnson should also help in that area, and Miller said he waited until he after passed his physical and everything was finalized before reaching out to his digital rehab buddy about joining the Chiefs.
"He's one of the first people I reached out to," Miller said of Johnson. "He has always been someone I looked up to, and one of my favorite players coming from the University of Texas. He's one of those guys that has always been a leader and a role model to me."
Miller said he's already been picking Johnson's brain about this defense.
"We've been talking about the scheme a lot and I look forward to talking to him today more about terminology," he said. "He knows everything, so I look forward to working with him."
"I'm definitely going to be helping him from my standpoint, especially if he's out there with me," Johnson added. "The defensive line—I tell them what to do all the time, so he'll be in good hands."