As voted by NFL owners Tuesday afternoon in Chicago at the league's spring meetings, there are four new rules that will immediately go into effect heading into the 2017 NFL season.
Here are the four new rules:
1)         Players will be allowed to do more celebrating after big plays
2)         Overtime shortened from 15 minutes to 10 minutes
3)         There will not be a roster cut down to 75 players in the preseason
4)         Two players will now be allowed to come off I.R. in a season instead of one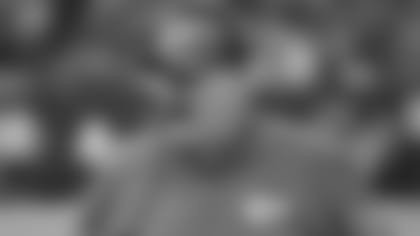 ---
NFL Commissioner Roger Goodell posted a letter to fans, which can be read here, explaining the decision to allow players more freedom to celebrate after big plays.
Goodell stated that he spoke with more than 80 current and former players to help come to this conclusion.
"We are relaxing our rules on celebrations to allow players more room to have fun after they make big plays," Goodell wrote. "We know that you love the spontaneous displays of emotion that come after a spectacular touchdown. And players have told us they want more freedom to be able to express themselves and celebrate their athletic achievements.
"In my conversations with NFL players, it was also clear how much our players care about sportsmanship, clean competition, and setting good examples for young athletes. That is why offensive demonstrations, celebrations that are prolonged and delay the game, and those directed at an opponent, will still be penalized."
Basically, the rules now allow players to use the ball as a prop, get teammates involved and even go to the ground for celebrations, citing "snow angels" as an example of what's now allowed.
It doesn't take much thought to think of a few Chiefs who may be happy with this news.
---
Five Less Minutes of Overtime
The overtime period has gone from 15 minutes to 10 minutes, with player safety being cited as the main reason for the change.
Over the past five years and since the NFL adopted the current overtime rules (moving away from sudden death), there have been 83 regular-season games that went into overtime, and 22 of them went beyond 10 minutes.
In fact, the Chiefs played in one of those games last year in the thrilling win over the Denver Broncos on Sunday Night Football, which ended with Cairo Santos' "doinked" field goal off the left crossbar as the last few seconds of overtime expired.
This rule change would simply speed up the tough decisions coaches have to make in overtime situations like the Broncos faced late in that game against the Chiefs. In that game, they decided to attempt a 62-yard field goal with 1:08 left in overtime.
With overtime periods changing from 15 minutes down to 10, those kinds of decisions would simply happen five minutes earlier.
---
More Players Available Now for Fourth Preseason Game
In doing away with the 75-man cut down, which had previously come before the fourth and final preseason game, the NFL is essentially allowing teams to carry 90 players throughout the entire preseason.
This gives young players and fringe guys an opportunity to put more on tape for other NFL teams and personnel staffs more time to evaluate players on their roster.
Teams will now make one cut from 90 players down to 53 at after the final preseason game.
It also means 1,184 NFL players will be released on the same day, giving personnel staffs plenty to do in looking around the league at other teams' players who become available all at once.
---
More Flexibility With Injured Players
The decision to allow teams to bring two players off injured reserve in a season will give personnel staffs more flexibility with the roster moving forward.
In 2012, the NFL adopted a rule that allowed teams to bring back one player off injured reserve, as long as that player sat out for at least eight weeks and was "designated to return" at the time of originally being placed on injured reserve.
That rule was amended before last season, when it was changed that a team didn't have to designate that player to return at the time they were originally placed on IR. They could identify the player to return at the time they brought them back to the active roster.
It gave teams more flexibility in situations with multiple players who are injured, and also kept them from having to predict whether a player would be healthy enough to return down the road, and well before they could even properly make such a determination.
This new rule will give hope to players injured in the offseason, or early in the season, to be able to come back and play later in the year.