It may not be a traditional rivalry, but there's little doubt that when the Kansas City Chiefs and Baltimore Ravens clash next season, the football world will be watching. The two squads - each led by a recent league MVP at quarterback and with just six losses between them in 2019 - possess arguably the brightest futures in the NFL today.
Here's a portion of what Rank had to say about the budding rivalry:
"Patrick Mahomes and Lamar Jackson are already the next great AFC quarterback rivalry, following in the footsteps of Tom Brady and Peyton Manning. Some of you might think I'm jumping the gun here, but I'm not. Mahomes and Jackson have captured the last two NFL MVP awards. Mahomes went from winning league MVP in his first season as a starter to winning Super Bowl MVP in his second. That's the NFL equivalent of putting out Star Wars and following that up with The Empire Strikes Back."
Mahomes is also 2-0 against Jackson in his young career, defeating the Ravens in comeback fashion in 2018 before dealing Baltimore one of just two regular-season losses last year. In fact, Jackson has lost just three regular-season games across 22 starts in his young career, with two of those losses coming at the hands of Mahomes and the Chiefs. Both games were chock-full of the excitement one would expect from such a matchup, and luckily for football fans, the two teams will face off yet again next year in the regular season.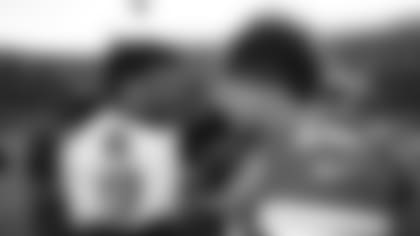 The third meeting in the Mahomes-Jackson saga will pit the defending Super Bowl champions against the top seed in the AFC a year ago, which has Rank already looking ahead to a potential showdown in next year's postseason. But first, the two squads will meet in Baltimore for what promises to be another epic matchup.
"What's next is for Jackson to step up this season in the playoffs. And really, the only thing missing from this rivalry is an epic playoff showdown. But first, we'll just have to settle for another regular-season matchup -- this time in Baltimore. (Don't forget: Mahomes and Co. defended Arrowhead Stadium and handed the Ravens one of two regular-season losses in 2019.)"