Dorial Green-Beckham, WR, Oklahoma
Though Dorial Green-Beckham is officially listed from Oklahoma, the people of Kansas City will most remember him from his time at the University of Missouri.
Green-Beckham played in Missouri during 2012 and 2013 before being dismissed from the school for numerous off-the-field issues including a domestic violence report.
Green-Beckham expressed his regrets on Thursday in his turn at the podium.
"All the decisions I've made, I wish I could take it back," Green-Beckham said. "It happened. I was young. I made mistakes. I understand that. I just want to focus on one thing and just look forward to this draft and being the best I can be."
As far as talent, no one doubts Green-Beckham, who measured in at 6-foot-5 and 237 pounds at the Combine.
The question, obviously, is whether a team can trust him.
"I know what's at stake," he told reporters. "I know what type of person I am. I understand what the NFL is looking for [from] me as a person. I just want them to know I'm going to go out there and give it my all and show everybody what I'm capable of doing and focusing on being the best player I can be."
Green-Beckham was born in Missouri and he said that much of the reason he chose the school was the proximity of his family. Family is important to him, and he also said it is part of the reason he chose to make himself eligible for the draft.
"I just feel like it was the best decision for me and my family," he said. "I just felt like I had a lot of things going on for me in my life that I can overcome the past. That's the past."
Upon being dismissed from Missouri, he transferred to Oklahoma but was forced to sit out the 2014 season.
Now after a year away from football, he wants people to know he has learned lessons. He is ready to be the mature person that professional teams will expect.
"These last few months have been real tough for me," he admitted. "Missing the whole season and missing playing with my teammates and just missing football, period.
"Just looking from the outside in and seeing things that I've never seen before, I just want to take advantage of that and just make sure that I'm there to help my teammates and make sure I'm the best guy I can be off the field."
Analysts agree that interested teams will be watching Green-Beckham very closely through this entire process and will pay special attention to his behavior in the formal team interview portion of the NFL Scouting Combine.
B.J. Finney, OL, Kansas State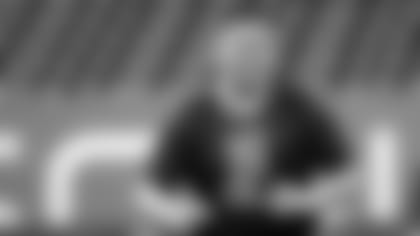 B.J. Finney was questioned as to whether having fellow Kansas State Wildcat wide receiver Tyler Lockett with him at the NFL Scouting Combine made things a bit easier.
"Honestly, I don't expect us to hang out a whole lot," he said. "We're going to be different timetables because of schedules and honestly, it's kind of nice.
"It pushes us out of our comfort zone to get to know other guys, hang out with other guys from different programs and potential teammates in the future. It's been really nice because I can talk with anybody.
"I'll talk their ear off if they let me get to know them and see who they are."
Since walking on at Kansas State in 2010, the offensive lineman from Andale, a small town in Kansas, has treated football very seriously. He started at Kansas State a record of 52 straight games and was the first offensive lineman in school history to be named a captain three times.
At the Combine, he depicted someone who is especially grateful for how far he has been able to come.
"It's been just one big bus ride for me. I put in the hard work," he said. "I wanted to play, I was going to do anything possible to play at K-State.
"I had 52 starts and now I'm ready to try and make that jump to the next level. And again, I'm going to do whatever I can to play."
Finney said that in talking to teams at the Combine, he expects to play center or guard, as there hasn't been much talk about the tackle position. But he is fine with that.
"In the NFL, you start getting with those defensive ends that can be anywhere to 6-7 to 6-9 and long reach," he said. "I'm not the body type to be at tackle."
When asked where he expected to be drafted, Finney wouldn't even attempt to guess. Already a bright young man, he already seemed to have a grasp of the business of the game.
"I've heard guys say they were supposed to be drafted in the third round; they go as free agents," he said. "There's nothing that's guaranteed in this business. The numbers could help you or hurt you, but I'm not really going to put any weight on it. I'm going to put my best foot forward and see what happens."
Mitch Morse, OT, Missouri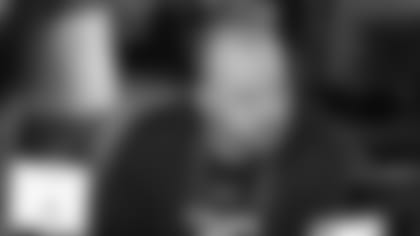 Mitch Morse, who switched to the left tackle spot at Missouri in 2014 after playing right tackle in 2013, is willing to do it all, and NFL teams like the variety.
"Some tackle, some guard, some center," he told reporters when they asked at which positions teams are discussing with him. "I was fortunate enough at some point in time at all of them and play all of them at one point in time in my Mizzou career."
After missing the Senior Bowl due to index finger surgery in late November, Morse impressed with his numbers at the Combine on Thursday.
Morse said that he realized he could play in the NFL during the past season when he saw "relative success" he had in games, especially those in the SEC.
With all the injuries that can happen in the NFL, teams will love his willingness to play any position along the line and the added depth that goes along with it.
"Any position that I could contribute to a team immediately, I'll be fine with," he said.