Football season is underway in Kansas City, but as families throughout the area prepare for what should be a special time of year, far too many are concerned with simply having enough to eat.
In fact, one in every 11 people within the 26 county service area of Harvesters – The Community Food Network are at risk for hunger, as more than 220,000 people rely on Harvesters' network of pantry partners every month.
It's a serious problem that's happening right here in our backyard, and it's something that Chiefs' linebacker Nick Bolton – who has his own experience with food insecurity – is committed to fighting.
Bolton, in partnership with Campbell's Chunky and alongside his mom, visited Harvesters on Monday in order to help pack meals for those in need. The event took place as part of Bolton's support for "Chunky Sacks Hunger," which aims to end food insecurity across the country.
"This is a great opportunity to give back to the community. I grew up [in a situation like this]," Bolton said. "There was a time in my life that we had to use food pantries in order to make ends meet, so to give back to the community and to be fully invested into this is exciting."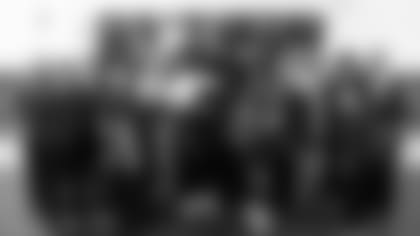 Bolton is one of several defensive players throughout the NFL to join the effort, which intends to collectively donate more than two million meals to those in need this year. Specifically, for every sack that the Chiefs tally this season, Campbell's Chunky will donate 1,000 Campbell's products to food insecure individuals across the country.
"I'm already talking to [Defensive Coordinator Steve Spagnuolo] about it right now," Bolton said in jest. "I'm trying to get a few more blitzes drawn up."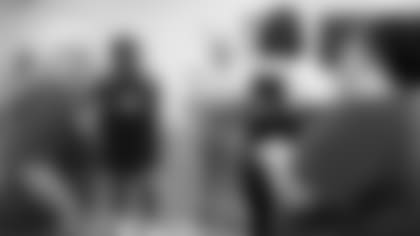 In addition to the Chiefs' efforts defensively, Chunky Sacks Hunger will donate one meal to Feeding America - a nationwide network of more than 200 food banks – for every Chunky Bowl product sold nation-wide during the regular season.
The Chiefs are one of 10 teams to participate in the campaign, joining the Cincinnati Bengals, Chicago Bears, Indianapolis Colts, Philadelphia Eagles, New York Giants, Detroit Lions, Green Bay Packers, New York Jets and Tennessee Titans. Each of the participating teams features a representative tasked with spearheading the Chunky Sacks Hunger initiative, and for Kansas City, that responsibility rests with Bolton.
"It's crazy how your life can change so quickly, so to be able to give back and to have my mom here is exciting for me and my family," Bolton said. "This community does a lot for us, so any opportunity that we have to give back to them, we're going to do that."