It has been a little more than a month since quarterback Nick Foles made headlines by signing with the Kansas City Chiefs, and what was once a top story has faded and blended in with the rest of the relentless NFL news cycle.
But though he is now out of the spotlight, his work has only picked up. Foles is the primary backup for the Chiefs, always just one play away from having to go into the game under center.
It is a thankless role, and one that requires him to not only prepare the defense as a scout-team quarterback, but also have a grasp of the offensive game plan each week.
"That's something I enjoy doing," he said of juggling the roles. "I've done it before, and you just want to give the defense the best look. You want to go out there and compete and you want to make sure you're helping those guys on the scout team get better as well, as well as working on your fundamentals."
While Alex Smith takes the first-team offensive reps, Foles watches the play from behind, making sure he comprehends what he sees in front of him.
"You're watching him, seeing what he sees," he said. "You can't physically go through it, but you can mentally get through and you can do stuff after practice or during the scout-team periods that can sort of emulate what you see and what Alex is doing."
In Foles' opinion, he would be hard-pressed to find a better veteran to model himself after.
"He's one of the best," Foles said of Smith. "You can tell with his preparation, his work ethic, it's second to none—how he prepares, how he goes about it."
Foles originally met Smith at the Pro Bowl in 2014, and the two have remained friends ever since.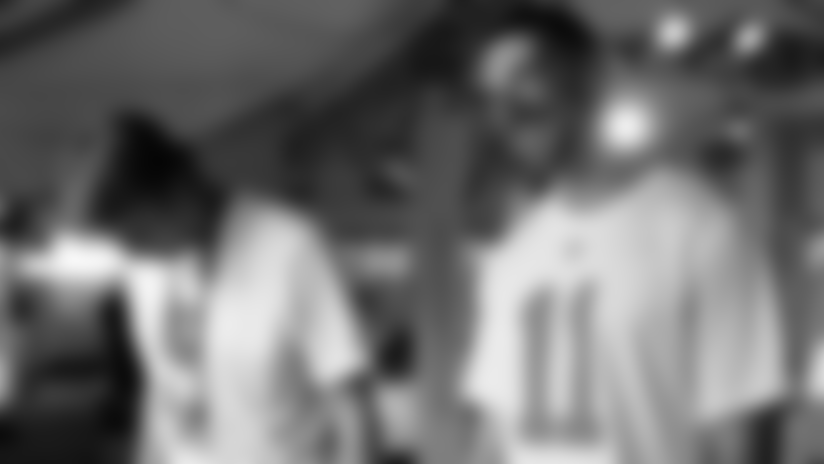 "It's been great for me," Foles said of reuniting with Smith. "I'm going on year five and I've played a lot of football, but being around him, I think he's going on year 12, and just seeing the wisdom he has and most importantly, the kind of person he is. He's a much better human being than he is a football player. He's a great person and on top of that, an outstanding football player."
Chiefs head coach Andy Reid originally drafted Foles in the third round of the 2012 NFL Draft, his final draft with the Philadelphia Eagles. The two spent just one year together, but that was enough for Foles to know he wanted to rejoin Reid when he became a free agent this past offseason.
"Coach Reid is coach Reid," he said in regard to whether anything has changed since 2012. "His morals and who he is as a person is the same. You can definitely tell—he did so many great things in Philly, and I went through that year and it was a tough year for everyone on the team and everything. Just seeing him here, I'm really happy. You can see how happy he is and he loves what he does and you see that every day."
For Foles, Philadelphia and St. Louis are in the rearview mirror, and Kansas City has become his home.
"I love Kansas City," he added. "I found a place to live—the team's great. My wife is out here, so we're very fortunate to be here and really enjoying it."