The athleticism was never a question; people knew all about that.
The question was how quickly Ohio State's quarterback-turned-receiver, Braxton Miller, could make the transition to receiver and how he'd handle all of the nuances that come with playing the position in the NFL.
Over the past two days at the Senior Bowl, which is comprised of more than 100 of the best senior NFL draft prospects in the country, Miller hasn't necessarily looked like a player who has only played receiver for a year.
He looks the part as he's standing out in a big way with his ability to gain separation and run quick, precise routes during one-on-one drills.
"I just don't want to be a robot out there just running straight routes," Miller said earlier this week. "Sometimes you've got to give something to the defender to get separation. When you're on the outside and it's one on one, you're against the best defensive back they have.
"I want to be the best player. I want to be on the outside."
During his senior season at Ohio State, Miller put up a modest 26 receptions for 341 yards and 3 touchdowns, adding 260 yards on the ground as well.
But those numbers don't reflect the ability he's put on display at these practices, and while there's still plenty of room for Miller to improve, the ability is definitely there.
"I already know I can play on the inside," Miller added, "but I never played on the outside at Ohio State, so that's a big emphasis for me this week.
"It's a just different type of ball game."
Here are a few observations from the media who have been watching Miller this week in Mobile:
The natural question with any player in the draft is how they'd fit with the Kansas City Chiefs, and for Miller in particular, the veteran leadership of a guy like Jeremy Maclin could help him as he continues to make that transition.
"I'm a huge fan of Braxton Miller," NFL Network analyst Mike Mayock said. "I've gotten to meet him a little bit, and he's eager, he's interesting and he's professional. He's gotten better from day one to day two, and being around a veteran like Jeremy Maclin would do wonders for him.
"I saw Maclin in Philly, I know Maclin, and if Miller can get around a guy like that, I think he can play more quickly, more efficiently."
While some may see the fact that he's only played receiver for one year as a disadvantage, Miller sees the first three years of his career playing quarterback as an advantage for him now that he's on the outside.
"I've learned a lot playing quarterback," Miller explained. "It's an advantage knowing the concepts and the fronts and the linebackers and how they line up. So I take advantage of that because I know the looks we're getting." 
The Senior Bowl is just the first stop for Miller, who will shine throughout the rest of the pre-draft workouts because of his natural athletic ability. His goal for the NFL Combine is to run a 4.28 40-yard dash, which would put him in the top five all-time in that category. "I've been praying on days like this," Miller said of this week's performance, "and just to be able to show it on a national level, I love it."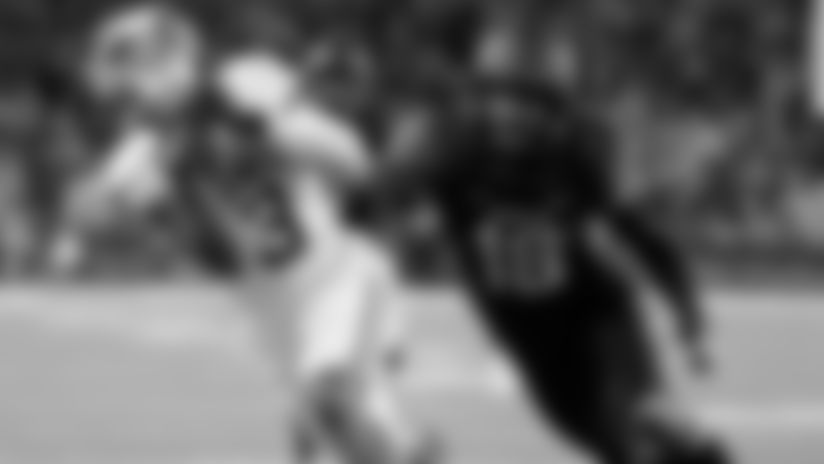 While Miller has been impressive, Oklahoma receiver Sterling Shepard has been equally as impressive.
According to Pro Football Focus, which is a new partner of the Senior Bowl this year and has 11 people down here grading the practices, Shepard "appears to be the best receiver prospect in Mobile this week."
Here's what else they had to say:
"There was one route during which [Shepard] beat his defender three times: First, with his release off the line, then with his cut back to the football, then by shaking the defender after the catch and breaking free up field. He won on outside routes Wednesday, which is important because he ran 71 percent of his routes out of the slot last season. Our data shows that despite the limited reps he can also be an effective deep threat, as he hauled in all 10 of the catchable deep passes thrown his way last year, including 4 touchdowns."
Shepard spoke with the media earlier in the week and said he was really looking forward to the atmosphere of practice and all of the individual attention given to players in this evaluation setting.
"I love one-on-ones," he explained. "But that's just me. In individual, we didn't do much. We did routes [on air], which is what we do everywhere, but I love one-on-ones."
Shepard measured in at 5 feet 10 and 193 pounds this week, which means he's not going to win based on physical stature alone, but by his ability to run precise routes and do all of the little things correctly.
"The main thing is getting off the line," he explained. "I think that's what the majority of the corners do in the NFL—get up in your face and press you. As a receiver, you have to get up after the ball and that's what a lot of scouts are looking for."
Shepard has had a fantastic week thus far at the Senior Bowl after putting together a phenomenal career at Oklahoma, which saw him accumulate more than 3,000 yards receiving and 26 touchdowns. Between Miller and Shepard and a handful of other guys who have been making plays, there hasn't been a lack of playmaking options to watch this week.