Led by P Dustin Colquitt, the Kansas City Chiefs and the Midwest Dairy Council recently visited Madison Place Elementary School in Olathe, Kansas for a special surprise. Flanked by the Olathe Public School District's Executive Director of General Administration and Elementary School Programs, Brent Yeager, and its Physical Education/Health Coordinator, Brad Bingesser, Colquitt presented the district with the $10,000 Fuel Up to Play 60 – Chiefs Hometown Grant.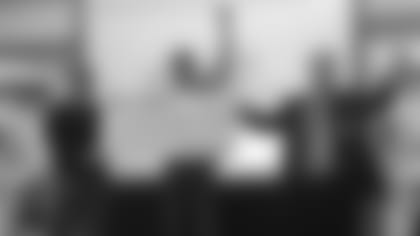 "You guys have done a tremendous job of living Play 60," Colquitt told the Madison Place students prior to them participating in a Fuel Up to Play 60 assembly. "That's why I was so excited to come here and personally share this news with you. Thanks to your efforts, students through the district will be able to have more opportunities to Fuel Up and Play 60."
The district was chosen for this funding opportunity based on its high participation and performance in Fuel Up to Play 60, an in-school health and wellness program that encourages students to eat healthy, get active and make a difference in their communities. The grant will be distributed to the district's 20 schools as a way of implementing additional in-school healthy eating and physical activity initiatives.
"We are very pleased with our continued partnership with the Fuel Up to Play 60 program," Yeager noted. "The support of the Kansas City Chiefs and the Midwest Dairy Council has had a positive impact on the overall health and wellness of our students. The Olathe Public School District is proud to receive this grant to expand the current opportunities for our students. "
Created in partnership by the NFL and National Dairy Council, which was founded by America's dairy farmers, in collaboration with the U.S. Department of Agriculture, Fuel Up to Play 60 is the nation's largest in-school wellness program and creates transformational change in more than 73,000 schools. Colquitt currently serves as the Midwest Diary Council's Fuel Up to Play 60 spokesperson to laude the benefits of living a healthy lifestyle and getting 60 minutes of play or activity a day.