The moment was palpable as two future Hall of Fame quarterbacks competed on a national stage on Monday Night Football. It was the Denver Broncos and the Kansas City Chiefs, but for many, it was simply John Elway and Joe Montana.
The date was October 17, 1994.
High above the playing surface, which sat 5,280 feet above sea level at Mile High Stadium in Denver, stood another Hall of Famer—Len Dawson, who was on the call as part of the Chiefs' radio broadcast.
Trailing 28-24 late in the game, the Chiefs had the ball and an opportunity to respond to an Elway touchdown that had just given the Broncos a late lead.
Neither Elway nor Dawson had any control over the outcome at this point. They were only witnesses.
Two legends of the game intensely watching Montana— aptly described as "the man with the Hollywood name"—orchestrate perhaps the most famous 82-second drive in NFL history.
"The chaos around us was so intense," said Dan Israel, the current executive producer of the Chiefs' radio network who was in the booth that night, along with Voice of the Chiefs Mitch Holthus, longtime sportscaster Bill Grigsby, and Dawson. "On the left side of us was Broncos' radio booth. On the right side was (Broncos' owner) Pat Bowlen's suite.
"They were slapping signs in the window to our booth from Bowlen's suite—they were right there, I mean, it was crazy."
On that final drive, in a place head coach Marty Schottenheimer hadn't won in seven career attempts, which included heartbreak after heartbreak, and also in a place that Montana, despite all his success with the 49ers—hadn't won in three trips either, the intensity rose with every completed pass.
"This joint is shaking," longtime Monday Night Football play-by-play announcer Frank Gifford said on the television broadcast during the final drive. "What a wild scene this is."
Inside the Chiefs' radio booth, despite the raucous crowd and a handful of the 30-40 fans inside Bowlen's suite really getting after them, the mood was different.
"I remember how intense it was, but I also remember how Lenny was the calm in the storm," Holthus, who was in his first full-time season as the Voice of the Chiefs, recalled. "I remember the calming influence he had on me, just that he sensed the moment. I could tell he was feeling the moment and the tension, but it never came out of him.
"It was as if he was back on the field."
The legend of "Lenny the Cool," a Hall of Fame quarterback and Super Bowl MVP on the field, was manifesting itself decades later as a broadcaster.
"He's either able to control his emotions, which allows him to focus, or he's so focused that his emotions don't get caught up in all the external stuff," Israel, who has worked side-by-side with Dawson for decades, explained.
Once a quarterback, always a quarterback.
Ultimately, Montana hit receiver Willis Davis left for a six-yard touchdown with eight seconds left that gave the Chiefs the thrilling 31-28 victory—a game forever etched in Chiefs' lore.
But for Dawson, the legend of "Lenny the Cool" was born way before that, and even way before his time with the Chiefs.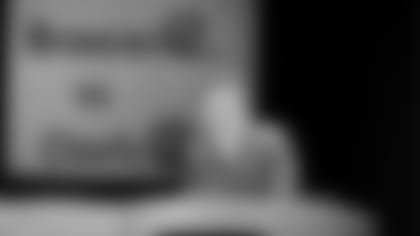 Dawson, who grew up in Northeast Ohio, attended Purdue University.
It was there that a relationship began with an assistant coach that would forever change both of their lives. That coach was Hank Stram, who would later bring Dawson to the Dallas Texans/Kansas City thanks to a secretive spring release from the Cleveland Browns in 1962.
This was before news and transactions spread across the country within seconds, and by the time Dawson was claimed by the Chiefs, many NFL teams hadn't even realized Dawson was available.
Once the Chiefs had Dawson, they traded then-starting quarterback Cotton Davidson to the Oakland Raiders for rights to the No. 1 pick in the 1963 AFL Draft, which they used on Grambling defensive lineman Buck Buchanan, who would be inducted into the Pro Football Hall of Fame in 1990.
The trickle-down effect of Dawson joining the Chiefs was spread all over the 1969 championship team.
At Purdue, the first time Dawson stepped on the field at quarterback was just a jaunt down I-70 from Arrowhead Stadium in Columbia against the University of Missouri at Memorial Stadium—commonly referred to now simply as Faurot Field. That's where it began.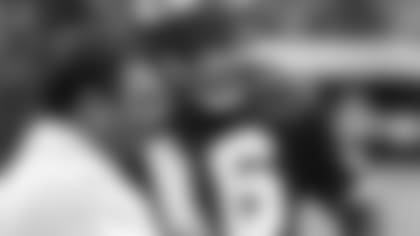 Dawson would go on to lead the Big Ten in passing twice in his college career, helping establish Purdue University as the "Cradle of Quarterbacks."
Purdue quarterbacks have started more games and thrown more touchdowns in the NFL than any other school in the country, with three former signal callers in the College Football Hall of Fame (Bob Griese, Mike Phipps and Mark Herrmann), and two in the Pro Football Hall of Fame (Griese and Dawson).
On February 7, 2010, former Boilermaker quarterback Drew Brees completed 17 of 31 for 197 yards and three touchdowns to lead the New Orleans Saints to a 31-17 victory over the Indianapolis Colts in Super Bowl XLIV.
Brees was named MVP, and after the game, it was Dawson who presented him with the award.
"It was pretty awesome, especially since he had won it and had been the MVP before," Brees recently explained, via the New Orleans Times Picayunes' Herbie Teope, of accepting the award from Dawson. "And again, with that Purdue connection and the fact that I guess he was the foundation of the cradle of quarterbacks—the first one who created that legacy, that was very memorable.
"He's a guy who set the standard for all of us who came after him."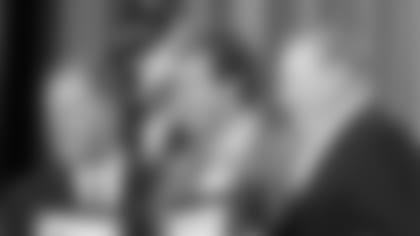 (From left to right: Griese, Brees, Dawson)
It didn't take long for Dawson to set the standard after joining the Texans either.
Despite being a first-round pick and bouncing between the Pittsburgh Steelers (1957-59), who selected him with the No. 5 overall pick in 1957, and the Cleveland Browns (1960-61), before joining the Texans, Dawson immediately immersed himself as a leader.
"I know that when he got there, we all respected him," former Texans and Chiefs' offensive lineman, Al Reynolds, explained. "He was the guy we looked to even in that first year. He was a take-control type of guy, but he wasn't harsh or mean-hearted or anything. We just respected him, and he took that role."
Dawson spent 14 years with the Texans/Chiefs and still holds numerous franchise records, including career passing yards (28,507) and touchdowns (237). He led the Chiefs/Texans to AFL (American Football League) Championships in 1962, 1966 and 1969 before earning MVP honors in Super Bowl IV.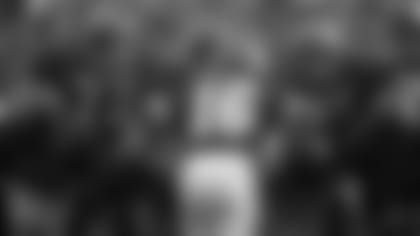 Dawson also holds the NFL record for most seasons leading the league in passing with eight. He was inducted into the Pro Football Hall of Fame as a quarterback in 1987, and then as a broadcaster in 2012.
"I don't know anyone who has ever done as good of a job of comporting himself—carrying himself the way a quarterback needs to—better than Len Dawson," said Michael MacCambridge, author of 'Americas Game' and 'Lamar Hunt: A Life in Sports.' "That mixture of quiet leadership, and the confidence born of both doing all the studying and scouting that needs to be done, but also having the natural God-given ability.
"The great center for the Packers and the Colts, Bill Curry, who later went on to a coaching career, said 'Nobody, not even Unitas, was as calm and collected in the huddle as Len Dawson.'
"That's something that struck me—from somebody who had played with Bart Starr and Unitas," MacCambridge added.
Dawson's ability to remain calm under pressure didn't only materialize in big moments on the field at quarterback, but also in how he handled his duties as the first sports anchor in the history of KMBC Channel 9 News in Kansas City, and he did this while he was still playing.
"Practice would end at like 4:30 and he would pop off his shoulder pads, grab a mic and interview a player right then and there before he showered or anything," Israel explained. "Then they would rush the film downtown for processing, Lenny would shower get dressed and go to Channel 9 and then like 15 minutes before they went on air, the film would arrive.
"That's the kind of chaos he was dealing with on a daily basis while he was playing."
"I love those pictures where he's got his football pants on and he's interviewing one of the players. That's unbelievable," Chiefs coach Andy Reid laughed. "It was a different time and era, and he was at the beginning of that. He busted his tail to become one of the best at it and still had all of the respect of the players and the organization."
Dawson, who also had a 24-year run hosting HBO's "Inside the NFL" between 1977-2001, was elected to the Pro Football Hall of Fame as the recipient of the Hall's Pete Rozelle Radio-Television Award in 2012. He's only the third individual in history to be inducted into the Pro Football Hall of Fame as both a player and a broadcaster, joining Dan Dierdorf and Frank Gifford.
Among the many who have expressed gratitude for the chance to work with Dawson over the years is NBC Sunday Night Football color analyst Cris Collinsworth, who remembered that same calm demeanor from Dawson from their time together beginning in 1989, when Collinsworth joined "Inside the NFL" as a reporter following his eight-year NFL career.
"Even when the world around him was falling apart, and I've seen him in some really tough moments, he'd have a way of diffusing even the most difficult of situations," Collinsworth explained of Dawson. "As long as the quarterback was under control and didn't lose his patience, didn't get upset, everything was OK."
During one show, which was being filmed live at the San Diego Zoo, a giraffe began eating part of the set while they were shooting, and Dawson was the one who held it all together.
"I was really blessed to have been trained by him because it was really the first job that I had, and to work with somebody with his patience, his knowledge and willingness to teach the broadcast business to somebody starting out was maybe one of the luckiest things that ever happened to me in my life," Collinsworth added.
At the time, Dawson, who didn't even have cable, would have to go to a friend's house to watch the show, which began airing on Thursday nights. He'd fly to New York to film the show over a couple of days before returning to Kansas City to handle his duties for KMBC and the Chiefs' radio network.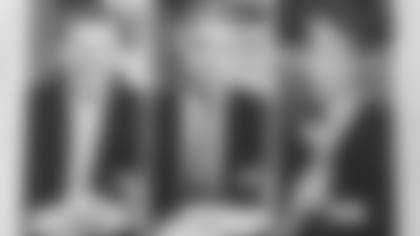 (From left to right: Dawson, Nick Buoniconti, Cris Collinsworth)
Dawson, who just like he was when he was playing quarterback—the most difficult position to play in all of sports—was able to handle everything being thrown his way.
In 1985, a few years before Collinsworth joined "Inside the NFL," another young up-and-comer in the media business became indebted to Dawson.
At the time, the Chiefs' radio network was looking for a new play-by-play guy, and there was a young 24-year old graduate of the University of Kansas by the name of Kevin Harlan who was interested. He had been doing the "Chiefs Sunday" pregame show for a few years, so they were somewhat familiar with him, but he hadn't done any football play-by-play for outside of some high school games he did in college.
So, Chiefs' founder Lamar Hunt, President Jack Steadman and the Public Relations Director at that time, Bob Springer, wanted to know what Harlan would sound like with Dawson on the radio. The only opportunity this time of the year was the University of Missouri spring football game, which would soon be played at Arrowhead Stadium.
Dawson, who was busy with all of his other obligations, made time to help and agreed to spend three hours of his Saturday on this test broadcast with this young Harlan kid.
"I can just remember how big I felt walking out of that booth after doing that broadcast," Harlan recalled. "I've never forgotten that. His stamp of approval meant everything and got me my career and led me to my nine years (with the Chiefs Radio Network) and then eventually to the networks at FOX and CBS.
"Dawson, as much as anyone, was so instrumental in my rise in the business and my good fortune in the business," Harlan added.
Harlan also recalled another story of Dawson, whom he'd sit next to on the plane trips for the Chiefs' road games all those years.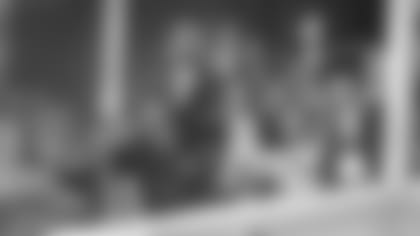 (Dawson, Harlan and the Chiefs Radio Network in 1988)
In the back of the plane near the lavatory, Bill Grigsby would always sit by the window, with Harlan in the middle, and Dawson on the aisle.
"The veteran quarterbacks in Kansas City during that time would always see Len and stop—good performance or bad, good day on the field or not—and would talk to him and look to him for counsel," Harlan, who noted back then players, coaches and staff, would often have beers with them on the team plane, recalled. "Guys like Steve Deberg, Bill Kenny, Joe Montana and Dave Kreig, I mean like veteran guys, would always stop for him.
"Sometimes the conversations were long, sometimes they were short, and sometimes it was just a pat on the back or a wink and just saying, 'Hey, I know what you're going through.'
"The look Len would give them was all that they needed for that moment."
It wasn't only the players who came after him that would look to Dawson for counsel, validation or guidance. It was his former teammates as well—even years down the road.
MacCambridge recalled a story of when he was doing research for "Americas Game" and how he got Dawson, Otis Taylor, Jim Lynch and Bobby Bell all together to watch a copy of Super Bowl IV. It was more than 25 years after they had all finished playing, and they hadn't all been in the same room together for years.
MacCambridge had looked for a copy of the game for years while researching and finally found a Canadian black-and-white bootlegged video tape of the CBS broadcast of the game.
They all met in downtown Kansas City to watch the broadcast.
"The thing that struck me was when all four of those men were in the same room, everybody was looking to Dawson," MacCambridge explained. "He was still the leader. Even when guys were talking about their impressions of the game, they would sort of turn to check with Lenny for validation.
"Now these are guys that had all gone to more or less successful careers post-football, and they were all their own men and there were some strong personalities in the room, but Len was still the quarterback."
It remained true. Once a quarterback, always the quarterback, and with that, came a duty of being the face of a franchise—something that always came naturally to Dawson.
Former Chiefs' longtime equipment manager Mike Davidson, who still works game days with the team and is part of the Hall of Honor staff, recalled a story of what Dawson did one time for a complete stranger, and how 30 minutes of time he shared is still remembered to this day.
On a Chiefs' road trip, more than a decade ago in Buffalo, Davidson, who was at the team hotel, was being visited by an old friend who, like Davidson, also grew up in Northeast Ohio, not too far from where Dawson made a name for himself as a prep athlete at Alliance High School.
While waiting in the hotel lobby, Davidson's friend was in awe of seeing Dawson—a player he revered as a kid, and not wanting to bother Dawson too much, Davidson asked Dawson if he would meet his friend and his friend's 11-year old son.
And not only did Dawson take time to share a few words, but he also spoke with them at length.
"To this day, my friend, who still lives outside of Buffalo, still talks about that day," Davidson recalled. "That Len Dawson took the time to sit down and have dinner with us. And to me, that's just how he is, that's Leonard. He cared."
Dawson's legend only grew after his playing career was finished, and his brand of leadership, his calm under pressure, and his unrelenting desire and passion for the game, never wavered.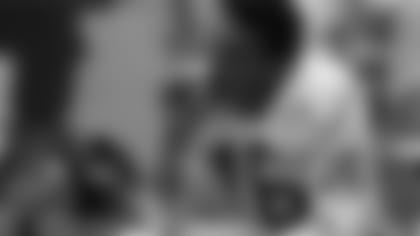 During the Chiefs' championship season in 1969, Dawson went down early in the year with a knee injury, and it was originally thought to be season-ending. A critical blow to a team who had just lost the league's leading passer from the year before.
But while under general anesthesia before he was to have surgery at St. Anthony Hospital in Oklahoma City, Chiefs' coach Hank Stram pleaded with the doctor to let Dawson see one more specialist before performing the surgery.
When Dawson awoke, he didn't know the surgery wasn't performed but was relieved to find out Stram had intervened.
Dawson, who is the seventh son of a seventh son—something he strongly believes has been a reason for his good fortune over the years, which included a win over prostate cancer in 1991—could return and play that memorable season.
Dawson ultimately rehabbed his knee without the surgery and returned after just five weeks, helping the Chiefs go on the road in the playoffs and beat the defending champion New York Jets, and then Oakland Raiders the next week to win the AFL title, before taking down the Minnesota Vikings in Super Bowl IV, 23-7.
Decades later as a member of the Chiefs' radio broadcast, Dawson would once again fight through a medical issue for a playoff game, but this time it wasn't a knee injury, but shingles.
Once again, Dawson wasn't going to miss being there for his team.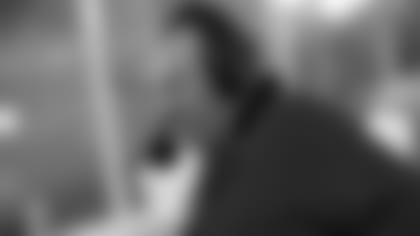 As the Chiefs prepared to take on the Indianapolis Colts in the 2013 Wild Card game, Dawson was in excruciating pain because of the rash that had spread all over his legs. He could barely walk, couldn't stand without being in pain, but as soon as the game started, that legendary focus took over and he handled it as if nothing was wrong.
"He said, 'It's the playoffs, dammit," Israel recalled of Dawson's response to whether or not he should make the trip and attempt to do the game.
Again, once a quarterback, always a quarterback.
"There's a lot of guys who try to emulate him, especially quarterbacks, and what he's done, but he's the original," quarterback Alex Smith said. "You'd never know he's a two-time Hall of Famer by the way he carries himself."
One thing is for certain; there will never be another like Len Dawson.