From witnessing a S.W.A.T. training exercise firsthand to driving their very own squad car, the Kansas City Chiefs' quarterbacks celebrated National Police Week in thrilling fashion on Tuesday afternoon with a visit to the Kansas City Regional Police Academy.
Patrick Mahomes, Chad Henne and Chase Litton all came along for the experience, which included several demonstrations covering a wide-array of police work.
"It was awesome just to see all the things they do on a daily basis to prepare themselves for their job," Mahomes said. "It was cool to see and to be a part of it here today."
The players had a chance to operate a bomb robot, meet a police dog and try on the officers' gear among several other activities.
"I had a lot of fun with the robot and the bomb-detecting stuff, I was really messing around with everybody," Mahomes said. "Driving around the track was cool and seeing the dog sniff out the bomb was awesome. They do a lot of cool stuff out here."
The robot, in particular, was a hit amongst the players.
"Mahomes did really well for his first time – it's not easy," said Detective Brent Taney, who operates the robot at the academy.
"It was like one of those little cars that you have on the driveway as a little kid, but on a whole new level," Mahomes added. "There are like a million buttons on the little pad, so I just used the three that they showed me."
It was all in celebration of National Police Week, which was established in 1962 in honor of law enforcement officers who have lost their lives in the line of duty for the safety and protection of others.
The quarterbacks sought to recognize that sacrifice with Tuesday's visit, and they came prepared. As the activities wound down, Mahomes presented the academy with a custom football commemorating the afternoon.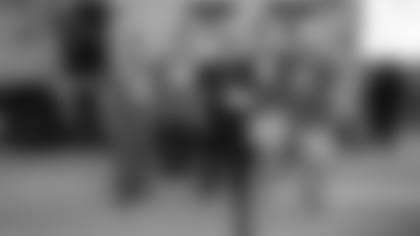 The gesture concluded a memorable visit, to say the least, as the quarterbacks took a look behind-the-scenes at what law enforcement goes through every day to keep this community safe.
"We get to see what they do on the football field, but they don't get to see what we do on a daily basis," Taney said. "It was pretty cool that they took the time and came out here to see what we do."
The Chiefs Community Caring Team, led by the team's quarterbacks, visited the Kansas City Regional Police Academy on May 14, 2019 in honor of National Police Week. During the visit, the quarterbacks mingled with law enforcement officers and witnessed/participated in various demonstrations, including bomb training, a SWAT team demonstration, and a driver training course.