OPENING STATEMENT:"The guys that are injured: (Weston) Dressler who has the hamstring, he did that yesterday; (Eric) Fisher, you know about; (Junior) Hemingway had strep throat, so we kept him out of the building away; (Travis) Kelce, you know about; Chris Owens has a hamstring, getting better; (David) Van Dyke, hamstring; Kyle Williams with the ACL tear. (A.J.) Jenkins worked today and got some things done. We think next week we'll be able to get a little bit out of Kelce and possibly Kyle Williams. We'll have to see how all that works. (Phillip) Gaines, (Jeff) Allen and Jamaal (Charles) have all been excused for personal reasons. I appreciate the work of the guys. They've had a good camp thus far. They've busted their tails and done everything we've asked of them. We're getting better. We have a long way to go, but we're getting better, we're getting there. At least we're getting ourselves ramped up to a position where when we get to training camp, we've got a lot installed and can just pick up from where we leave here after next week and get going."
Q:Is there any difference between an OTA practice and a minicamp?
REID: "You can have them in the building a little longer, and you can have a walk-through. That constitutes a second practice. What we'll do is we'll have a walk-through in the morning, and then we'll have the practice in the afternoon. The practice will be like this."
Q:How do you think the minicamp will help the guys prepare for camp in July?
REID:"A couple ways, obviously they're working out and doing football stuff, so from a physical standpoint, it gives them that. Most of all, in these camps it gives you that mental preparation. That's important. When you can combine the two of those, when you're physically fit and you've got the scheme down, normally you're going to get the best out of that player and see what they're all about and they'll be able to show you their best."
Q:Do you expect Kelce, Fisher and Williams for training camp?
REID:"Yeah. They should be ready for training camp."
Q:Do you have a little bit clearer vision of what your offensive line will look like after 10 OTA practices?
REID:"I think that's one group that's improving. We've had some guys that were in there and moved on and there are guys that have stepped up, with the exception of Fisher who can't do anything. The other guys have grasped it pretty well and look like their doing pretty good."
Q:Are you imagining combinations?
REID:"I am. You know you need more than five. You need to make sure that you have a good 10 of them ready go and you want to find that number whether it's eight, nine, 10, you want to find that number and see what you've got there. So, we've been challenging them as much as you can challenge them here, which isn't much."
Q:Do you plan on moving guys in and out with that first group at camp?
REID:"We've done that. Even before we've done that. We have to make sure when one guy goes down, we've got that next guy that can go, so we do that throughout the year. It's really no different than what you're seeing now."
Q:Do you expect Brandon Flowers and Justin Houston to be here next week?
REID:"I don't know that. Really, it's all their decisions to come or don't come even though it's a mandatory camp. We'll see. The thing that you're guaranteed of is that we're going to coach whoever is here. We just don't really worry about the ones that aren't. We just go about our business and do our thing."
Q: Donald Stephenson attended the Charles Bentley O-line performance academy in the offseason. What's the biggest thing he's brought back from that?
REID:"The thing they can do, there were a couple of them that went there, they can actually do football stuff there and work on technique and at the same time stay in good shape, continue to get strong and do the things you're supposed to do in the off-season. You've seen that. Charles (Bentley) does a good job of that. He's been playing in the league for a long time and he knows what it takes to play in the National Football League. So, whatever we can't do in the offseason, from a coaching standpoint, these guys can go to these different places and as long as they are in good hands, they can learn something and get better at their profession."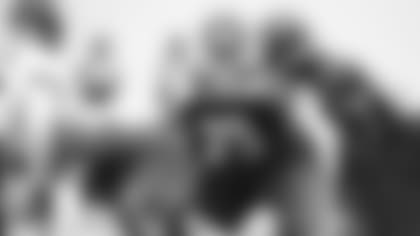 Q: What does it say about a player who spends his own money to get to this camp?
REID: "That says a lot about that person. He's invested in himself, that's what he's doing. Everyone that comes back can make you a better football team."
Q: How far has Tyler Bray come since last year?
REID: "He's made a few changes. He's a made the physical change. That's obvious to everybody. He's got a different body type now than what he had last year. A lot of the college kids today aren't making the calls from the sideline they are being signaled in from the coaches. They've got to get in the huddle and spit out all the verbiage. He's done a real nice job of learning everything though."
Q: How do you coach an aggressive guy like that?
REID: "I get him several rules—throw it to your teammate."
Q:The offense has done a good job picking up where it left off. How did they manage that?
REID: "You want to keep building on where you were before. You like to be better than that, but definitely not take yourselves back where you have to regain it and go. I feel like the guys have taken great steps in what they can do now. I'll be curious to see how that transfers into camp.  They should be working hard."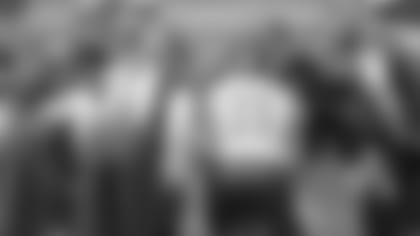 Q: How do you feel that Cairo Santos has progressed from Rookie Mini Camp to OTAs?
REID: "He's been kicking the ball well there and kicking the ball well here now. He's probably just getting used to the holder and the snapper would probably be the biggest thing there now. He's still using the same steps that he's used. I'm sure some of the kickoff things are a little different in where we locate the ball and want him to locate the ball in the scheme that we use. So, he looks like he's handling things well and whether it's here or somewhere else, he looks like he has a leg to be a NFL kicker. We'll see."
Q: In regards to Sean Smith, how long will his stay on the second team last?
REID: "We'll see. The other guys are performing well so we will see."
Q: What kind of impact does a quarterback like Tyler Bray have?
REID: "Well just talking to him you kind of know how that works. He came in as a young player, by age young and so you get thrown into the NFL as a quarterback, you grow up fast. I think he's done that. I like the way he handles himself around the players. Sometimes when you're one of the younger guys that was drafted, he wasn't drafted, but is picked up and brought to a team, you can be a little brother and that's not the way he's approached it. He's kind of worked his way in where he's gained the players that are around him their respect. I'm proud of him for that."