October is national breast cancer awareness month - a time to support those who are battling the disease, recognize those who are now survivors and encourage others to get screened.
This weekend, the Chiefs will celebrate Catherine Fabian who was diagnosed with breast cancer in October 2013. After seven rounds of chemotherapy, a double mastectomy, followed by 33 rounds of radiation and six more rounds of chemotherapy, Fabien is finally cancer free.
The Chiefs, along with Hy-Vee and The University of Kansas Hospital will recognize Fabien on Sunday as the Chiefs Pink Seat Honoree.
"We are so excited for this opportunity on Sunday," Fabian noted. "I'm really humbled. I've listened to other women's stories. I know women who have had to go through days and days in the hospital, had complications with their treatment, or things just haven't gone smooth. There are a lot of other women who have gone through worse and I think they deserve to be honored. I'm just so humbled."
On Sunday, Fabian's husband, youngest daughter and sister will join her. She sung their praises and was extremely grateful for their support and help through this process, along with the rest of her family who helped get her through the battle with breast cancer.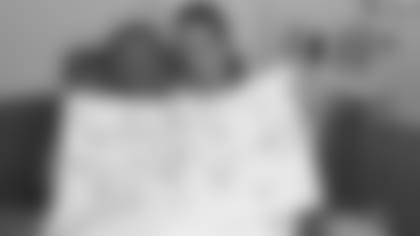 About a year ago, Fabian found a lump in her breast and initially didn't think too much of it, considering there is no history of any kind of cancer in her family. When the results came back, she was told she had Stage 3C breast cancer.
"The results came back that it was cancer and that it was Stage 3C and we were shocked," Fabian explained. "A week after that appointment, I began chemotherapy."
She immediately started fighting the disease and was determined to not let it get in the way of her life, her family and her positive spirit.
To keep things light, Fabian hosted a "hair shaving party," in which her friends helped her shave her head, instead of losing it slowly through chemotherapy.
"I had a bunch of girlfriends come over and we shaved my head," Fabian said. "The biggest reason was because my youngest daughter thought that if I lost my hair to chemotherapy that no one would like me anymore. We wanted to show her that you can still have friends and still be beautiful no matter what you look like. Also, I just didn't want to be patchy or lose it slowly, we just shaved it off and had a party."
Fabian is finally breast cancer free, but there is still a high risk of recurrence. She isn't letting cancer scare her and is continuing to live her life and enjoy each day.
"I'm not living my life just waiting for the cancer to come back, I'm focused on the future and trust in God's plan," Fabian said. "My advice to other women going through this is to look for the blessings outside of the cancer. Don't be overwhelmed with the negative and be sure to appreciate the times that you feel good. Focus on the people loving you and supporting you. Find the blessings."
Fabian, along with many other women battling breast cancer or those who have defeated it will be honored on Sunday. Wear your pink and join Arrowhead Stadium in a "pink out."